The second annual Bourbon & Beyond Festival at Louisville's Champions Park
opened under gray skies that didn't seem to deter anyone as poncho wearing groups amassed. Crews were working hard to keep the festival grounds safe, but it wasn't enough and the second day was cancelled due to ground conditions at the park. (Louder Than Life has also been cancelled this weekend.)
I did a quick tour of the festival grounds Saturday to get an idea of what was there and met up with Rabbit Hole founder Kaveh Zamanian, who I enjoyed interviewing. I'll share our Q&A session tomorrow.
In my tour around the grounds, I discovered that beers, bourbons or cocktails mostly ranged from $9 to $15 per beverage. Most food items I saw were $10 to $15, and I was amazed at the diversity of food items to choose from. Some of the liquor companies set up restaurant tents. Larceny Lock & Key offered a pizza parlor and a "spin the wheel" game that had a line about 50 people long as things were just getting underway while  Maker's Mark offered a Southern Soul BBQ tent with items like "Whole Hog Nachos" (Chicken or Whole Hog) and Rib Tips. Southern Comfort offered a Sip and Grill with burgers (including a vegetarian patty with summer vegetables, sprouts and gouda cheese). The smaller booths operated by food vendors featured festival foods one might expect like pizza (Pie baby and others), burgers (like Bluegrass Fed Burgers and others), grilled cheese (Cheese Louise and others), wings (The Midway Cafe) and tacos (Merle's Whiskey Kitchen and others), but there were also booths from Sarino's (Italian), Doc Crowe's, Longshot Lobsta (Lobster), Bangarang (Vietnamese), Hull or Highwater (seafood), Ramiro's Cantina (Mexican), Island Noodles (Noodles and Ramen), and Phat Daddy's (Creole). There were also the expected hot dog stands with unexpected offerings like the Rattlesnake and Rabbit Sausage or Apple Brandy Duck Sausage from The Chicago Dog House or Wild Board or Vegan Tofu from Red Top Hot Dogs.
There were also some pretty interesting vehicles set up by Bourbon brands like the tear drop camper from Bulleit, an airstream from Jack Daniels and a wooden trailer from Blade & Bow.
There were also dessert and beverage vendors like The Blackbeard Espresso Truck (coffee, tea, and other beverages), Gelato Gilberto and Cellar Door Chocolates who offered bourbon balls, almond bark, and seven fudge flavors: pumpkin cheesecake, butter or chocolate pecan,  peanut butter,  raspberry cheesecake, bourbon sea salt caramel, bourbon maple pecan, and bourbon or strawberry chocolate.
"If you eat a bit of the bourbon sea salt caramel and then take a sip of bourbon, it's amazing," said Tara Coogler as she handed a tub of it to me. She was right. I took it on a mini-vacation Saturday night where a friend and I ate bites of it and sipped Four Roses Single Barrel in a little cabin in Russel County. It was perfect.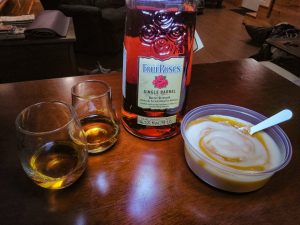 I also took the time to stop in to the Bottle & Bond tent, which was a VIP lounge set up by Bardstown Bourbon Company and their Bottle & Bond restaurant for media, artists and other VIP ticket holders. They offered charcuterie and other small bites and cocktails, including tastings of a series of bourbon that isn't on the market yet. This series will feature an ongoing collaboration with Copper & Kings. Each product in the line is a 10-year bourbon aged in various barrels used for Copper & King products like their Floodwall Apple Brandy or Orange Curaçao. The first collaboration between these two companies is already available online or at the distilleries: Collabor&tion.
"These are 10-year bourbons that are then aged in the Copper & Kings barrels that are not mature yet, and they have about another six months," said Bardstown Bourbon Company Beverage Director Dan Callaway. "So, these tastings are a chance to try the different finishes that are still in the barrel, so you can see our vision for how these are going age."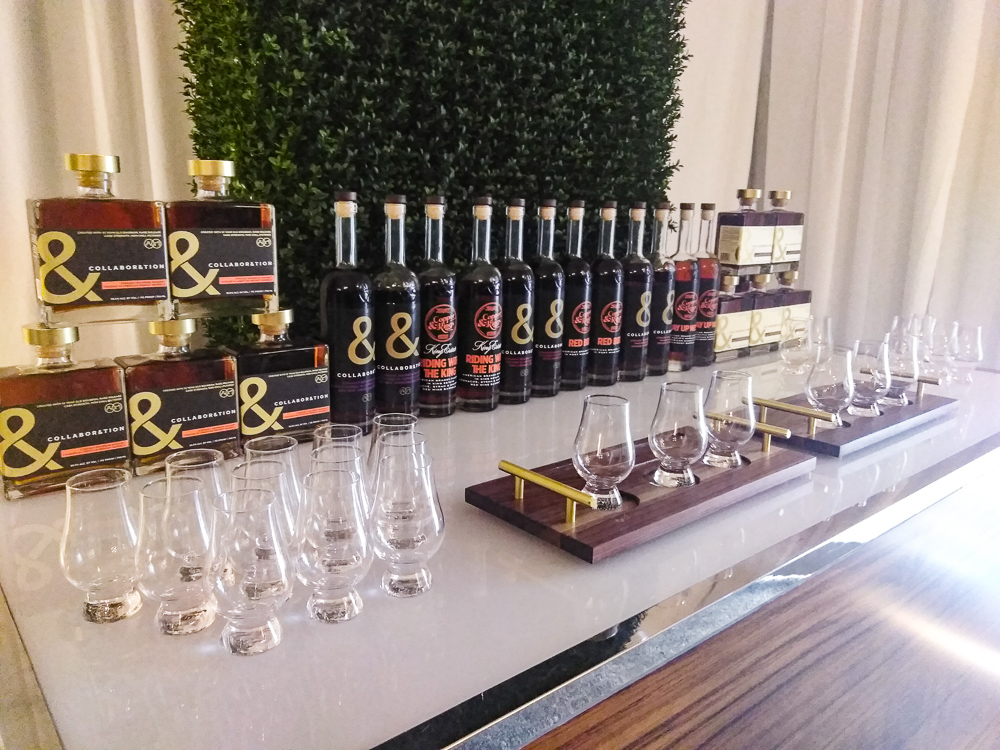 There were also a few interesting workshops the first day. Our bourbon writer Susan Reigler wrote, 
The first bourbon discussions with industry experts were "BS: The Legends & Lore of American Whiskey" on the Mash Stage and "Russell Family Tribute" on the smaller Bourbon+Workshops stage. On the Mash Stage, Mark Gillespie of WhiskyCast moderated the session devoted to debunking many of bourbons more cherished tall tales and was joined onstage by Bernie Lubbers of Heaven Hill, Freddie Johnson of Buffalo Trace and Chicago-based bourbon writer Chuck Cowdery.
On the Bourbon + Workshops stage, Fred Minnick asked Bourbon Women Association founder Peggy Noe Stevens, Bourbon blogger Blake Riber, Bourbon Pursuit's Kenny Coleman, and consulting distiller Dave Pickerel to recount their favorites stories about Wild Turkey master distiller Jimmy Russell whom Minnick noted has the longest tenure in the world as a master distiller. No one at any distillery in Canada, Scotland, Ireland, Japan, or other whiskey producing country has been doing that job for more years (now over 60) than Russell.
Luckily, all participants had hand-held microphones, since the weekend's bands
started playing near the end of the first workshops and speakers were competing with
some booming bass notes. The balance of the day was devoted to cocktail
demonstrations, discussions of whiskey making practices, and food and beverage pairings.
And finally, Dan Dry shared some of his photos with us: