Starting Saturday, November 10, you'll have three weeks to walk through Nulu and pass judgement on ten original cocktails made with Four Roses Bourbon by local bartenders and decide which of them will get some serious extra cash just before the holidays. It's the 4th Annual NuLuDays Holiday Cocktail Challenge, and it's your job to pick your favorite by posting it to Facebook, Twitter, or Instagram with the hashtag #NuLuDays  and a tag for @FourRosesbourbon. It would also be nice if you tag the establishment and the cocktail name. (I'm curious to see your favorites, so feel free to tag Food & Dining Magazine, too, if you want to share.)
The winning bartender will receive $1,000, a signed bottle of Four Roses Single Barrel from Master Distiller Brent Elliott, and a signature barrel head from Four Roses. Second place will receive $750 and third place will get $500. Both second and third place will receive a signed bottle of Four Roses Single Barrel. Winners will be announced the week of December 3.
You don't have to try all ten cocktails in order to vote, but I highly recommend it. It was a lot of fun to wander from spot to spot with friends, checking out what Nulu has to offer. My favorite cocktails were at places I hadn't visited or really thought of for cocktails before.
I asked a couple friends to join me in previewing these cocktails. Lori Turner joined me for half of the adventure, and Caroline Knop joined me for the other half. It was an interesting mix of opinions. Lori is not a big drinker and has been afraid of bourbon in the past, thinking it was a "man's drink." Caroline owns Simply PR and has a lot of experience with food and beverages and brought a keen recognition of the tastes within the cocktails. I'm in the middle and was mostly excited about how creative all of the bartenders were, plus I love Four Roses and tasting new things.
So, here I present a range of opinions for your consideration. I've noted our favorites on the slides. I hope you enjoy the cocktails as much as I did. You have until December 1, so get to steppin' and sippin'!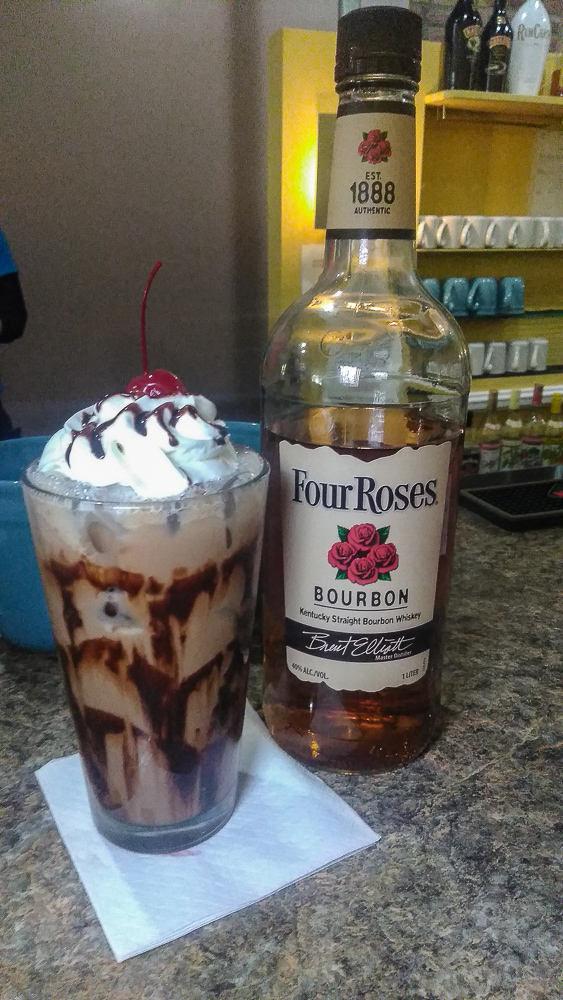 Lori's Fave!
Toast On Market, 620 E Market Bourbon Ball Iced Mocha by Amber Roe (Open 7 a.m. to 2 p.m.)
Four Roses Bourbon, 1 oz Torani Caramel Sauce, and a house made bourbon ball mix
Jess: This very chocolatey drink is really a dessert, and while you might be tempted to call it a bourbon milkshake, it's not thick with ice cream. It's thinner like an iced mocha drink (not slushed), but there is no coffee in it. It was well blended and very sweet and rich but 
Lori: It's yummy! It's smooth. There's no "pow" of liquor taste. Who's not a chocolate fan unless you're allergic? This is my favorite! With just a hint of smooth Bourbon it was my favorite, perfect for a Bourbon drinking novice like me.
Inspiration and pairing: Unfortunately, Amber wasn't there when we popped by so we didn't get to ask her about her inspiration. This would probably be a great pairing to French toast, since this is a breakfast/brunch restaurant and closes at 2 p.m.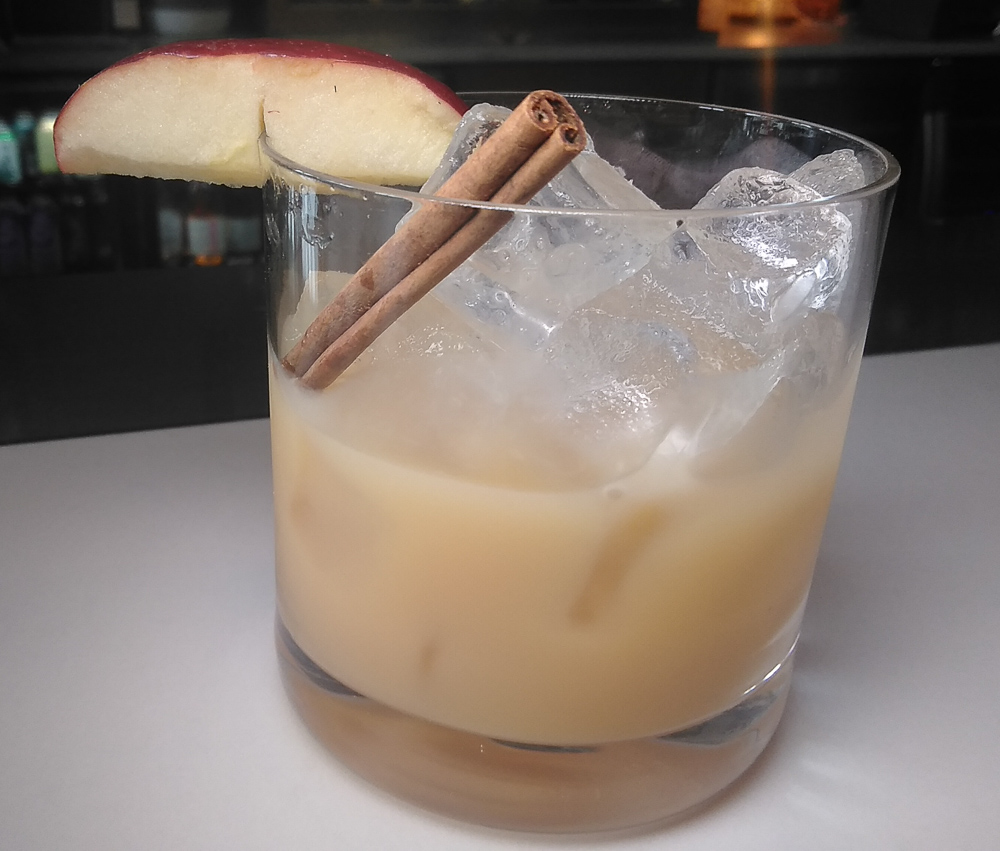 Nouvelle,  214 S Clay St B, Triple Dog Dare by Aaron Dawkins (Open 2 p.m. to 10 p.m.)
Apple and cinnamon infused Four Roses Small Batch, Caramel & Honey Infused simple syrup, Reagan's Orange Bitters, cinnamon stick in glass, apple slice on glass for garnish.
Jess: For a place known for serving 40 to 50 wines by the glass, owner Aaron really delivered a delicious well thought out cocktail.  This was one of my favorites, because I'm a sucker for spiced apple drinks. I love the smell here before it hits your lips. The orange bitters brings the sweetness of the caramel down to keep it from being overpowering.
Lori: This is good. The smell of cinnamon and apple along with the taste of the beverage brings to mind a modern Norman Rockwell family gathering near a roaring holiday fireplace.
Inspiration and Pairing: He said their honey tea cake would be a good pairing, and he chose this partially because it's an easy recipe that can be batch prepared but because he was looking for something comforting and in the spirit of the holidays. He also drew inspiration from a hot apple drink he makes for his family every year.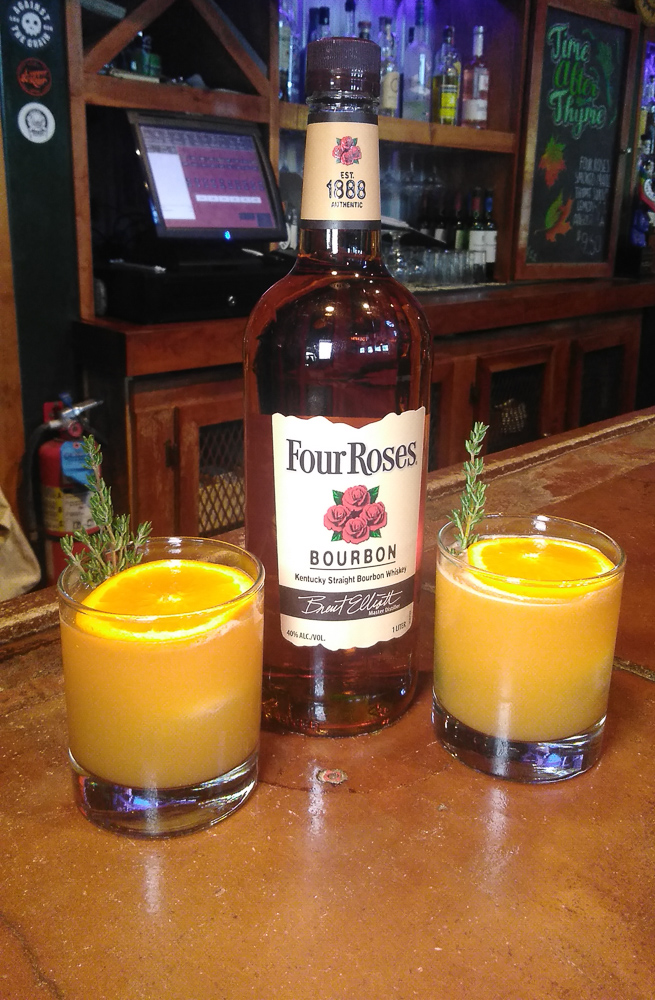 Against the Grain, Time after Thyme by Trisha Torpey (Open 11 a.m. to midnight weekdays, 2 a.m. Fri.& Sat.)
Four Roses Bourbon, Thyme maple syrup, lemon juice, orange juice, Angostura bitters
Jess: This is a delicious citrus drink that would be a great brunch drink if you want something with a little more umph than mimosas. Love the thyme sprig for the whiff it gives you before you drink. If I were more of a citrus fan than an apple fan, this would be my favorite.
Lori: It's festive and is something you could do at home.  The sprig of Thyme reminds of the holiday season, and I can see this being served at parties.This is a good unisex option, and even as a lightweight drinker, I can do this.
Inspiration and Pairing: She won this cocktail challenge last year with a pumpkin butter based drink. She said she feels like a lot of people go Christmas with their recipe, and she wanted to do something she felt like was more fall inspired. Since they're a smokehouse, she smoked the maple syrup in the drink and thinks it would pair well with their pork belly on a stick.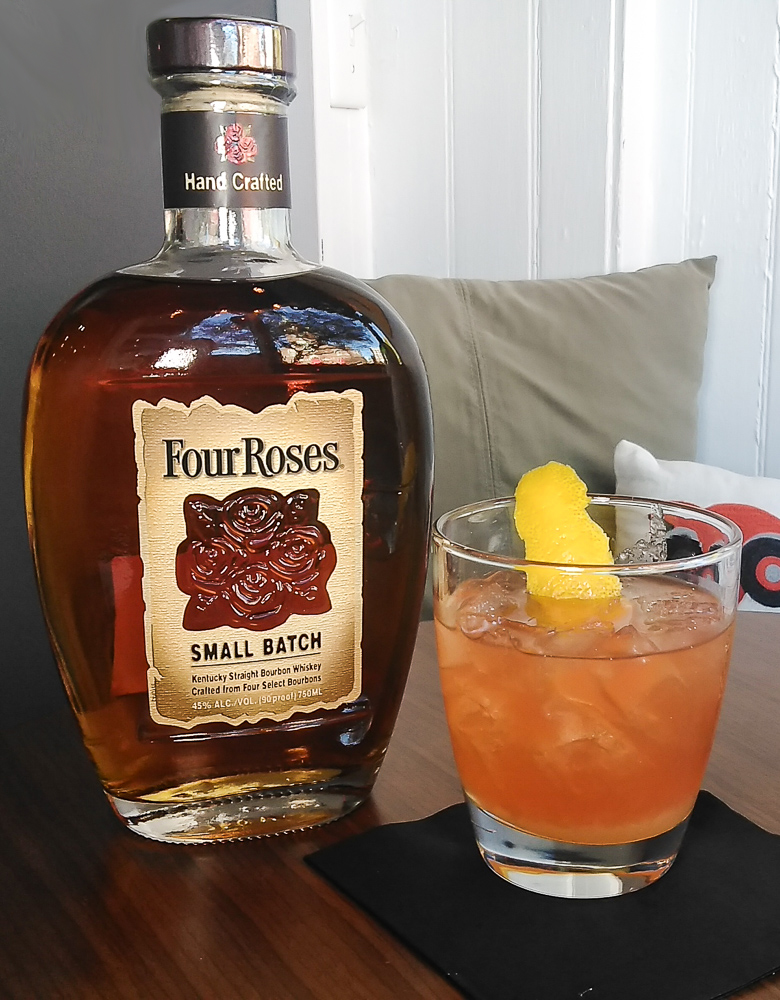 Taste Fine Wines & Bourbons, 634 E Market St, Holiday at the Beach by Mark Duffy (Open Noon to 8 p.m. M -Th, 11 a.m. to 8 p.m. Fri, Sat and 1 to 5 p.m. Sunday)
Four Roses Bourbon, Aperol, Fresh Lemon Juice, Ginger infused Simple Syrup, orange bitters, club soda, fresh ground cinnamon, lemon twist for garnish
Jessica: This is reminiscent of beach drinks with a citrus flavor. It's light and crisp, and I think it would be just fine in summer for bourbon fans. This is a good option for you if you prefer a cocktail that isn't too sweet.
Lori: This is nice for someone who's a "she she" drinker and usually wants umbrellas in her drink. This would allow me to keep up with other drinkers without cautiously sipping while my friends try to rush me to drink up.  This drink is like Key West meets My Old My Home for the holidays!

Inspiration: This is the third cocktail they've offered, because they are primarily a tasting bar. They serve wine, beer or straight pours. His inspiration for this was to overcome how winter can be kind of a drag. So, he and co-owner Jerry Nordhoff thought it would be fun to offer something you might drink at the beach, with the bourbon keeping a bit of winter there.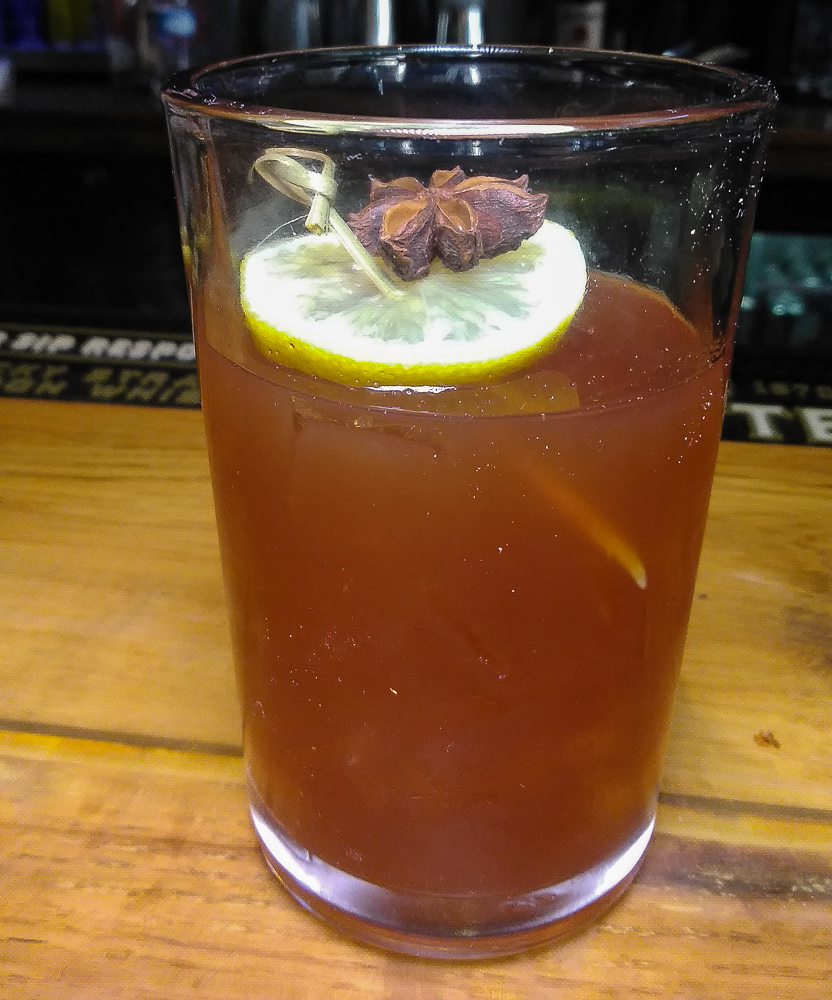 Caroline's Fave!
Galaxie, 732 E Market, Santa's Nightcap by Lauren Conley (Open noon to 2 a.m. Tue - Thur, till 2:30 a.m. Fri, Sat)
Four Roses Small Batch, honey & cardamom & cinnamon syrup, Fernet Menta, and Angostura bitters, lemon wheel and star anise garnish
Jess: There's a nice lemon scent before you sip. I love the thought put into the name and theme here where she thought about it being a digestif and didn't want to stray too far from the Old Fashioned or Manhattan because it was something you might see your grandfather drinking or your dad making for the holidays, and they are Santa aren't they? It was tasted great and I can see it being a good drink to share at family parties.
Caroline: This could be my new Manhattan. It doesn't hit me like an Old Fashioned or Manhattan would; the lemon has really lightened it. I like that she went with this for a nightcap for Santa. He needs to relax after all the kiddos. This would also be great heated for a hot toddy recipe when you're sick.
Inspiration: Kind of her riff on an Old Fashioned/Manhattan, and she ran around sniffing the spices in the kitchen to find the Christmasy blend she wanted. She wanted to keep it simple for the bar staff and for it to have a warm feeling that you get when you go to your family for the holidays. You get from the Bourbon and then the spices come in, and the lemon acts like a digestif, making it a nice nightcap light enough guests can stick around and keep dancing.
Jess's Fave!
Grind Burger, 829 E Market St Oh Poi, It's Fall by Kia Nishida (Open 11 a.m. to 8 p.m. Sun and till 10 p.m. Tues - Sat)
Apple and Cinnamon infused Four Roses Small Batch, Trader Vic's Macadamia Nut Liqueur, Pure Maple Syrup, Lemon Juice, Bittermens Elemakule Tiki Bitters, apple slice and cinnamon stick in the glass for garnish.
Jess: I love this. It was a very interesting mix of ingredients, and while I also love the apple drink at Nouvelle, this one wins because the macadamia and maple make for a more robust flavor and really hit both my sweet and savory preferring palate witha  bit of froth on top for a fun mouth feel. ( I can also spin fire poi, so I like the reference based on the Tiki bitters.)
Caroline: Wow. This is Christmas Carol in a glass. This is very fall like. Good stuff.  
Inspiration and Pairing: Kia grew up in Hawaii and they didn't really have a lot of what other people would associate with Christmas foods but they did have macadamia nut cookies, and so she brought what she remembered as a child to blend with more classic Kentucky Christmas flavors with the apple cinnamon.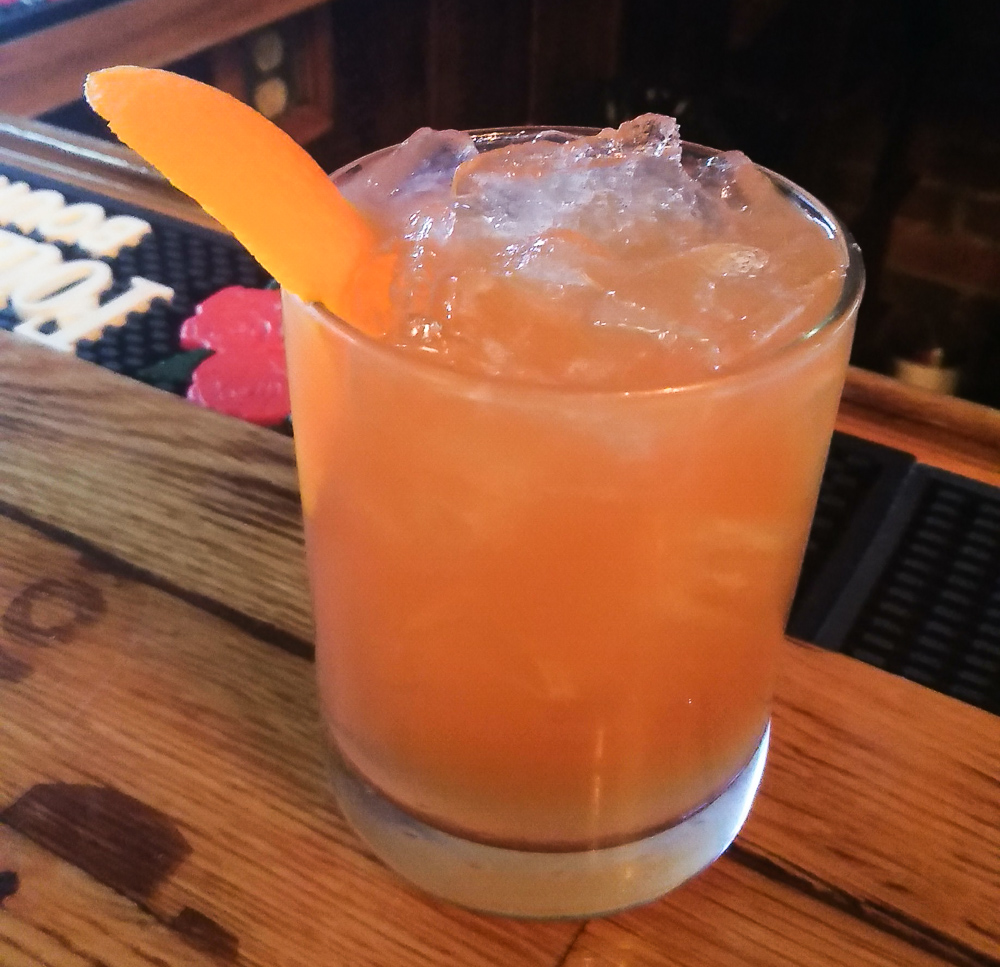 Taj, 807 E Market, You'll Shoot Your Eye Out by Heather Morgan (Open noon to 4 a.m. Sat, Sun and 4 p.m. to 4 a.m. Mon - Fri)
Four Roses Small Batch, apple cider, and St. Germaine. Garnished with a lemon peel. 
Jess:  I'm more of a sweet and savory palate, but someone who enjoys something a little more crisp and bubbly or slightly sour, they'll enjoy this crisp drink. The lemon peel will give you a nice smell. This kind of reminds me of lemon drops.
Caroline:  After a few sips, it grew on me.  The champagne and apple is really interesting.
Inspiration: She says this is her version of a French 75 and says it would pair well with spaghetti squash tossed with champagne, apricots, and smoked apples.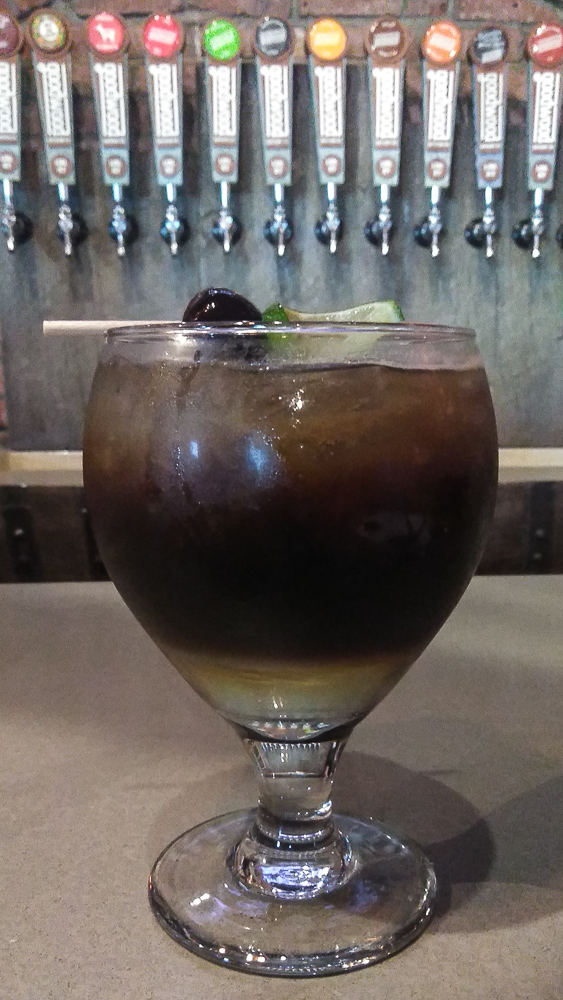 Goodwood, 636 E Main, Mother Parker by Alanna Fugate (Open noon to 11 p.m. Fri, Sat, noon to 6 p.m. Sunday,  4 to 9 p.m. Mon,Tues and till 10 p.m. Wed, Thurs)
Four Roses Single Barrel, Ginger Habanero Syrup, Lime Juice, Shoot Your Eye Out Milk Stout, Luxardo Marascino cherry and lime
Jess:  I think Alanna put a lot of thought into the presentation, and I love how pretty and layered the presentation is before you mix it with your straw for best taste. It's made with a chocolate milk stout, which is really one of the only beers I order. It's an interesting flavor mix, and this is something you could sit and sip on for a while.
Caroline: I'm not really tasting the habanero, and I'm an over the top lover of heat, but I think this is really great. It's very nice, and I think both beer fans and whiskey fans will like it. It's a good blend.
Inspiration: Being a brewery, of course she wanted to feature one of the beers, so she made a beertail. The beer is You'll Shoot Your Eye Out, named after The Christmas Story movie, so I named it after Mother Parker, the mom in the movie. She wanted to add just a bit of smokiness with the habanero and a bit of Christmas with the ginger.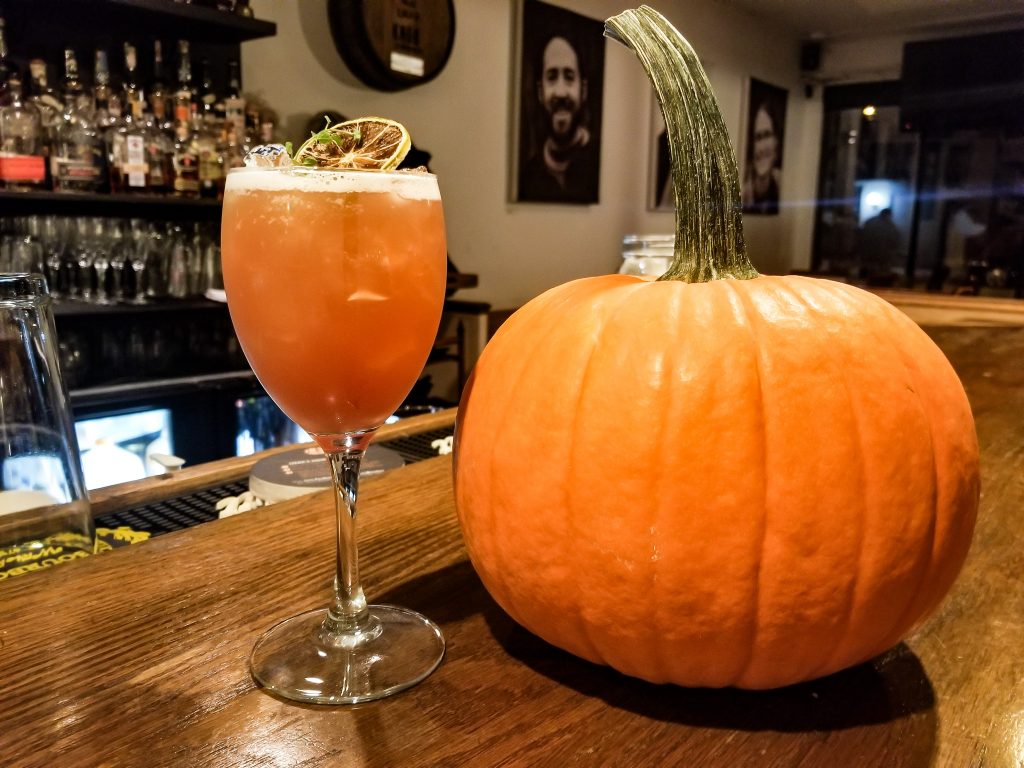 Harvest, 624 E. Market St, Little Jack Horner by Kelly Lynch (Open 10 a.m. to 2 p.m. Fri-Sun, and 5 p.m. to 10 p.m. Tues through Saturday)
Four Roses Small Batch, Cardamaro, House made white plum syrup, lime juice, Bitter Truth Pimento Dram Allspice Liquer, dehydrated lime and thyme sprig for garnish
Jess: Neither Lori nor Caroline could be here for this one, and I tasted it alone. It was delicious and crisp. This was my favorite overall experience if not taste. The taste was good but not as sweet as I usually like. However, there is a lovely smell I inhaled when I brought it near. Then, I exhaled before taking a sip and was surprised every time but a lovely puff of steam from the amount of ice in the drink. Add some nice spice to the crispness from some Sichuan and other peppercorns in the syrup plus the allspice liquer.
Inspiration and pairing: Unfortunately, Kelly was home sick when I tasted, but Ill update once I can reach her.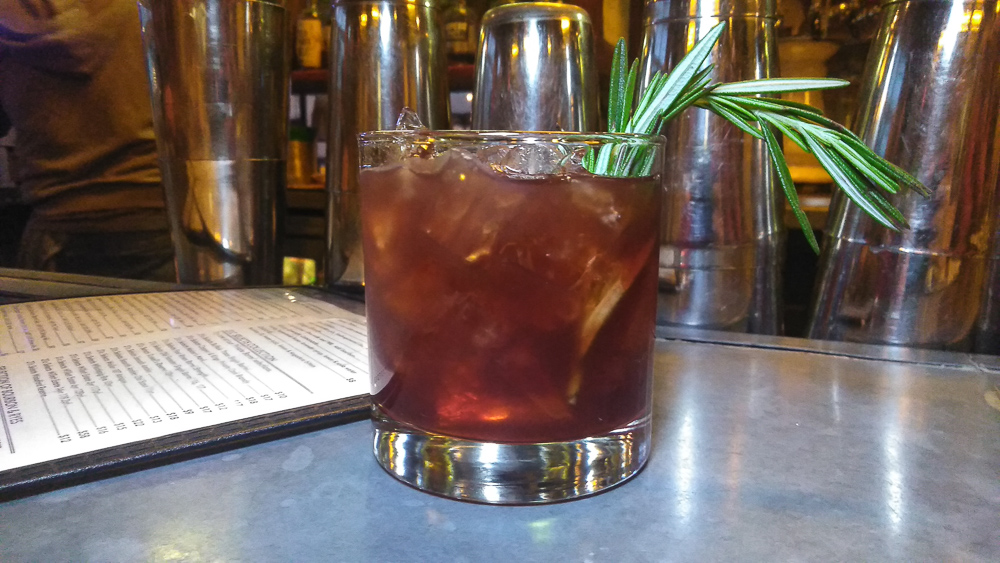 Garage Bar, 700 E Market, Go Easy on the Pepsi by Jeremy Salmon (Open 5 to 10 p.m. Mon-Thurs, 11 a.m. to 11 p.m. Fri, Sat with lunch (Fri) or brunch (Sat) until 4 p.m. and 11 a.m. to 10 p.m. Sun with Brunch till 4.
Four Roses Bourbon, house made cranberry and Pepsi cordial, orange bitters, garnish with thyme or rosemary sprig
Jess: I don't know that I would have expected the herbal garnish with a pepsi cocktail but I love the smell. The pepsi in the syrup is indeed very light and it's not as sweet as you would think but still enough to appeal to my sweet palate. This is probably the most true to form that allows you to taste the Four Roses the most. Very creative and palatable mix of cranberry and pepsi. I didn't really let taste much of the cranberry.
Caroline: I would order this again. I like that it's not too sweet.  This is in the running for my favorite.
Inspiration:  (This is not a carbonated drink.)  He always loved homemade cranberry sauce as a kid and the idea of brandy and holiday flavors with Sherry. He referenced old school Saturday evening post or Betty Crocker cookbook kind of stuff his mom would use, and he thought about how Kevin drinks too much Pepsi in the Home Alone holiday movie and has an overnight accident leading to him missing the plane with his family so maybe light on the pepsi is best. A lot of holiday classics use sugar, so he used real sugar Pepsi.