"It's hard to find a place where everybody knows your name when you're a vagabond."

I've lived in seven different cities since I graduated from high school. By the time I became familiar with my surroundings in one place, it would be time to load up the Mercury Tracer and set up house in a new neighborhood in a new apartment with a new roommate. No time to become a regular at a local neighborhood restaurant or bar. But my life has changed in the past few months.
I have a roommate for life, aka, my new husband. We rent a house in south-central Louisville, an area in which we'd like to stay for awhile. Even our dog seems OK with his new 'hood. It's time to adopt a neighborhood favorite as "our spot," and Annie's Café is in the running.
This Vietnamese restaurant is wedged on a busy block of Woodlawn Avenue between Southern Parkway and South Third Street that also contains Sunergos coffeehouse, a Penn Station sandwich shop, and a grocer that sells hard-to-find items such as camel meat. Annie's Café stands out for its quiet atmosphere, quick service and consistently good, authentic and inexpensive cuisine.
Annie's Café is a great place to bring someone who is relatively new to Vietnamese food. The less-experienced foodie can flip to the back of the menu to the selection of familiar Chinese dishes that the restaurant offers, such as sesame chicken or moo goo gai pan. These dishes come with rice and a spring roll and are just each $6.00 during lunch.
The real deal, however, is in the traditional Vietnamese entrees that dominate Annie's menu. Noodle dishes make up the majority of the selections. The pho, a northern Vietnamese noodle soup, is only $7.00 and comes with your choice of meat. Then there are dishes with rice noodles, vermicelli noodles, egg noodles, stir-fried noodles, crispy noodles, dry noodles. With all of the entrees ringing in at less than $10, it's pretty inexpensive to experiment with so many noodle variations.
Let's not forget about the equally tasty dishes without noodles. The com ga xao gung, ginger chicken on steamed rice ($7.00), is a sweet and tender alternative to a bowl of noodles. The com tom nuong, grilled shrimp on rice with vegetables and Annie's sauce ($8.00) sounds equally delicious.
My last trip to Annie's Café was part pleasure, part medicinal. My sinuses were clogged, a constant hassle I endure with any type of weather change. So I began my lunch with the hot and sour soup ($3.00), a bowl of which is strong enough to clear my airways.
The Hubs and I were pretty sure this was a fresh batch of soup, judging from the slight crunch of the vegetables and the steam wafting off the liquid. Large chunks of vegetables and tofu were jammed into the bowl, which made this a very hearty appetizer that required more chewing than I'm used to with a soup. The broth was opaque with spices that tickled the back of my throat.
To give my mouth a chance to cool off, I ordered the bun tom nuong, vermicelli noodles with grilled shrimp and vegetables ($8.00).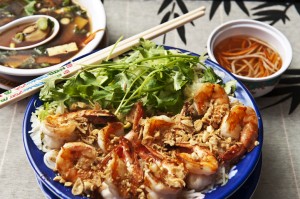 This dish is unlike anything I've ever eaten. A handful of plump grilled shrimp sprinkled with crushed peanuts and a heap of shredded lettuce, cilantro and cucumber sit atop a knot of tender noodles. The dish is served with a small bowl of a light, sweet sauce that I poured over the whole thing. The dish is slightly chilled because of the vegetables, which made me think of it as a kind of noodle salad. The vegetables were very crisp and fresh, crunching with every bite. The shrimp were well cooked. But it's the sweet sauce, which I somehow manage to get all over me on every visit, that unites a bowl of assorted ingredients into one fresh and interesting dish.
I look forward to seeing more of Annie's Café. I've been at least three times already and have never been let down by the friendly staff or consistent meals. Maybe, just maybe, this will be the place where everybody knows my name — or at least my usual order.
Notes about Annie's Café
The Hubs and I often make an afternoon of going to Annie's Café, having coffee at Sunergos and taking a nice walk if the weather permits. The food at Annie's Café is filling, yet light enough to make a short post-meal walk seem manageable.
It's hard not to compare Annie's Café to Vietnam Kitchen, in the Iroquois Manor shopping center, which is arguably more popular. Both serve delicious authentic Vietnamese food at reasonable prices in the south end of Louisville. Overall, the quiet Annie's Café is less expensive and not as overwhelming as Vietnam Kitchen, which can get packed even on a weekday night. But Vietnam Kitchen offers a larger menu. Basically, you'll get a good meal at either place, and good value for your money.
The Bottom Line:
Hot and sour soup: $3.00
Bum tom nuong: $8.00
Total (before tax and tip): $11.00
Total (with tax): $11.66
Mission: Failed
ANNIE'S CAFE 308 W. Woodlawn Ave. (502) 363-4847