Corydon was Indiana's first state capitol (1816-1825), and for those of us who grew up in the area, the town always will be synonymous with the term "Old Capitol."
Time marches on, and today, 203 years after the town's historic Hoosier moment, 1816 Modern Kitchen & Drinks makes its debut at 100 E. Chestnut (the Shafer Building), around the corner from the landmark original capitol and across the street from Butt Drugs.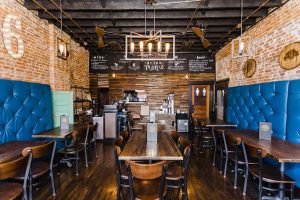 An information release provides this overview.
Southern Hospitality Group (the group that founded MESA, A Collaborative Kitchen and MESA Kids) owners, Bobby and Ysha Bass, and Rod and Esperanza Juarez are pleased to announce the opening of 1816 Modern Kitchen & Drinks at 100 E. Chestnut St. in Corydon, Indiana. A farm-to-table restaurant with Southern comfort food

s

, 1816 Modern Kitchen & Drinks will be led by Executive Chef Scott Dickenson, formerly of The Exchange in New Albany, Indiana. Levi Donaldson, also previously of The Exchange and a partner of Wild Rita's in Louisville, was named general manager.
Speaking of history, there's an interesting culinary footnote at the 1816 Modern Kitchen & Drinks web site.
From 1949 to 2000, the Shafer Building was home to a Southern Indiana institution called Jock's Lunch, an old-school, family-run diner often referred to as Jocko's. Retired photographer Bryan Moss, a native of Corydon, has two Jock's Lunch galleries on-line: here (with commentary) and here. They show a slice of edible Americana that has largely (and regrettably) disappeared.
advertising content
advertising content