Morning Fork (1722 Frankfort Avenue) is the new restaurant from Geoffrey and Emily Heyde, owners of Fork & Barrel (2244 Frankfort). These two forks on the avenue are intertwined, but distinct. Morning Fork opens on Friday, December 18.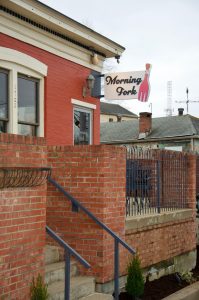 For Morning Fork, the Heydes are emphasizing the "ultimate brunch experience," with hours to suit: 7:00 a.m. to 3:00 p.m., Wednesday through Sunday.
By contrast, Fork & Barrel is an evening place, open 4:00 p.m. to 9:00 p.m. Tuesday through Saturday. Without exaggeration, there is a Fork on Frankfort available for any occasion or time of day.
According to an information release, Fork & Barrel's popular house-made jumbo cinnamon rolls will feature prominently at Morning Fork.
A brief list of menu items:
Short Rib Benedict with a hash brown base and béarnaise sauce
Corned Beef Hash with sweet potatoes
Veggie Breakfast Burrito
MF'n Breakfast Sandwich on toasted Hawaiian bread
Liege Waffles with toppings like bourbon caramel, orange marmalade, chocolate-hazelnut and lemon ricotta
Avocado toast, sweet and savory crepes, cornmeal pancakes, biscuits and gravy, and plenty of "on the side" items
For lunch and early afternoon, the Morning Fork menu includes soups, salads and sandwiches, including "a classic Reuben, tuna melt, fried chicken sandwich and smash burger with double patties," as well as chicken and waffles, lasagna and a Hot Brown.
To accompany brunch, Morning Fork will offer $2 mimosas, Bloody Marys, Vietnamese Coffee and espresso drinks.