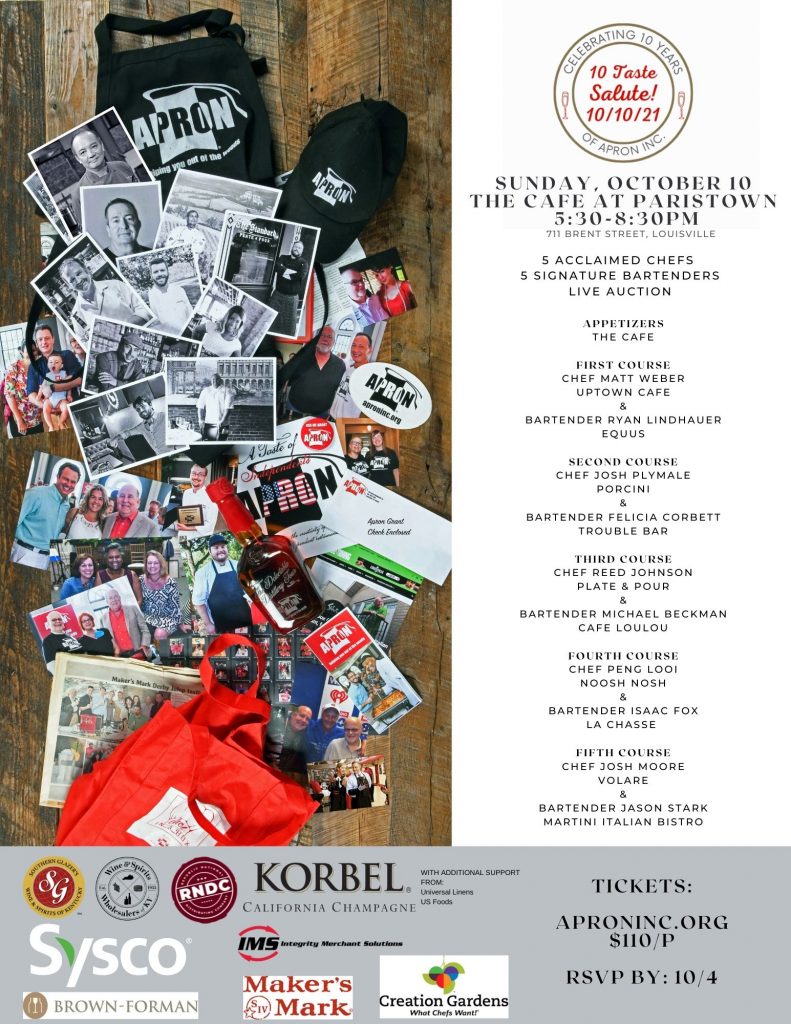 APRON Inc. celebrates its first decade with 10 Taste Salute!, a birthday fete to be held at The Café in Paristown on Sunday, October 10. It's a look back where APRON has been, as well as a reaffirmation of the organization's commitment to Louisville's independent restaurant employees.
The mission of APRON Inc. is to provide temporary, limited financial relief to professional food and beverage workers in the Louisville, KY metro area who work at locally-owned establishments and who are experiencing financial distress due to illness, accident, emergency, or catastrophic event through no fault of their own.
10 Taste Salute! kicks off with cocktails on the lawn from 5:30 p.m. – 6:30 p.m., followed by the dinner and celebration, 6:30 p.m. to 8:30 p.m.
The price is $110 per person, and to register and purchase tickets, go here.
The evening features a five-course "Taste Menu" prepared by some of Louisville's finest local chefs. These dishes will be paired with signature cocktails from mixologists from local restaurants. Throughout the evening APRON's team will be running an auction and raffle.
Featured Chefs
Peng Looi – Noosh Nosh
Josh Moore – Volare
Matt Weber – Uptown Café
John Plymale – Porcini
Reed Johnson – Standard Plate & Pour
Featured Mixologists
Felicia Corbett– Trouble Bar
Jason Stark – Martini Italian Bistro
Isaac Fox – La Chasse
Ryan Lindauer – Equus/Jack's Bourbon Restaurant and Lounge
Michael Beckmann – Lou Lou Food & Drink
"We are 10!," writes APRON Inc.'s president Gary Fox in an information release. "It's hard to believe it's been ten years since a small group met in the back room of Volare to discuss how we might help independent restaurant workers in financial distress. Little did we realize how far that chat would take us. All of us at APRON are very proud of our accomplishments of the last ten years. We have been here for employees during fires, floods, roof collapses, and a pandemic; but just as importantly, through the frightening problems of everyday life.
"We've missed seeing everyone the last two years at our Taste of Independents event, and we are excited to announce our 10th anniversary celebration, the 10 Taste Salute!, on October 10 at The Café. With our growing network of community and corporate support we are going forward stronger than ever before."