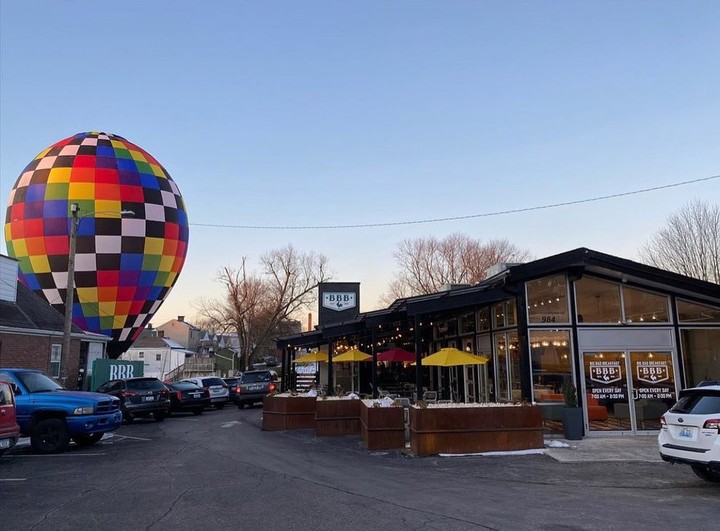 In October 2016, beloved local chef Dean Corbett spoke with David Mann of Louisville Business First.
Corbett recalls that when he started out in the business, Louisville had only about eight really good, independent restaurants. Times certainly have changed since then.
"Now it's just extraordinary, the amount of talent we have around town," he said.
Corbett died unexpectedly two years later. His last great independent local restaurant project was Corbett's: An American Place, which enjoyed a solid decade-long run before closing in 2017.
Now the former Corbett's space is back in the news. As an aside, the first Big Bad Breakfast location is at 984 Barret Avenue, where the fabulously eclectic indie Lynn's Paradise Cafe formerly operated (read Robin Garr's recent review of BBB1 at LEO Weekly here).
Mann tells us all about it at LBF: Breakfast chain opening second location in former Corbett's space.
Founded by (James Beard award-winning chef, author and owner, John) Currence, Big Bad Breakfast is a southern-inspired breakfast concept. The brand has 10 locations throughout  Alabama, Florida, Kentucky, Mississippi, South Carolina and Tennessee.
However, if you lack a subscription, here's the information release, as we received it.
—
Second Big Bad Breakfast location to open this summer in former Corbett's: An American Place
Overwhelming success and community support of Endeavor Restaurant Group's southern breakfast brand leads to expansion to east end location
LOUISVILLE, Ky. (April 11, 2022) – – – Steve Ritchie, founder & CEO of Endeavor Restaurant Group, is expanding the Big Bad Breakfast (BBB) brand with a second location in Corbett's: An American Place's previous building, 5050 Norton Healthcare Blvd., late summer. This is the second BBB opening of Endeavor Restaurant Group, who launched the first location in Feb. in the former Lynn's Paradise Café.
"It is fitting that our second location will be in an iconic property such as Corbett's: An American Place," said Ritchie. "Dean Corbett was a talented chef, successful restaurateur, and pioneer in the farm-to-table movement. It is because of folks like Lynne Winter and Dean that we have such a thriving culinary community." Ritchie adds: "I couldn't be more pleased by the overwhelmingly positive responses we have received from our guests who enjoy Big Bad Breakfast. When this location became available, which was originally the old Von Allman Dairy Farmhouse, we knew that we could not pass it up. It will be a lot of fun to operate a breakfast/lunch concept out of an old farmhouse which also happens to be on the National Historic Register."
Diners can expect the same scratch-made breakfast and lunch stables by James Beard award-winning chef, author and owner, John Currence, with regional ingredients and local flair. Akin to its sister restaurant in the Highlands, the Brownsboro BBB will also offer a vibrant atmosphere with eclectic music and décor.
Big Bad Breakfast will open for breakfast and lunch daily from 7 a.m. to 2:30 p.m. For more information, visit BigBadBreakfast.com or EndeavorRestaurantGroup.com.