Ramsi's Cafe on the World turned 27 on November 27.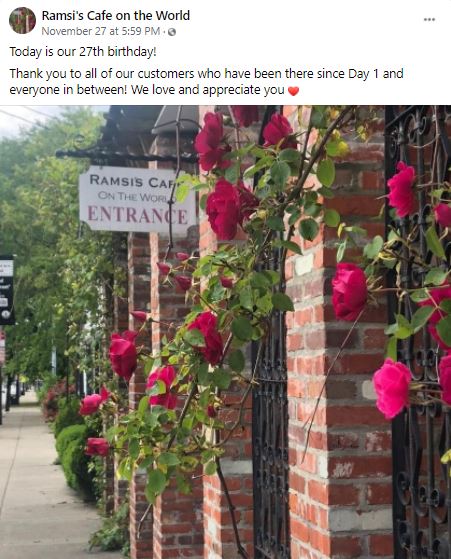 Norton Commons came along in 2004, and now there'll be a second Ramsi's location there, filling the space formerly occupied by Verbena Cafe (10639 Meeting Street).
EXCLUSIVE: Longstanding Highlands restaurant to open second location in Norton Commons, by Haley Cawthon (Louisville Business First)
Ramsi Kamar, owner of the Highlands staple, said opening another restaurant became a necessity to survive the coronavirus pandemic.
"This is to stay afloat," Kamar said on Tuesday. "The market has changed in the Highlands and things have changed for businesses close to downtown, but we're a big part of the community. We're staying. We felt like we needed a second location to sustain the business."
An early January opening for the new Ramsi's location is projected.
The renovated Norton Commons restaurant is expected to open before Jan. 15. Ramsi's Cafe will initially just be open for dinner service from 4 to 11 p.m., but Kamar expects to add breakfast and lunch hours from 7 a.m. to 2 p.m. in the future.
Kamar said the 4,000-square-foot restaurant will be a work in progress, as it takes years — and traveling the world — to collect the art and cultural pieces Ramsi's original location is known for.