On Saturday, October 30 the Tailspin Ale Fest returns to historic Bowman Field for its 8th annual edition, this time with a few plot twists.
Most importantly, Louisville's "Winter Warmer" is rendered briefly autumnal. Tailspin's most recent gathering on March 7, 2020 preceded the advent of various state COVID restrictions by just a few days, and in 2021, the customary late winter time slot wasn't yet manageable for crowds, so the forthcoming Tailspin is being reformatted as a 'Special Spooky Edition," accompanied by a promise that it will "will return to its regularly scheduled program in early 2022."
And, Tailspin (presented by Cox's Smoker's Outlet and Evergreen Liquors) has a new layout, across the airfield at Historic Bowman Field and taking place on the taxiway by the Central American hangar, closest to Taylorsville Road, from 3:00 p.m. to 7:00 p.m.
Because COVID-19 is still very much with us, F&D took pains to clarify Tailspin's pandemic protocols:
This is an outdoor and partially tented event, rain or shine. Do not attend if you are sick or feeling ill. Masks are welcomed. Guests will be required to wear masks on any shuttle bus services. Masks will be provided if you do not have one.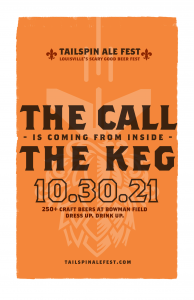 Here's the Tailspin bill of fare.
250 craft beers for sampling, give or take a Saison
Costume contests & photo opportunities
Shuttle stop options and a dedicated shuttle entrance
Cox's Cigar Pavilion
Bourbon Barrel Beer Bar
Cider/Sour Bar
Drake's Silent Disco
Live music from 100% Poly
Tarot card readers and other festive Halloween fun
Kentucky Heritage Section for beers brewed in the Bluegrass
Food trucks
Tickets are on sale now, and here's the breakdown.
GENERAL ADMISSION ticket, $50 plus tax, including fest entry at 3:00 p.m., a souvenir taster glass and pours from some of America's best craft breweries, including a dedicated Kentucky Heritage Section.
VIP ticket, $80 plus tax, including the preceding glass and pours, and also one-hour-early entrance starting at 2:00 p.m., a food voucher to use at any of the food trucks onsite, and a 2021 Bell's Brewery VIP Tailspin souvenir.
DESIGNATED DRIVER ticket, $15 plus tax, including access to Tailspin, live music, food trucks on-site, vintage airplane displays, water and coffee. Designated Drivers must be 21 and over to enter the venue (with valid ID), and must have a ticket in advance owing to space limitations.
SHUTTLE ticket, $15 plus tax, includes a round-trip bus ride, a brew and a bite, with multiple area locations to choose from (including an Indiana pickup). Note this is for bus fare only and does not include a Tailspin entry ticket.
Tailspin Ale Fest benefits the Helping Our People (HOP) Foundation, which is an arm of the Kentucky Guild of Brewers (KGB). The HOP Foundation provides temporary, limited financial relief to KGB member brewery employees in Kentucky who are suffering illness, injury or other health-related issues. Currently the HOP Foundation is working with breweries and suppliers across the country to set up a fundraiser to help with the late Monnik brewmaster Scott Hand's medical and funeral expenses.