"Palatucci's unfortunately is permanently closed. It was great serving all of our guests and my family thanks you all. This was a very difficult decision. We wish you all the best."
So wrote owners Tamara and Richard Britney of Palatucci's Italian American Ristorante, announcing Tuesday on Facebook that their family restaurant was closing after only five months in business at 204 S. Spring Street (the former Gary's on Spring).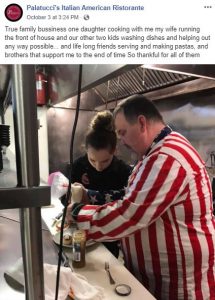 Contacted by Food & Dining, the Britneys let us know a little more about their decision to close. The elements are familiar, but it's a worthwhile refresher about the demanding nature of the restaurant business for all start-ups, even more for mom & pop shops.
Inconsistent customer traffic out of the gate last spring soon combined with chronic problems finding and retaining staff, which in turn meant that often the kitchen was being run solely by the owners and their daughter. Their mounting fatigue was compounded by unexpectedly high utility bills — and the Britneys weren't taking paychecks, after all.
The family persisted because they couldn't bring themselves to let their dream of restaurant ownership fail. What pushed them to the brink was the loss recently of Tamara's full-time job, which provided insurance and took care of personal expenses.
Richard Britney is proud that through it all, the employees and vendors were paid in a timely fashion. Two weeks ago, when it became clear there was no way to avoid closing, the Britneys made sure to notify their staffers.
"I've never walked out on anyone in my life," said Richard, "and I'm not going to start now."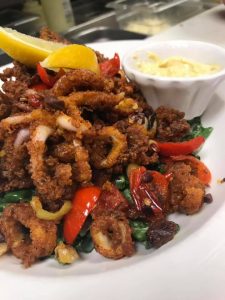 (Jon Larmee helped with this post)