As Against The Grain brewery's first decade has unspooled, we've witnessed a slow and steady progression from early exuberance as local craft beer's purposeful enfant terrible, through today's "elder" (if not exactly elderly) exercise of community statesmanship.
So it is that AtG's tenth birthday is being celebrated on Saturday (October 9) with a throwback pig roast at the brewery's Slugger Field Smokehouse mother ship. Ergo, the Dionysian excess might be viewed as an instructive contrast to the Apollonian modesty increasingly demanded of a company that is shape-shifting before our very eyes, emerging from troubled pandemic times with all cylinders firing.
See how they've grown — or, as the old-timers might say, "Big Bad Bill (Is Sweet William Now)":
Against The Grain Brewery & Smokehouse (Slugger Field), 401 East Main St.
AtG Portland Production Brewery, 1800 Northwestern Pkwy.
Against The Grain Brewery & Public House, 1576 Bardstown Rd.
AtG Sandwich Emporium & Flamingo Lounge, 119 S. 7th St.
The Whirling Tiger (coming soon), 1335 Story Ave.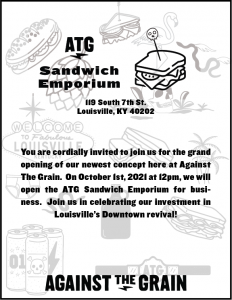 This Friday's (October 1) debut of AtG Sandwich Emporium comes at 119 S. 7th St. (street level), joining the previously minted subterranean Flamingo Lounge.
You're invited to our grand opening and ribbon cutting for the long awaited ATG Sandwich Emporium on OCT 1, at noon!  If you're looking for lunch and want to check out the new digs, come on down! We are donating 50% of our sales that day to Apron Inc.
There's a deeper dive and more expansive preview by Danielle Grady at LEO Weekly.
Against The Grain's Downtown Sandwich Shop Opens Friday In Former Another Place Space
During a unique time in downtown Louisville's history, the new Against The Grain Sandwich Emporium is offering a unique lunch special: a sandwich, chips and beer combo.
The Sandwich Emporium opens in the former Another Place Sandwich Shop space above The Flamingo Lounge this Friday, Oct. 1 at 8 a.m.. Co-owner Sam Cruz describes the Emporium's sandwich selection as a cross between a New York deli and a Penn Station. Essentially, you'll have your traditional deli sandwich selection (ranging from $10-$12) but with a lot more toasting involved. And, because it's an Emporium, you'll also be able to find salads, sides and cookies.
The beer, though, that is an idea that is all ATG. The brewery brand will sell its packaged beers on site, including your favorites, A Beer, Citra Ass Down, The Brown Note and the 35K Stout.
Photo credit: AtG.