Granted, the most recent post on the Facebook timeline of Toast on Market New Albany (141 E. Market) is dated June 20, 2020.
The popular SoIN breakfast and brunch spot closed temporarily during the early COVID upheavals, and has remained on hiatus ever since, while Toast on Market Louisville (620 E. Market St.) eventually reopened.
However, why read the tea leaves when social media does the sleuthing for you? This Toast notice appeared on Saturday (yellow highlight courtesy of F&D).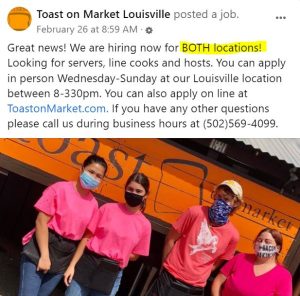 Since Toast on Market New Albany went into its pandemic hibernation, the morning dining scene in New Albany has changed. Here's a timeline.
Late in 2020, Daisy's Country Cooking closed.
In January, 2021 so did Adrienne & Company.
At this juncture, sit-down breakfast dining in New Albany was in full retreat. But late in 2021 came happy news that the former Daisy's building had a new tenant.
The 15th locally-owned Wild Eggs is coming soon to New Albany
Then in January 2022, a long-term local restaurant favorite got into the breakfast game.
Toast on Market New Albany is hiring, but there is no firm word on its comeback schedule. When updates come, we'll pass them along.