I am so thankful that an organization like APRON Exists to help the often-forgotten folks who have been deeply impacted by Covid.
— Chris Williams, chef and owner at Four Pegs Beer Lounge and Restaurant
When COVID came, APRON Inc. upped its game.
In 2020, APRON's regular, COVID-19, and specialty grants totaled 643, of which 494 were claimed; the grant amount was $253,000, and the grantees came from 156 different restaurants. In the first 22 days of 2021, APRON has approved 82 grants.
APRON Inc.'s mission is to provide temporary, limited financial aid to metro Louisville food and beverage industry professionals in need who work for locally-owned establishments. Historically clients have experienced financial distress owing to illness, injury or other hardships. Obviously COVID-19 has been responsible for an unprecedented level of hardship, with ongoing need.
Consequently, APRON's 9th Annual Dine-Around is being done differently this year.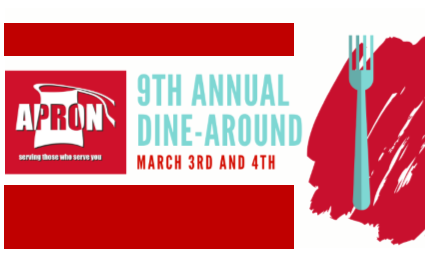 Previously restaurants have donated a portion of their profits on a single annual dine-around day, with proceeds going to help workers in need. For 2021 APRON has added a second day to the promotion and simply asks that you to pick a spot to enjoy breakfast, lunch and/or dinner to help support the restaurants.
This year's dates: Wednesday March 3 and Thursday March 4, 2021.
APRON Inc. board members will be visiting their favorite spots throughout the day and posting live on Facebook, plus there will be a Virtual Dinner Party hosted by APRON. For more information, visit APRON's page at Facebook.