A watercolor painting by Louisville artist Richard Sullivan, formerly a farmhand in the Atlanta Braves minor league system, graces Woodford Reserve's 2020 commemorative Kentucky Derby bottle.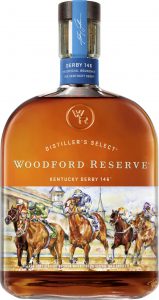 Quoted in an information release, Woodford Reserve Master Distiller Chris Morris said, "There is a poetic beauty in this year's bottle because Richard Sullivan, the human athlete, is celebrating the equine athlete."
"My goal was to create a beautiful image of the Kentucky Derby that embodies the spirit of competition, dedication, and freedom that is required to be your best," commented Sullivan, who played baseball at the Savannah College of Art and Design (SCAD) so that he could pursue both his passions, pitching and art.
"I wanted to capture this intense moment of competition that is shared between the human and equine athlete. A moment when everything is on the line, time stops, awareness is heightened, mind and body are one, and anything is possible."
Churchill Downs will host the 146th running of the Kentucky Derby on May 2, 2019. One-liter Derby bottles of Woodford Reserve Bourbon are considered collector's items, and their release has been anticipated annually by aficionados since 1999.
To celebrate, a bottle release party will be held on Saturday, March 21 from 4:00 p.m. – 7:00 p.m. at Stoneware & Company in Paristown (731 Brent Street, Louisville).
The "Spring Into Derby" event, being held on the first day of Spring, will include a Derby fashion show featuring hats and bow-ties, Bluegrass Music and classic Kentucky Derby small bites from The Cafe. The event will benefit the Backside Learning Center at Churchill Downs and will feature Sullivan autographing Derby bottles with Woodford Reserve Master Distiller Chris Morris, Assistant Master Distiller Elizabeth McCall, and several Derby-winning jockeys.