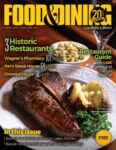 The Spring 2023 issue of Food & Dining Magazine is now available in all the familiar places: Louisville area eateries and food shops, newsstands and online.
The venerable Sweet Surrender Dessert Cafe (1804 Frankfort Avenue in Clifton) closed in December amid considerable lamentation, but happily the space will soon house a like-minded new occupant: Bae's Baekery.
Bae's Baekery will retain its original location at 1164 S. Brook Street as a catering and events arm.
View this post on Instagram
The text from Instagram:
3 years ago, with barely any money in the bank, freshly deferred my law school tuition, and Griffin had just quit his electrician job, we opened Bae's Baekery on the corner of Brook and Oak street in Old Louisville. We didn't know what we were doing, experienced a lot of hardships and celebrations, and built our brand into what it's become and loved as today. 🍰
.
.
.
We are so proud and excited to announce that we will be expanding our bakery to the former Sweet Surrender location on Frankfort Avenue, right next to @guestroomrecordslouisville @hilltoptavern @thechampagnery and @thesilverdollar 🎉 If you've visited us in Old Lou, you know we have more kitchen space than dining, and we'd like to change that. In May, you'll be able to dine with us, inside or out on the patio 🌞 We will begin offering Espresso drinks, full service coffee, bottled cold brew, and breakfast sandwiches (and eventually, full cafe offerings!).
Co-owner Abigail McGreevy told the Courier Journal's Dahlia Ghabour that the timing was perfect.
"It was divine intervention to continue that legacy of another woman-owned bakery being there…our facility in Old Louisville has so much kitchen and no front-of-house. The new one will give us an opportunity for customers to gather and enjoy our treats."
The expanded Bae's on Frankfort Avenue will offer its jumbo stuffed cookies and cakes by the slice in addition to adding new options like pastries and both vegan and gluten-free treats, along with biscuits and breakfast sandwiches via an arrangement with the Susan Brown Bakery. The shop is expected to open in May.
Previously at F&D:
Bittersweet news: Sweet Surrender Dessert Café's final day is Dec. 10