Bellissimo is the Italian word for "very beautiful."
In Pashto, one of Afghanistan's official languages, it's ډیر ښکلی. The Persian (Farsi) equivalent: بسیار زیبا.
Such are the delightul cross-cultural underpinnings of Bellissimo, which opened earlier in March at 2217 Steier Lane in Buechel. At LEO Weekly, Giselle Rhoden explains the back story.
Italian Food Truck Opens First Brick-And-Mortar Location In Buechel
For 20 years, Abbas Jamshidi worked as a chef at Vincenzo's, one of Louisville's most popular Italian restaurants. After years of making alfredos, scampis, and raviolis, Jamshidi opened an Italian food truck, Bellissimo, with his family in 2017.
Last Thursday, March 2, Bellissimo opened its first brick-and-mortar restaurant at 2217 Steier Ln., near other international food spots like Eden & Kissi and Jasmin Bakery.
Writing at Spectrum News, Jordan Grantz takes a peek at the Afghan side of the Bellissimo menu (usage note: "Afghani" refers to the country's currency).
This is not Italian food; this is Afghan cuisine. Mantu, a few kabobs and Bolani, a crispy flat bread filled with potatoes, to be exact. "Very popular in Afghanistan, but here, nobody knows this food," co-owner (Mahboba) Rasoli said.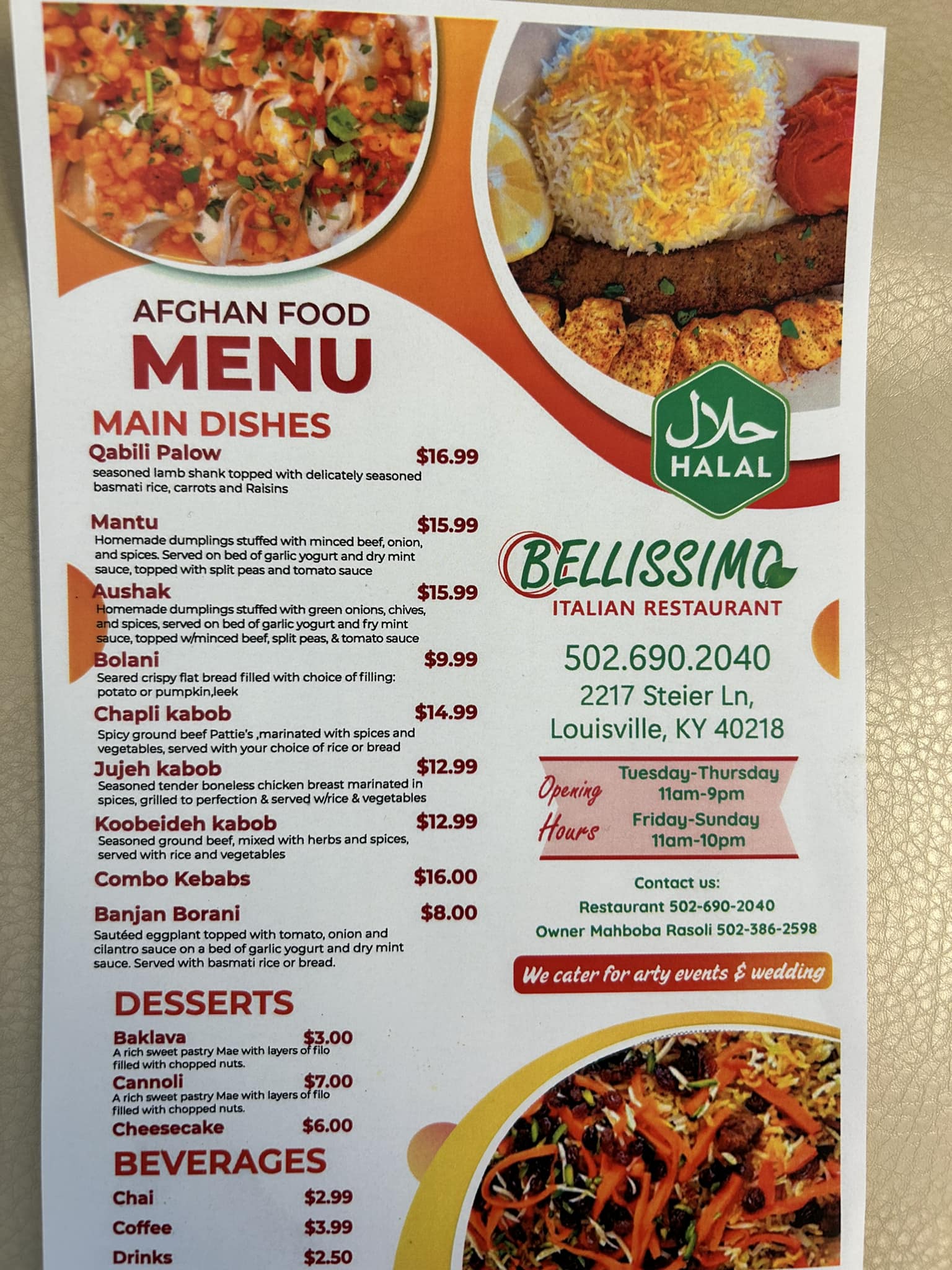 Grantz provides a helpful "What You Need To Know" listing of bullet points.
Bellissimo Italian Restaurant serves both Italian and Afghan food
The owners are from Afghanistan and Iran
During Ramadan, they are serving Aghan food every day they are open
The family-owned and operated restaurant, which opened only a few weeks ago, is unique
Bellissimo's current opening hours:
Monday through Friday: 11:00 a.m. – 2:00 p.m. and 5:00 p.m. – 7:00 p.m.
Saturday: 11:00 a.m. – 7:00 p.m.
Sunday: Closed