On Monday afternoon, Governor Andy Beshear nudged the indoor pandemic capacity needle forward. Dahlia Ghabour had the report at the Courier Journal.
Louisville, KY— After two and a half months of capacity restrictions for indoor businesses sitting firmly at 50%, Gov. Andy Beshear announced Monday those limits would be increased to 60%.
Beginning Friday, businesses like bars, restaurants, gyms, salons and movie theaters will be allowed to operate at 60% capacity, because Kentucky is on its seventh straight week of declining COVID-19 cases.
But here's the rub for restaurants and bars (our italics): "Beshear stressed this change would only apply to businesses that have the space to do so."
Social distancing, remember?
The Kentucky Restaurant Association took note of the spatial incongruity in a post at its Facebook page.
KRA has been pressing for the bar seating and service prohibition and curfew to be lifted. Instead, Governor Beshear announces indoor dining can go to 60%. Will an extra 10% help with 6+ foot distancing guidelines in place?
Meanwhile WLKY offered this helpful chart.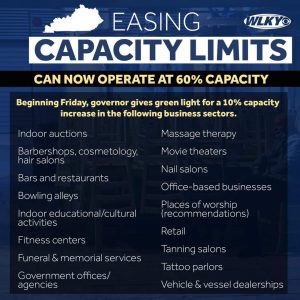 In big-picture terms of the distance we've traveled since COVID-19 arrived, it's been almost a year (two weeks shy) since Beshear's initial closing order, just before St. Patrick's Day, 2020.
As expected, "Beshear closes bars and restaurants in Kentucky in response to the coronavirus outreak." Whither Indiana?