If it's true that we eat with our eyes (these writers say yes, we do), then Zack Flanagan and Sean Lara may have devised a perfectly legal means to print money.
Their Board and You charcuterie board catering service in New Albany launched in April 2019, gaining a rabid and ever-expanding cult following by feeding roughly 1,001 baby showers, real estate closings and office parties, coupled with the probability that 98% of the caterer's customers shared their experience on social media.
In other words, Flanagan and Lara are very good at what they've chosen to do. Last winter the Progressive Grocer website took note of the charcuterie revolution in America — and in Louisville, too.
The French word, pronounced "shar-koo-tuh-ree," describes a wide range of meat products, many of which are cured, and it's a category that is fast growing in the United States. From grocery store shelves to restaurant menus to social media, charcuterie is having a renaissance as the kind of authentic, experiential meal that today's consumers are yearning for.
Five years ago, a consumer heading to the grocery store for cold cuts or a party platter might stop by the deli for some sliced Swiss cheese and Virginia ham. Today, that consumer might be looking for organic fig spread, Provencal olives and Columbus Craft Meats' Calabrese salami made from whole cuts of hand-trimmed pork and slow aged at least 21 days.
But we referred to hungry eyes for a reason: "Charcuterie and the deliciously gorgeous boards used to serve it have become so popular that Instagram influencers are quitting their jobs to design colorful charcuterie boards full-time."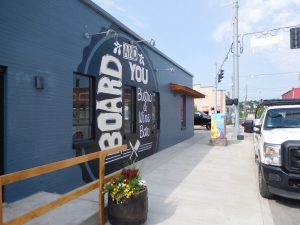 Stage "next" for Flanagan and Lara begins soon at home base on the corner of Elm and Pearl in downtown New Albany as their brand extension, Board and You Bistro & Wine Bar, prepares for an early July opening.
Although charcuterie will be among the offerings at the restaurant, Board and You Bistro will offer a fine dining experience with a variety of small plate and dinner options, and the bar will offer a curated wine menu and specialty cocktails.
Reporter Brooke McAfee has the rest of the story at the News and Tribune.