The Westport Village location of BoomBozz Pizza & Watch Bar (1315 Herr Lane) is hosting a job fair every day this week (Mon through Fri) from 11:00 a.m. to 6:00 p.m., and on Saturday from 10:00 a.m. to 4:00 p.m.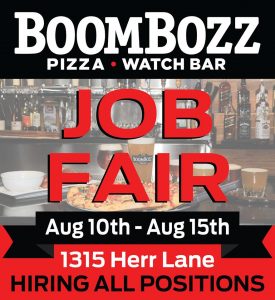 The job fair is for all positions, and according to an information release, "will offer competitive wages as well as opportunities for growth within the company."
It's all part of the master plan for the Westport Village BoomBozz, which will reopen at the end of August following an interior remodeling using the template from similar efforts at the Jeffersonville, IN and Highlands (Louisville) sites.
Last October on the occasion of the reimagined BoomBozz location in Jeffersonville, we took a look at what this means.
Rebranding, renovation and renewed relevance for BoomBozz Pizza & Watch Bar