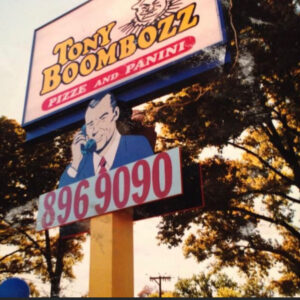 In 2023 BoomBozz Pizza & Watch Bar celebrates its 25th anniversary. Since its inception in 1998, BoomBozz has grown from a single carry out delivery pizzeria in Louisville to multiple locations across Kentucky, Indiana, and Tennessee. We'll have more to to say about the 25th anniversary celebration, but first this excerpt from my 2017 F&D magazine profile, explaining how it all began for BoomBozz.
—
In 1994, Tony Palombino was out of school, young and restless, and unsure what to do next. After all, first-generation children don't always remain in their immigrant parents' small shops and stores.
Abruptly, a game-changing opportunity arose.
"I'd been in the restaurant business all my life up to that point, with my family," Palombino remembered. "I got into the banking business, then I got a call from my mentor in Kansas City. He wanted to open a wood-fired pizza concept, which was unique for the time."
Palombino went to Kansas City, and in 1995 he entered a specialty pizza into a contest sponsored by Pizza Today magazine.
Called the Pollotate, this pizza had marinated chicken, roasted potatoes and red onions on a crust brushed with oil and garlic – and it won first prize at the finals in Las Vegas.
The Pollotate was Palombino's first bona fide chart topper, and the trophy remains proudly displayed at his office. However, the lasting lesson came only after he returned to Kansas City and got back to work. Soon his phone was ringing off its pre-cellular hook.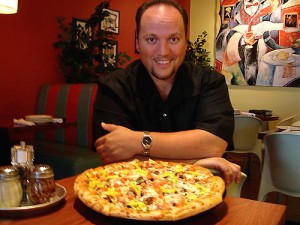 "Pizza Today sent out a press release (to Kansas City media). I had no idea they did that. People started calling, asking about the contest. Literally, within three of four days I was on every television station in Kansas City, and it was a lightbulb moment."
To Palombino, the potential power of marketing was an epiphany, helping him to begin understanding the nuts and bolts of being in business.
"At the end of the day, my family was in the restaurant business, and it was hard to make a dime," he said. "I saw my parent struggle in the restaurant business."
Palombino had been hesitant; now he knew that fantastic food required skill sets beyond kitchen creativity. His time in banking provided necessary insight into the financial realities of business, and in Kansas City the pizza contest was an introduction to Marketing 101.
"That's when I had this formula – what I call to this day 'The Playbook' – of building concepts," he said. "I was able to take the best part of what I know, the creative part, and to do what I could to make it successful."
After a short stay in Cincinnati, an energized Palombino returned to Louisville. He was recently married, starting a family of his own and itching to put theory into practice.
Using his parents' 700-foot St. Matthews storefront as an incubator, he kicked off BoomBozz in 1998, a pizzeria dedicated to "gourmet" pies in a market where traditional tomato sauce, pepperoni and extra cheese were the norms.
BoomBozz met with quick popular and critical acclaim, and has enjoyed continued growth over two decades. Still, Palombino hasn't once hesitated to tweak a winning formula.
"As time goes by, you've got to reinvent yourself and stay relevant," asserted Palombino, "and it gets harder every day."
Consequently, keeping all of his restaurant concepts relevant is an obsession, and he knows it can't be done alone.
"It's all about the people who've been with me for five, ten, fifteen years. You don't want to let them down. You want to have success because you want them to be successful, too."
"It is about people, and it is about your staff," continued Palombino. "It's who you surround yourself with. If I didn't have a support team, I'm not opening another restaurant."
—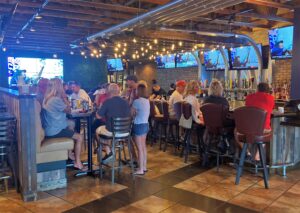 So, to reiterate, BoomBozz Pizza & Watch Bar's 25th anniversary celebration begins now.
"We are beyond excited to celebrate 25 years of BoomBozz," says Palombino. "We've always strived to craft pizzas that are more than just a meal, they're an experience. It's been an incredible journey, and we're looking forward to many more years of serving our communities."
Boombozz has garnered praise from national publications like Food Network, BusinessWeek, Pizza Today, and Restaurant Hospitality; ranked highly on various Top 100 lists, including ones at Fast Casual and Pizza Today; and won the "Best Pizza in America" title twice at the International Pizza Championships in Las Vegas.
Over the past decade, BoomBozz has honed its on-premise dining experience with the addition of multiple television screens and state-of-the-art sound systems to create a unique entertainment hub, ideal for sports. A large selection of draft beer and cocktails complements the pizza and ballgames.
BoomBozz invites pizza lovers to join in its 25th anniversary celebrations at participating locations, May 15-21 (as below, at Louisville's BoomBozz in the Highlands). Follow the brand's respective social medias for cash prizes and special celebrations.