BOURBON NEWS & NOTES – for 23 April 2021, by Susan Reigler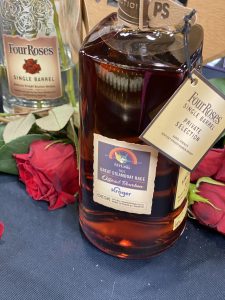 A Special Four Roses Release Honoring the Great Steamboat Race
This year's Derby Week Great Steamboat Race between the Belle of Louisville, the Belle of Cincinnati, and the American Duchess takes place on Wednesday, 28 April. The bourbon to be served aboard the boats is a limited edition, single barrel Four Roses chosen by a panel that included Four Roses master Distiller Brent Elliott, Belle of Louisville Captain Mark Doty, and Kentucky Derby Festival President & CEO Matt Gibson.
Four Roses has 10 different bourbon recipes, thanks to the fact the distillery uses two different mashbills and five distinct yeast strains. The selection agreed upon unanimously by the panel is a 10-year-old OESK – 75% corn, 20% rye, 5% malted barley and lightly spicy. It has been bottled at its barrel strength 117.1 proof.
Even if you can't be aboard one of the steamboats for the race, you can join in the festivities by purchasing your own bottle at one of several select Louisville Kroger Wine & Spirits locations, including the Middletown Kroger, 12501 Shelbyville Road. The suggested retail price is $75.99.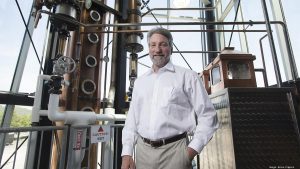 New Riff Distilling is Expanding
Assuming all the building permits are approved, New Riff Distilling of Newport, Kentucky will start construction next month to make room for three new fermenters by adding 900 square feet to the distillery. That will increase production by 50%. The $2 million project will enable New Riff to distill six days a week and increase its output from 8,000 barrels a year to 12,000.
In a prepared statement, owner Ken Lewis said, "We remain committed to becoming one of the great small distilleries of the world. This expansion will help us achieve that goal while remaining a family-owned business with no outside ownership." The expansion will mean hiring up to five new employees. With more barrels in the pipeline, New Riff is looking to build more rickhouses soon, too. For more about the distillery, https://www.newriffdistilling.com.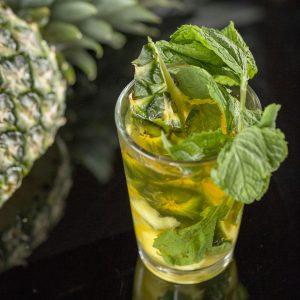 Mint Julep Month Recipe of the Week – The Pineapple Julep
Since the late Kentucky Bourbon Hall of Fame bartender Joy Perrine got her start mixing cocktails on the Caribbean Island of St. Croix, it's fitting that one of her variations on the mint julep would have a tropical twist. The recipe for her Pineapple Julep appears in More Kentucky Bourbon Cocktails (University Press of Kentucky, 2016), which I had the honor and pleasure of co-authoring with Joy.
PINEAPPLE JULEP
2 ounces Kentucky bourbon
1 ounce pineapple juice
1 ounce mint syrup (see recipe below)
3 tablespoons chopped, fresh pineapple
6 Kentucky Colonel mint leaves
Combine syrup, mint leaves, and pineapple in a julep cup and muddle. Add crushed ice to fill. Then add the bourbon and pineapple juice. Garnish with fresh mint and, if you wish, a pineapple spear. Serve with a long straw.
Kentucky Mint Syrup
2 cups boiling water
2 cups cane sugar
2 cups Kentucky Colonel mint leaves
Add mint leaves to boiling water. Boil 2 minutes. Add sugar and boil 1 minute. Cover pot and remove from heat. Steep 6 hours or overnight. Strain, bottle, and refrigerate. Keeps approximately 1 week.
This week's photo credits: Four Roses, New Riff, University Press of Kentucky.
******************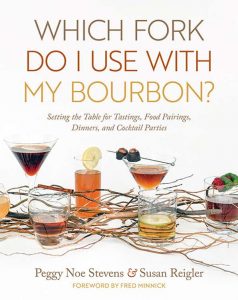 F&D Bourbon Columnist Susan Reigler is the author of several whiskey books, including Which Fork Do I Use with My Bourbon? – Setting the Table for Tastings, Food Pairings, Dinners, and Cocktail Parties.
Pick one up this Derby Season. Autographed copies are available from Carmichael's Bookstore.
It can also be purchased on Amazon, or directly from the publisher at https://www.kentuckypress.com/9780813180311/kentucky-bourbon-country/
advertising content
advertising content