BOURBON NEWS & NOTES – for 25 June 2021, by Susan Reigler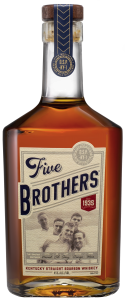 Heaven Hill's Expanded Visitor Center Debuts
Earlier this month, Heaven Hill unveiled its expanded and remodeled Heaven Hill Bourbon Experience in Bardstown. Governor Andy Beshear was present to cut the re-opening ribbon with Heaven Hill president Max Shapira. The two also led a toast to mark the occasion and the release of the new Five Brothers Bourbon, a small batch mingling of five- to nine-year old barrels which pays tribute to Shapira's father and four uncles who founded the company in 1935.
The center is now three times larger than it had been originally, so it can accommodate up to 900 guests at a time. Three new tasting rooms, which overlook Heaven Hill's warehouses, have been added. Guests can also choose and bottle their own whiskey, and high-tech exhibits are now more interactive.
For more information and to book tours, https://heavenhilldistillery.com/visit-us.php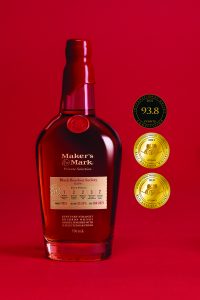 Congratulations to Black Bourbon Society's Maker's Mark Private Selection!
Last month (28 May column) I wrote about the collaboration between Maker's Mark and the Black Bourbon Society (BBS). Now the Black Bourbon Society's Maker's Mark Private Selection: Recipe 2 has taken a couple of very impressive awards at the just completed, and prestigious, International Whisky Competition. With the highest score of 93.8 points (out of 100) it took top honors as Best Bourbon and Best American Whisky, which meant it also scored higher than all American bourbons, ryes, malts, and other styles. For more about the bourbon, Black Bourbon Society and Maker's Mark® Private Selection.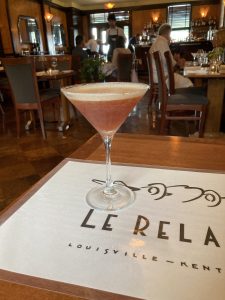 The Paper Plane Soars at Bistro Le Relais
Among the activities of the International Bartenders Association is an annual World Cocktail Competition. All entries in the competition must be one on the list of 90 approved cocktails. These fall into three categories. The Unforgettables are classics such as the Martini and the Manhattan. Among Contemporary Classics are the Bloody Mary and the Cosmopolitan. The drinks in the third category are classified as New Era Drinks, in which this week's featured cocktail, the Paper Plane, is found.
It was created about 2007 by mixologists Sasha Petraske and Sam Ross for Chicago's James Beard Award-winning bar, The Violet Hour, owned by their former colleague Toby Maloney. It was named by Petraske, who was a fan of British hip hop singer M.I.A.'s track, "Paper Planes."
The drink hasn't shown up on many Louisville cocktail menus, but one place where it can be found is at Bistro Le Relais, (https://www.lerelaisrestaurant.com). Located at Bowman Field airport, it's certainly fitting that Le Relais features a cocktail with an aviation-inflected name. One of the ingredients is Amaro Nonino and that particular brand is crucial to the flavor of the drink. The base spirit here is grappa which is flavored with a variety of botanicals including thyme, quinine bark, gentian root, and wormwood.
The Paper Plane is a very appealing balance of sweet and tart with a just a hint of bitterness. Since bourbon is its base spirit, it belongs on more Louisville cocktail lists.
Paper Plane
1 ½ ounces Old Forester bourbon
1 ½ ounces Aperol
1 ½ ounces Amaro Nocino
½ ounce lemon juice
Combine ingredients over ice in a cocktail shaker. Shake until well chilled and strain into a cocktail glass.
This week's photo credits: Heaven Hill, Maker's Mark, and S. Reigler. The cover photo from the opening of the Heaven Hill Bourbon Experience shows, from left to right, the visitor center's general manager Jeff Crowe, Kentucky Governor Andy Beshear, and Heaven Hill president Max Shapira.
******************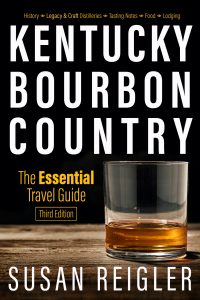 F&D Bourbon Columnist Susan Reigler is the author of several whiskey books, including Which Fork Do I Use with My Bourbon? –  Setting the Table for Tastings, Food Pairings, Dinners, and Cocktail Parties and Kentucky Bourbon Country: The Essential Travel Guide. Autographed copies are available from Carmichael's Bookstore. They can also be purchased on Amazon, or directly from the publisher: 
https://www.kentuckypress.com/9781949669091/which-fork-do-i-use-with-my-bourbon/
https://www.kentuckypress.com/9780813180311/kentucky-bourbon-country/