BOURBON NEWS & NOTES – for 16 April 2021, by Susan Reigler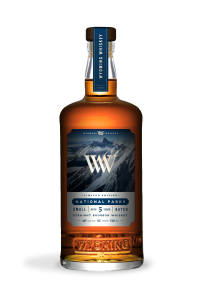 Wyoming Whiskey Auction to Raise Money for National Parks
One fortunate outcome of our lockdown year has been an increase in virtual access to events around the country and the world. So, anyone can participate from anywhere. Next week is National Parks Week and Wyoming Whiskey, in partnership with the National Park Foundation, will hold a live virtual auction of special edition bottles. Four different limited-edition bottlings will be released, designated in honor of four park locations – Black Sand Basin, Grand Teton, Hayden Valley, and Yellowstone Lake. Here are the details:
The Wide Open Spaces Collection features art directed by Harrison Ford in collaboration with photographer Tuck Fauntleroy and artist Jamison Sellers. The auction will raise funds for the preservation of America's National Parks. This is also the day Wyoming Whiskey launches an all new Wyoming Whiskey National Parks Limited Edition label that is available to everyone.
The live auction is Tuesday, April 20th at 8:00 p.m. Eastern, 5:00 p.m. Pacific. To participate, RSVP here.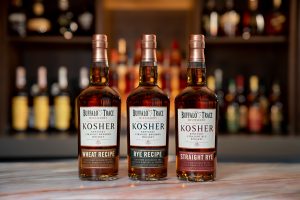 Buffalo Trace's Annual Release of Kosher Whiskeys
Kosher law mandates that whiskey should not be owned or consumed by Jews during Passover. (Who knew?) So, Buffalo Trace Distillery began working with the Chicago Rabbinical Council (cRc) in 2012 to create Kosher whiskey. Two years later the council oversaw the sale of new American Oak Kosher barrels in a contract of sale to a non-Jewish executive, Buffalo Trace Distillery President Mark Brown. They were filled and warehoused to age and specially marked "Kosher whiskey,"
Now that Passover has ended, Buffalo Trace Distillery is releasing its second annual supply of Kosher Whiskey, which will arrive in retail stores in May. The whiskey is available in three styles – Kosher Rye Recipe Bourbon, Kosher Wheat Recipe Bourbon, and Kosher Straight Rye Whiskey.
The new Kosher whiskey line is limited, but it will continue to be an annual release each year after Passover. The labels depict both Buffalo Trace Distillery logo and the cRc-Kosher logo.  Each expression of Buffalo Trace Kosher Whiskey has a suggested retail price of $39.99 per 750ml bottle.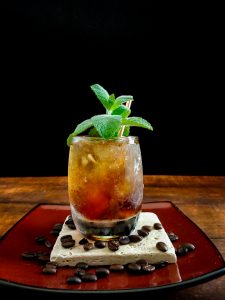 Mint Julep Month Recipe of the Week – The Breakfast Julep
Heather Wibbels, The Cocktail Contessa, has provided this variation on a julep. She advises you to, "Start the day off with the flavors of traditional Derby breakfast combined in a mint julep. Perfect for a pick-me-up for Oaks morning, or Derby morning, whether you're headed to the track or not."
More advice for creating your own julep riffs can be found at https://www.cocktailcontessa.com/mint-julep-variations/
BREAKFAST JULEP
2 ounces Kentucky bourbon
½ ounce coffee liqueur (non-creamy)
¼ ounce barrel-aged maple syrup
¼ ounce orange liqueur
5 mint leaves
Garnish: mint sprig, (optional: bacon)
Take one mint leaf and rub it along the inside and rim of the mint julep cup. Next, add coffee liqueur, orange liqueur, mint leaves, and syrup. Muddle just a few times, then add your bourbon and stir briefly. Fill the julep cup with crushed or pellet ice. Spank the mint to release its aromas, then place it and the straw right next to each other in the julep cup. The bacon is optional. You might need a snack.
This week's photo credits: Wyoming Whiskey, Buffalo Trace, and Heather Wibbels.
******************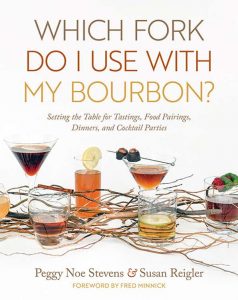 F&D Bourbon Columnist Susan Reigler is the author of several whiskey books, including Which Fork Do I Use with My Bourbon? – Setting the Table for Tastings, Food Pairings, Dinners, and Cocktail Parties.
Pick one up this Derby Season. Autographed copies are available from Carmichael's Bookstore.
It can also be purchased on Amazon, or directly from the publisher at https://www.kentuckypress.com/9780813180311/kentucky-bourbon-country/