BOURBON NEWS & NOTES – 7 August, 2020, by Susan Reigler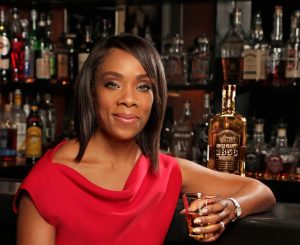 Locust Grove's Punch Bowl IV
Locust Grove house museum, last home of Louisville founder and Revolutionary War hero, Gen. George Rogers Clark, has reopened for limited tours. It  has also launched a series of virtual events, including a series tied in with its recreated late 18th– early 19th century farm distillery. The Punch Bowl IV is coming up on Friday, August 14 from 5:30 to 7:00 p.m. and will feature Fawn Weaver (Uncle Nearest Distillery), Andrea Meriwether (Barfare Concepts), Alan Bishop (Spirits of French Lick Distillery), and Steve Bashore (Distillery at Mount Vernon) hosted by Locust Grove's distiller, Brian Cushing.
The topic is "The Role of African Americans in Distilling." Registration is free. Participants are encouraged to sip the beverage of their choice during the online panel discussion. To register, go to https://bit.ly/PunchBowlIV.
Angel's Envy Announces Limited Edition Founder's Collection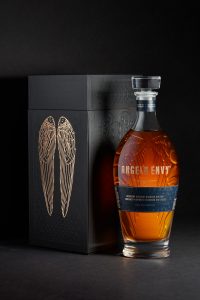 Angel's Envy, 500 E. Main Street in Louisville, is launching a series of limited releases known as the Founder's Collection. Scheduled for August 19th, the 10th anniversary of the distillery's founding by the Kentucky Bourbon Hall of Fame member Lincoln Henderson and his son Wes Henderson, the series will honor Henderson senior.
The first release is of Angel's Envy Kentucky Straight Bourbon Whiskey Finished in Japanese Mizunara Oak Casks and is a blend of four-year-old and nine-year-old Angel's Envy that was aged for an additional two years in the rare, 200-year-old Japanese wood. Only 1,200 bottles of the 97.8 proof bourbon will be available. The suggested retail price is $349.99. Members of the distillery's 500 Main society will be able to pre-order bottles. To become a member, go to https://500main.angelsenvy.com. For more information about the bourbon, https://www.angelsenvy.com/whiskey/mizunara-cask.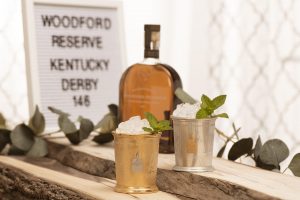 Woodford Reserve $1000 Kentucky Derby Mint Julep Honors Jockey Diane Crump
Derby is certainly different this year. It was also different 50 years ago when Diane Crump made history as the first female jockey to ride in the race. To honor Crump's ground breaking moment and raise money for the non-profit Permanently Disabled Jockeys Fund, Churchill Downs and Woodford Reserve (the Official Bourbon of the Kentucky Derby) are once again selling very special limited-edition mint juleps to raise money. Twenty-five gold plated cups and  120 silver-plated cups are available for $2,500 and $1,000 respectively. The cups were crafted by From the Vault Jewelers in Louisville and packed in a walnut case lined with turquoise and white silk – the colors Crump wore in the race – designed by Bourbon Cousins of Cincinnati.
For information about purchasing the juleps, go to https://www.woodfordreservemintjulep.com. If you want to try your hand at this year's special recipe made with all-Kentucky ingredients, here it is:
Diane Crump Blackberry Mint Julep
(Blackberry is the official fruit of Kentucky.)
2 ounces Woodford Reserve Kentucky Straight Bourbon
1 bar spoon Blackberry Preserves
1 bar spoon Simple Syrup
Mint Bitters
Fresh Blackberries and Mint Sprigs, for garnish
Crushed Ice
At the bottom of the julep cup mix 1 bar spoon of blackberry preserves and 1 bar spoon of simple syrup. Add 2 – 4 dashes of mint bitters. Fill two-thirds of cup with crushed ice. Add sipping straw and Woodford Reserve Bourbon. Top off cup with more crushed ice (packed in). Top with fresh blackberries and a sprig of mint to garnish.
******************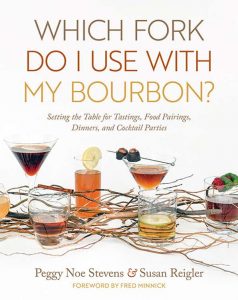 F&D Bourbon Columnist Susan Reigler is the author of several whiskey books, the most recent being Which Fork Do I Use with My Bourbon? Setting the Table for Tastings, Food Pairings, Dinner, and Cocktail Parties, co-written with Peggy Noe Stevens.
Autographed copies are available from Carmichael's Bookstore. It can also be purchased on Amazon, or directly from the publisher at https://www.kentuckypress.com/9781949669091/which-fork-do-i-use-with-my-bourbon/.
Photo credits: Locust Grove; Angel's Envy; and Woodford Reserve.