BOURBON NEWS & NOTES – for 10 September, by Susan Reigler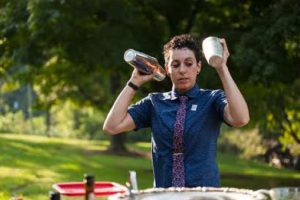 Star Hill Farm Flavor Fest at Maker's Mark Benefits APRON
Maker's Mark will be hosting its annual Star Hill Farm Flavor Fest on Thursday, 16 September to benefit APRON Inc., the non-profit organization that provides financial assistance to employees of Louisville's independently owned restaurants and bars.
Here's the food and beverage line-up from chefs and bartenders:
Chefs
Mark Ford (Anoosh Bistro) – Bourbon cured braised beef short rib, sweet potato, kale and pepitas
Josh Hillyard (Chef & Jeff Catering) – Sorghum brined chicken thigh, black eyed peas, smoked ham jus, & fennel pickles
Marguerite & Dan Schadt (Heitzman Traditional Bakery) – Marker's Mark Bourbon brownie
Allen Hubbard (Martini Italian Bistro) – Smooth's Maker's Mark chipotle mango peach BBQ  chicken in crunchy potato boat with shredded cheddar and goat cheese cream with minced chives
Paula & Anthony Hunter (The Black Italian) – Flame-grilled homemade Italian meatballs and a homemade bourbon sauce with Maker's Mark Bourbon
Erik Kalsch (Equus/Jack's Bourbon Restaurant) – Southern carnitas tacos: Mexican–style slow cooked pork, apple jicama slaw, ancho lime crema, Maker's infused BBQ, cotija, cilantro
Auco Lai (Star Hill Provisions) Winter squash bite with shaved okra and pea greens
Andrew McCabe (bar Vetti) – Salmon crudo
John Plymale (Porcini) – Pulled pork with a peach bourbon barbeque on a brioche bun with a sweet and spicy cilantro slaw
Chris Williams (Four Pegs Smokehouse & Bar) – Smoked bourbon glazed lamb chops
Bartenders
Jeremy Johnson (Meta) – Quince You've Been Gone (Maker's Mark Cask Strength, Melletti, Novasalus, quince vanilla sherbet, lemon, Bolivar Bitters)
Bri Hlava (Barn 8) – Peaches & Herb (Maker's Mark Private Selection, pickled peach purée. vanilla syrup, fresh lemon juice, Aperol. Topped with Coors Banquet)
Jason Stark (Martini Italian Bistro) – The Final Gallop (Maker's Mark. Orange juice, blood orange simple syrup, lime juice, mint, habanero bitters)
Dante Wheat (Louisville Thoroughbred Society)- 30/11 (Maker's Mark 46, lemon peach saffron shrub, Lillet Blanc, French's yellow mustard, barrel char infused dehydrated lemon wheel)
Tickets are $100 per person, or $130 including round trip transportation from Louisville. They may be purchased through makersmark.com/events.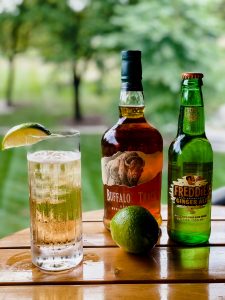 Two (or Three) Cocktails from Buffalo Trace Using Freddie's Old Fashioned Sodas
Kentucky Bourbon Hall of Fame member tour guide Freddie Johnson is such a beloved, valued, and respected staff member of the Buffalo Trace Distillery in Frankfort that several years ago, the distillery rebranded its root beer "Freddie's."  Last year, the company also released Freddie's Ginger Beer and Freddie's Ginger Ale. All are made of the best ingredients possible (No high fructose corn syrup!) and are delicious non-alcoholic sips on their own. Plus, they provide the opportunity for anyone under 21 touring the distillery to participate in a tasting.
Not surprisingly, the soft drinks make great mixers with Buffalo Trace's spirits. Here are two kindly provided by Emily Doss of Buffalo Trace.
Buffalo Ginger
2 ounces Buffalo Trace Bourbon
4 ounces Freddie's Ginger Ale
Combine in a highball glass over ice and serve.
The Buffalo Float
2 ounces Buffalo Trace Bourbon Cream
4 ounces Freddie's Root Beer
Combine in a glass and serve. For extra richness pour over 1 scoop of vanilla ice cream.
The distillery also has a Freddie's Mule recipe using Wheatley's Vodka and Freddie's Ginger Beer. You can convert it to a Freddie's Kentucky Mule by using 2 ounces of Buffalo Trace Bourbon to 4 ounces of Freddie's Ginger Beer over ice.
This week's photo credits: Maker's photos from Maker's Mark. Buffalo Trace images from Emily Doss.
******************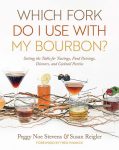 F&D Bourbon Columnist Susan Reigler is the author of several whiskey books, including Which Fork Do I Use with My Bourbon? –  Setting the Table for Tastings, Food Pairings, Dinners, and Cocktail Parties and Kentucky Bourbon Country: The Essential Travel Guide. Autographed copies are available from Carmichael's Bookstore. They can also be purchased on Amazon, or directly from the publisher: 
https://www.kentuckypress.com/9781949669091/which-fork-do-i-use-with-my-bourbon/
https://www.kentuckypress.com/9780813180311/kentucky-bourbon-country/
advertising content
advertising content