BOURBON NEWS & NOTES – for 29 January 2021, by Susan Reigler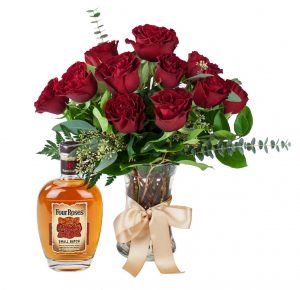 Four Roses for Valentines Benefits American Heart Association
That beautiful bouquet of roses you present your loved one for Valentine's Day loses its luster after about a week. But a good bottle of bourbon lasts a lot longer than that. Why not give both, especially as there is a classic Kentucky bourbon that even has "roses" in its name?
That's exactly what Four Roses and Nanz & Kraft Florists are offering this Valentine's Day with a one-of-a-kind pairing of roses and Bourbon. The exclusive package includes one dozen Heart Roses, a special rose variety known for a large petal count that creates the shape of a heart, and a bottle of Four Roses Small Batch signed by Master Distiller Brent Elliott.
The number of packages is limited. They can be purchased either online or in-store at Nanz & Kraft Florists located at 141 Breckenridge Lane. The price tag is $125 with a portion of proceeds benefitting the American Heart Association. When you buy a package, you will also be entered for the chance to win a behind-the-scenes tour of the Four Roses Distillery when the visitor center expansion is completed later this year (cover photo).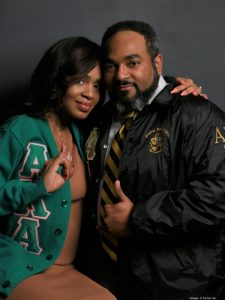 New Bourbon to Honor Black Sororities and Fraternities
James and Brittany Penny of Jeffersontown are the founders of spirits company 2 Cents Inc. and they have just announced the release of their first product, IX Bourbon Whiskey. The name honors the nine historically Black Greek organizations that comprise what is often called The Divine Nine.  James is a member of Alpha Phi Alpha and Brittany, like Vice-President Kamala Harris, belongs to Alpha Kappa Alpha.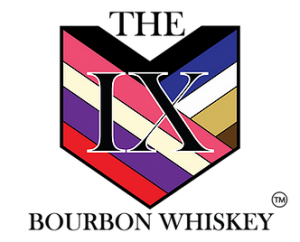 They describe the sourced whiskey as having "buttery, caramel flavor with undertones of chocolate and a hint of spice." The initial release will be about 1,200 bottles and retail for around $90. Pre-sale orders will start soon on the company's website, The IX Bourbon Whiskey, where the company's mission statement is, "To create premium spirits that celebrate everyone and to foster conversations that birth action through diversity within the wine and spirits industry." And the vision is, "To unite humanity one glass at a time."
A New Bourbon Lounge
Chef John Varanese has retooled the lounge next door to his River House Restaurant & Raw Bar. Levee Bourbon Lounge is now open every Friday and Saturday evening. (Hours will be expanded when the restaurant scene begins to return to more normal traffic.) As the name suggests, the bar will be bourbon-centric with a new, upgraded cocktail and bourbon list, including several specialty Old Fashioneds. As guests are sipping and enjoying the view of the river, they can order food from the full River House menu.
The bourbon list also contains two dozen curated whiskey flights priced from $14 to $120. The lower-priced choices are anything but lower quality. They include Four Roses (Yellow Label, Small Batch, Single Barrel), Wheated (Maker's Mark, Old Fitzgerald Bottled-in-Bond, Larceny), and Bottled-in-Bond (Old Grand-Dad, Evan Williams, Rittenhouse Rye).
At $24, the Chef John Varanese's Flight offers Maker's fans a chance to compare two of Varanese's private barrel strength single barrel selections from 2016 and 2019, along with Maker's 46 Cask Strength. As you may have guessed, the most expensive flight is The Van Winkle. It features Old Rip Van Winkel 10-Year, Van Winkle Special Reserve 12-Year, and Pappy Van Winkle's Special Reserve 15-year.
This week's photo credits: Four Roses, 2 Cents Inc., River House.
******************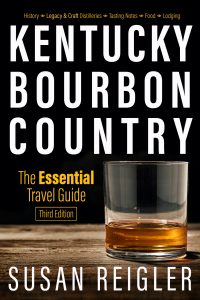 F&D Bourbon Columnist Susan Reigler is the author of several whiskey books, the most recent being Kentucky Bourbon Country: The Essential Travel Guide, 3rd edition.
Autographed copies are available from Carmichael's Bookstore. It can also be purchased on Amazon, or directly from the publisher at https://www.kentuckypress.com/9780813180311/kentucky-bourbon-country/
advertising content
advertising content