BOURBON NEWS & NOTES – for 18 June 2021, by Susan Reigler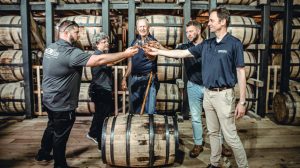 Bourbon Country Collaboration Involves Multiple Distilleries
Bardstown, Kentucky proclaims itself to be "The Bourbon Capital of the World," and since it has 11 operations distilling, warehousing, and bottling bourbon within a 30-minute drive from the center of town, that designation seems pretty fitting. Recently several of those distilleries announced a new project that will help worthy causes in Bardstown.
The Bardstown Collection, http://bardstowncollection.com, will be a series of special bottlings from Bardstown Bourbon Company, Heaven Hill Distillery, Jim B. Beam Distilling Co., Log Still Distillery, and Preservation Distillery. They are scheduled for their first release this September, which also happens to be National Bourbon Heritage Month. The idea is to support the people of Bardstown, who have been supportive of the distilleries over the years.
In an email, Bardstown Bourbon's vice president of hospitality and product development explained that each participating distilleries would select it's "best bourbon" and that "a charity is still being selected, but it will be a unified donation that benefits the Bardstown community."
While bourbons are coming from different distilleries, the packaging will be the same, presented in a blue box with gold lettering. Selections will include a 100 proof, at least 8-year-old bourbon from Heaven Hill and a single barrel 7-year-old bourbon with a high rye content in the mashbill from Log Still, bottled at cask strength.
Beam will be using 16 and 17-year-old bourbons that will be bottled no lower than 108 proof. And Bardstown Bourbon is offering a custom blend finished in a second, new charred oak barrel and bottled to somewhere in the neighborhood of 121 proof. (Details are forthcoming on Preservation's bottle.)
These special, limited bottles will be sold exclusively in the distilleries' gift shops. Not all retail prices have been determined yet, but those that have range from $150 to $250.
The distilleries expect a positive response to the Bardstown Collection, which has already prompted two more producers, Maker's Mark and Four Roses, to sign on to the project for 2022.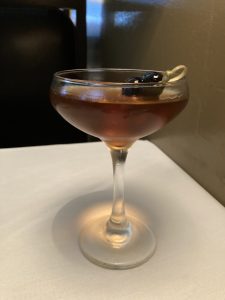 Jack Fry's Malachi's Manhattan
The Highlands bistro Jack Fry's (https://www.jackfrys.com) boasts a speakeasy vibe because once upon a time it was a speakeasy. Namesake and founding owner Fry ran a bootlegging operation out of his back room. He was also a bookie. Today, of course, the bar menu at Jack Fry's is entirely legal.
The Manhattan served here has always been excellent and it is a classic cocktail for good reason. It has a depth of flavor that lends itself to contemplative sipping. It also lends itself to some delicious variations by creative bartenders. One such inventive mixologist is Michael Taylor, the former bar manager at Jack Fry's, and his elegant take on the Manhattan is appropriate to the bistro with a sophisticated menu. He substituted amaro and vanilla liqueur for the traditional sweet vermouth. In place of Angostura bitters, more savory black walnut bitters are used.
So, who's Malachi? He was a bookie and bootlegger. Malachi was Jack Fry's middle name.
Malachi's Manhattan
2 ounces Bulleit Rye
½ ounce Meletti Amaro
½ ounce Giffard Vanilla Liqueur
3 dashes Fee Brothers Black Walnut Bitters
Luxardo Cherries, for garnish
Stir all ingredients in a shaker with ice, strain into a chilled coupe glass, and garnish with Luxardo cherries.
This week's photo credits: Bardstown Collection and S. Reigler.
******************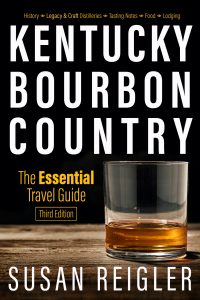 F&D Bourbon Columnist Susan Reigler is the author of several whiskey books, including Which Fork Do I Use with My Bourbon? –  Setting the Table for Tastings, Food Pairings, Dinners, and Cocktail Parties and Kentucky Bourbon Country: The Essential Travel Guide. Autographed copies are available from Carmichael's Bookstore. They can also be purchased on Amazon, or directly from the publisher: 
https://www.kentuckypress.com/9781949669091/which-fork-do-i-use-with-my-bourbon/
https://www.kentuckypress.com/9780813180311/kentucky-bourbon-country/