BOURBON NEWS & NOTES – for 5 November, by Susan Reigler
James B. Beam Distilling Company Announces New On-Site Restaurant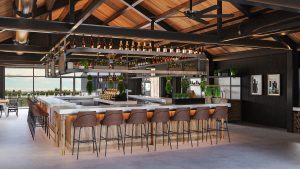 James B. Beam Distilling Company has announced that QED Hospitality, which operates upscale restaurants and bars in the Pontchartrain Hotel in New Orleans and the hotel Thompson Nashville, will be operating a new restaurant being built at the distillery in Clermont. The Kitchen Table will offer indoor and outdoor dining, including on a covered porch with views of the distillery grounds. Both the food and bar menus will feature Kentucky-grown/produced ingredients. Among them will be dishes made with pulled pork, country ham, catfish, and pizza with Kentucky toppings.
The restaurant's name is derived from the Beam family kitchen table, which belonged to Jim Beam and has been handed down through generations. (If this is the round oak table in the Beam house kitchen on Third Street in Bardstown, I once had the pleasure of sipping Booker's Bourbon with master distiller Booker Noe himself. Long story for another time.) The Kitchen Table is scheduled to open, along with the renovated visitor facilities, soon, but no date has been announced. Go to https://www.jimbeam.com/en/ for updates.
Woodford Reserve's Annual Holiday Edition is Now Available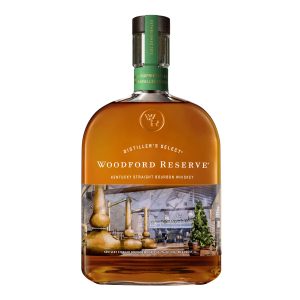 Woodford Reserve's annual holiday bottle featuring the artwork by British architect Nick Hirst has arrived on store shelves. Hirst, who specializes in historic buildings, depicts Woodford Reserve's still room in watercolor. Titled "Copper and Stone," it shows the three copper pot stills with a decorated tree opposite. This is the second year for Hirst's artwork to be featured. The one-liter holiday bottle has a retail price of $50. The Spiced Apple 16-fluid-ounce bottle is available on WilliamsSonoma.com and Williams Sonoma retail stores for $18.95.
Jeptha Creed Releases a Bottled-in-Bond Expression
To celebrate its fifth anniversary on 11 November, Jeptha Creed Distillery, https://jepthacreed.com, is releasing its first Bottled-In-Bond Rye Bourbon. The new release, aged at least four years and bottled at 100 proof, has mash bill of 75% Bloody Butcher corn, 20% malted rye, and 5% malted barley. Master distiller Joyce Nethery's tasting notes: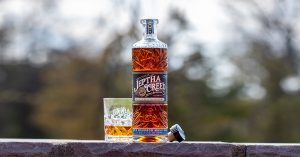 Nose: Sweet orange creme brulee, followed by bold baking spices, and dried cranberries.
Palate: Light caramel, vanilla, cinnamon, and lemongrass with undertones of sweet oak.
Finish: Long smooth buttery finish with whispers of ginger and cinnamon.
The Bloody Butcher corn was estate grown on the Nethery family farmland within 10 miles of the distillery. It will be available for purchase in the distillery gift shop near Shelbyville starting on the 11th, and in select stores throughout Kentucky and Indiana. In March 2022 it will be available in select stores in Illinois, Tennessee, and Missouri.  On release day, Joyce Nethery will be in the gift shop from 3 p.m. to 5 p.m. to sign bottles.
The Whiskey Tariffs are History
In truly great news for the American whiskey industry, including Kentucky bourbon, the 25% import tariff the European Union slapped on American whiskey three years ago when former President Trump imposed tariffs on European steel have been eliminated. They had caused whiskey exports from the U.S. to drop by 37%, from $702 million to $440 million. President Biden axed the steel tariff in Rome at the G20 meeting and the EU responded by erasing the whiskey tariffs.
(Addendum: Note that because of Brexit, tariffs remain in place in Great Britain, which is no longer part of the EU.)
This week's photo credits: Jim Beam, Woodford Reserve, Jeptha Creed.
******************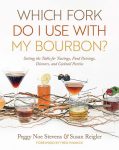 F&D Bourbon Columnist Susan Reigler is the author of several whiskey books, including Which Fork Do I Use with My Bourbon? –  Setting the Table for Tastings, Food Pairings, Dinners, and Cocktail Parties and Kentucky Bourbon Country: The Essential Travel Guide. Autographed copies are available from Carmichael's Bookstore. They can also be purchased on Amazon, or directly from the publisher: 
https://www.kentuckypress.com/9781949669091/which-fork-do-i-use-with-my-bourbon/
https://www.kentuckypress.com/9780813180311/kentucky-bourbon-country/