BOURBON NEWS & NOTES – for 21 May 2021, by Susan Reigler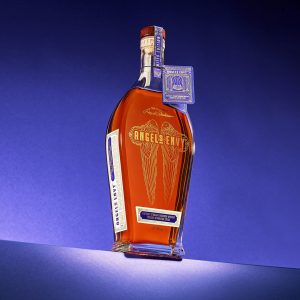 Angel's Envy Limited Release Madeira Cask-Finished Bourbon
As one in its series in the Angel's Envy Cellar Collection, the distillery is releasing 3,360 bottles of Kentucky Straight Bourbon Whiskey Finished in Madeira Casks. Members of the distillery's 500 Main club will have first access to the 100-proof bourbon through a lottery from May 21 to May 25 in which 600 of those members randomly selected on May 28 will have a chance to purchase a bottle. The balance of the inventory will be released to the public beginning June 6 at 1 p.m. with 400 bottles available at the distillery's gift shop, 500 East Main Street and the rest at select retailers in Kentucky, New York, California, Texas, Florida, Tennessee, and Illinois.
While many bourbons finished in secondary barrels are in those barrels about six months, this one spent a full year in the madeira casks. Angel's Envy describes it as having, "… notes of caramelized banana, brown sugar, raisins, almonds and faint cherry on the nose, as well as notes of oak, grass, smoke, leather, chocolate and dried cherries on the palate. The finish lingers with notes of almond and hazelnut."
Angel's Envy is promoting this release as "Just in time for Father's Day." Dads, it will be a good idea to be extra nice to your offspring. The suggested retail price for a 750 mL bottle, which may vary by market, is $229.99. For more information, visit www.angelsenvy.com/whiskey/madeira-cask/.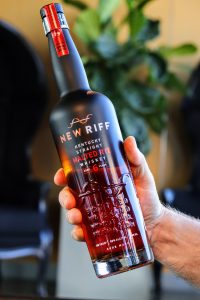 New Riff 6-Year Malted Rye
Most of New Riff Distillery's whiskeys have been bottled-in-bond 4-year-olds. Its latest release is the Newport, Kentucky distillery's oldest to date. New Riff Straight Kentucky Malted Rye Whiskey is six years-old and it is bottled at 100 proof. Many Kentucky ryes contain a good percentage of corn in the mashbill. This one is 100% rye and malted rye at that.
By malting (allowing to germinate before drying and mashing) New Riff says that the characteristic peppery spice of rye whiskey here is, "…more polished, refined, and subtle." And further describes it as, "…having a savory nose of floral fruit, powered sugar, balance oak, and vanilla fruits like plum skin and pear." The palate is, "…plump and rounded with elegant spices, saltwater taffy, fruits, clove, and toasty malt, with a finish of focused spice and pink peppercorn."
The suggested retail price is $59.99. To learn more about the full line of New Riff whiskeys, https://www.newriffdistilling.com.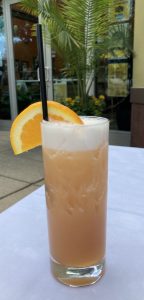 "Forty-Six Peaches" at Seviche
The summer cocktail season is here and Seviche Restaurant's menu features several new warm weather concoctions. The "Forty-Six Peaches" was created by bartender Samuel Battcher and it's an alcoholic creamsicle for grown-ups. It's not just the lively orange color. The fruity flavor is of concentrated peaches. With a kick. Served over ice, it's a great warm weather refresher. To see the full list of Seviche's cocktails, go to https://sevicherestaurant.com/menu/
"Forty-Six" Peaches
2½ ounces Maker's Mark 46
1 ounce lemon juice
¾ ounce Peach Reàl
2 dashes Angostura Bitters
2 dashed Peychaud's Bitters
2 dashes Orange Bitters
1 egg white
Shake over light ice and pour into a Collins glass over ice. Garnish with an orange slice.
This week's photo credits: Angel's Envy, New Riff, and S. Reigler.
******************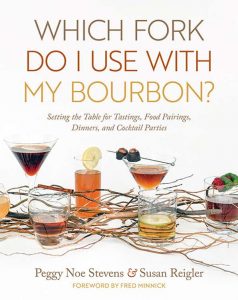 F&D Bourbon Columnist Susan Reigler is the author of several whiskey books, including Which Fork Do I Use with My Bourbon? – Setting the Table for Tastings, Food Pairings, Dinners, and Cocktail Parties.
Pick one up this (or any) Derby Season. Autographed copies are available from Carmichael's Bookstore.
It can also be purchased on Amazon, or directly from the publisher at https://www.kentuckypress.com/9780813180311/kentucky-bourbon-country/