BOURBON NEWS & NOTES – for 15 October, by Susan Reigler
Woodford Reserve Marks Its Silver Anniversary, Plus Has New Partnership with Williams-Sonoma
Woodford Reserve Distillery celebrated its 25th anniversary on 11 October when Master Distiller Chris Morris and Assistant Master Distiller Elizabeth McCall barreled whiskey in a special ceremony. Morris noted, "We are planning for the future as we see no signs that the bourbon boom is slowing down. More and more consumers worldwide are discovering one of the greatest exports from Kentucky — bourbon. And they are especially enjoying Woodford Reserve."
Woodford Reserve is in the process of doubling its capacity, increasing its three copper pot stills to six. A new building will house utilities and storage space, making room for new fermenters in the current distillery building. Additional grain and barrel unloading areas, as well as a training center for employees, are planned.
The Woodford Reserve family of brands now includes five permanent expressions — bourbon, rye, double oaked, malt, and wheat — along with limited edition expressions, including the Master's Collection and Double Double Oaked.
Through the end of the month, customers will be able to participate in special tastings, enjoy cocktails and find unique products for sale at the Gift Shop at the distillery in Versailles. On Friday, 15 October from 2-4:30 p.m., Morris and McCall will sign bottles for customers.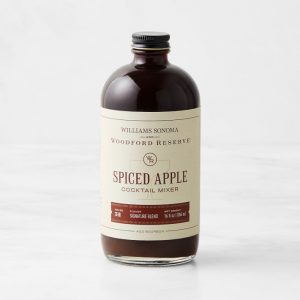 And just in time for the silver anniversary, specially crafted mixers from Louisville's Bourbon Barrel Foods (https://bourbonbarrelfoods.com) to use with Woodford Reserve are being sold through national gourmet food and cookware retailer Williams-Sonoma (https://www.williams-sonoma.com). Spiced Apple Cocktail Mixer for fall has been added to a traditional line featuring Mint Julep, Old Fashioned, and Whiskey Sour mixers.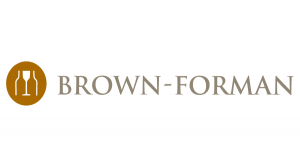 Brown-Forman Commits to Carbon Neutrality
Woodford Reserve's parent company, Brown-Forman has just announced that it has joined the global environmental initiative, RE100, and is committing to using 100% renewable electricity by 2030. In a prepared statement, the company's Chief Production and Sustainability Officer, Alex Alverez said, "We recognize the risks climate change poses to our business and our communities, and we want to mitigate our impact. Combining our past investments in solar at Sonoma-Cutrer, along with our recent investments in a wind power purchase agreement and solar power at the Jack Daniel Distillery, we believe we are taking the necessary steps along the journey to 100% renewable energy."
For details about the full range of the company's initiatives in being environmentally responsible, go to brown-forman.com/sustainability.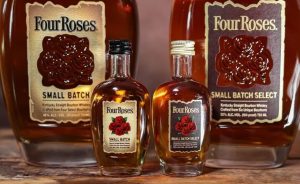 Four Roses Small Batch Minis
One of the effects of the current supply chain shortages on the bourbon industry is a problem with getting glass bottles. If you have noticed a smaller selection of 50 mL minis on store shelves, it is not your imagination. Facing the choice between procuring 750 mL bottles and smaller containers, distilleries are naturally opting for the former or limiting the expressions available in the smaller formats.
Case in point: Earlier this summer Four Roses (https://fourrosesbourbon.com) announced it would be making its Small Batch and Small Batch Select bourbons available in 50 mL minis. But don't believe the accompanying photo that arrived with the press release. In addition to no longer offering its Single Barrel expression in minis, Four Roses had to limit the little bottles to Small Batch only. Most retailers are selling them for between $4 and $5.
This week's photo credits: Brown-Forman and Four Roses.
******************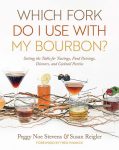 F&D Bourbon Columnist Susan Reigler is the author of several whiskey books, including Which Fork Do I Use with My Bourbon? –  Setting the Table for Tastings, Food Pairings, Dinners, and Cocktail Parties and Kentucky Bourbon Country: The Essential Travel Guide. Autographed copies are available from Carmichael's Bookstore. They can also be purchased on Amazon, or directly from the publisher: 
https://www.kentuckypress.com/9781949669091/which-fork-do-i-use-with-my-bourbon/
https://www.kentuckypress.com/9780813180311/kentucky-bourbon-country/