[adrotate group="3"]
BOURBON NEWS & NOTES – 25 September, 2020, by Susan Reigler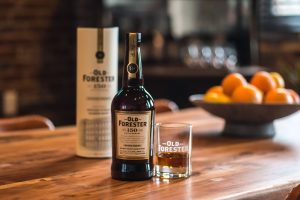 Special 150th Anniversary Old Forester Release
Louisville-based liquor giant Brown-Forman Corporation was founded in 1870 by George Garvin Brown, a young pharmaceutical and whiskey salesman (at that time synonymous occupations) who had the radical idea of selling his bourbon exclusively in sealed glass bottles. This was more expensive than the common practice of having your own vessel filled from a barrel at the local store. But it guaranteed the whiskey would be unadulterated and he named it after his friend, prominent Louisville physician, Dr. William Forrester. After all, if a doctor's name graced the label, it had to be good.
Today, 150 years later, Old Forester (one of the R's was subsequently dropped) is the only bourbon brand to be made continuously by the same company before during, and after Prohibition. (It was made, fittingly, as medicinal whiskey in the 1920s.) Brown's great, great grandson, Campbell Brown is the president of the Old Forester division of Brown-Forman and he and master taster Jackie Zykan who selected barrels for a special anniversary release, recently held a Zoom tasting with several bourbon journalists, this one included.
In honor of founder Brown's sourcing of whiskey from three different distilleries, one of which he purchased in 1901 so that Brown-Forman has been distilling ever since, Old Forster is offering three distinct expression of limited edition bottlings as follows:
Old Forester 150th Anniversary Bourbon Batch Details and Notes from the Master Taster:
Batch 01/03 – 125.6 proof/62.8% ABV, comprised of 46 barrels; fruit bomb
Batch 02/03 – 126.4 proof/63.2% ABV, comprised of 48 barrels; sweet and spry
Batch 03/03 – 126.8 proof/63.4% ABV, comprised of 53 barrels; green and spice
I had a sample of Batch 01 and it is a truly complex, flavorful bourbon worth seeking out. The limited releases will be available nationally in October at a suggested retail price of $150. To learn where you can purchase, (or at least try to) go to www.OldForester.com.
Drink Tequila to Taste Some Limited-Edition Whiskeys?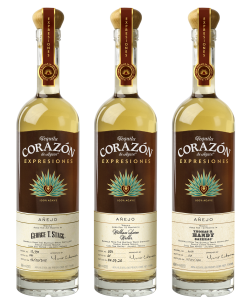 Since by law bourbon barrels can be used only once to age America's native spirit, those barrels frequently go on to second lives as vessels for aging Scotch, Irish, and Japanese whiskeys as well as rum, several California red wines, and some sought after barrel aged beers (Goose Island and Ommegang among others). Even Tabasco sauce is aged in used bourbon barrels.
Sazerac Company, parent to Buffalo Trace Distillery in Frankfort, also owns Corazón Tequila, and has just announced the release of limited-edition tequilas aged in barrels from the coveted Buffalo Trace Antique collection. According to Sazerac:
"William Larue Weller Añejo was aged 15 months in William Larue Weller bourbon barrels. This tequila tastes of chocolate, intense vanilla, nut, eucalyptus and chamomile. Only 1,675 bottles of this tequila were produced. George T. Stagg Añejo was aged 22 months in George T. Stagg barrels, and tastes of cinnamon, chocolate and green apple. Just over 3,000 bottles of this añejo were produced for this release. Thomas H. Handy Sazerac Añejo was aged 19 months in Thomas H. Handy barrels and has a smooth, lightly sweet flavor and a dense texture with a soft, harmonious finish. A total of 4,311 bottles of this tequila were produced this year."
The single estate tequilas are available nationwide, but obviously in limited quantities. All are bottled at 80 proof with a suggested retail price of $79.99 each. To find out more, www.tequilacorazon.com.
******************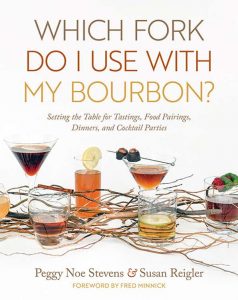 F&D Bourbon Columnist Susan Reigler is the author of several whiskey books, the most recent being Which Fork Do I Use with My Bourbon? Setting the Table for Tastings, Food Pairings, Dinner, and Cocktail Parties, co-written with Peggy Noe Stevens.
Autographed copies are available from Carmichael's Bookstore. It can also be purchased on Amazon, or directly from the publisher at https://www.kentuckypress.com/9781949669091/which-fork-do-i-use-with-my-bourbon/.
Photo credits: The distilleries and entities mentioned.