BOURBON NEWS & NOTES – for 11 June 2021, by Susan Reigler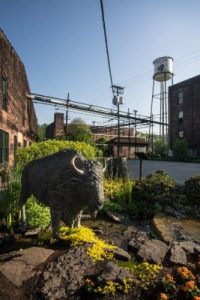 This Year's Great Buffalo Chase 5K Race is Virtual
As was the case last year, Buffalo Trace Distillery's 20th annual Great Buffalo Chase 5K will be held virtually this summer. Historically, the race was held on the grounds of the distillery in Frankfort on the Fourth of July, but just to be safe, walkers and runners will participate in the 2021 virtual 5K wherever they are located between 2 and 4 July, whether in their hometowns or vacationing somewhere. (While tours have resumed at Buffalo Trace, the grounds are not yet open to the public.)
All proceeds from the registration fee of $20 will again benefit the city of Frankfort's VFW Post 4075. Participants can either pick up race materials curbside at the distillery or have them shipped for an additional $5 shipping and handling fee. If you choose the latter option, and to be sure your material arrives in time, please register by Tuesday, 22 June. Instructions for submission of race times will be given after registration.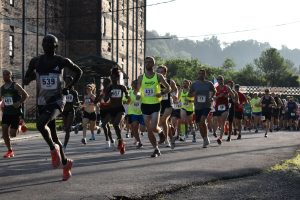 Additional features of the race are a chance to win prizes for a virtual patriotic costume contest through the Virtual Great Buffalo Chase 5K Facebook Event on the Buffalo Trace Distillery Facebook Page and a pet patriotic costume contest.
Since this is a virtual race, and in the spirit of fairness, prizes will not be awarded to top runners this year. Instead, on behalf of all participants, and in commitment to supporting others, this Fourth of July Buffalo Trace Distillery will make a donation to God's Pantry Food Bank to support the local Franklin County community. Finally, everyone who registers will be entered into a raffle to win a prize from the Gift Shop.
Registration for this virtual 5K will close at noon July 2. For more information and to register go to https://www.buffalotracedistillery.com/great-buffalo-chase.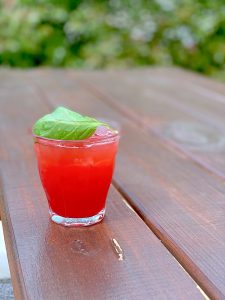 Celebrate Pride Month with Closet Be Damned at Trouble Bar
You may have heard the good news by now, Louisville's very own Trouble Bar has been named one of Esquire Magazine's 27 Best Bars of 2021 in the U.S. It was the only bar in Kentucky to make the cut. Well done, Trouble!
One of the signature features of the bar in Shelby Park is a giant eye-catching mural on the outer wall announcing, "Whiskey Got Me into Trouble." Another is the interior wall just on the left as you enter adored with framed photos of "Good Troublemakers." Naturally, civil right icon Rep. John Lewis is among them, as is the gay activist, Harvey Milk. In short, Trouble Bar celebrates diversity and inclusivity and those who advocate for it.
Of course, this is Pride Month, and so Trouble is introducing a new summer cocktail menu on 14 June that includes bar manager Felicia Corbett's Closet Be Damned. It's a refreshing summer harvest in a glass. Check out the full cocktail (and whiskey flights) menu at http://www.matsongilman.com/trouble-bar.
Closet Be Damned
1 ½ ounces Evan Williams Bottled-in-Bond
½ ounce lime juice
1 ounce Strawberry Basil syrup
Q Soda's Elderflower Tonic
Shake bourbon, lime juice and strawberry basil syrup until shaker is frosted. Pour over fresh ice and top with a splash of Q Soda's Elderflower Tonic. Garnish with a single basil leaf.
This week's photo credits: Buffalo Trace and Matson & Gilman.
******************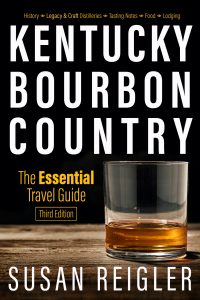 F&D Bourbon Columnist Susan Reigler is the author of several whiskey books, including Which Fork Do I Use with My Bourbon? –  Setting the Table for Tastings, Food Pairings, Dinners, and Cocktail Parties and Kentucky Bourbon Country: The Essential Travel Guide. Autographed copies are available from Carmichael's Bookstore. They can also be purchased on Amazon, or directly from the publisher: 
https://www.kentuckypress.com/9781949669091/which-fork-do-i-use-with-my-bourbon/
https://www.kentuckypress.com/9780813180311/kentucky-bourbon-country/