BOURBON NEWS & NOTES – for 2 July 2021, by Susan Reigler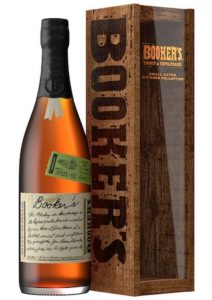 Second Release of the 2021-22 Batch of Booker's Bourbon is Now Available
Among all the limited edition bourbon releases that happen fairly regularly throughout the year, Booker's Small Batch is one of the easier ones to find. It will usually be on the shelf at the Jim Beam Homeplace visitor center in Clermont (though the distillery is currently closed to visitors until this fall) and at select retailers.
Beam's late master distiller Booker Noe created the barrel strength bourbon to help launch the Small Batch Collection in 1992. Always bottled at barrel strength, it is also always worth seeking out, though the price has crept up over the past couple of decades. Each release, which appears every three to four months, now comes with its own name, which has ties to the history of the distillery, its distillers, and staff.
The current release (which I managed to find at a local retailer last week) is the second of the year and is dubbed "Tagalong Batch." As explained in the card include in the package with the bottle, it is a nod to Booker Noe having "tagged along with" his grandfather Jim Beam to learn the craft of distilling.
The batch has been bottled at its barrel proof of 127.9. It was aged six years and seven months. Notes provided by Fred Noe, Booker Noe's son and current master distiller, describe the contents as having "a deep, rich color, with pronounced aromas of caramel and vanilla, balanced with the 'sweet brown' wood sugar flavor notes from the charred white oak barrels."
The suggested retail price is $89.99, but don't be surprised if there is some mark-up at some outlets. You'll probably be limited to a single bottle.
Tagalong joins "Donahoe's Batch" released earlier this year, named in honor of Mike Donahoe, a colleague of Jim Beam who suggested bottling bourbon at barrel strength as Christmas gifts, which turned out to be the inspiration years later for Booker's. For more information, https://www.bookersbourbon.com.
A Pair of Summer Sips from Sarino
One doesn't usually associate bourbon cocktails with Italian restaurants, but almost any restaurant in Louisville, no matter the cuisine, will have a bourbon-stocked bar. Bar manager Christine "Cookie" Cooke and bartenders Jamel Zemba and Morgan Jones at Germantown's Sarino (https://sarinolouisville.com), even go beyond the standard bourbon cocktails and have not one, but two, bourbon-based summer drinks well worth savoring. Appropriately, they incorporate some traditional Italian ingredients, including basil and Aperol.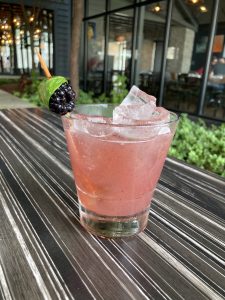 Berries, Basil, & Bourbon
2 ounces Old Forester bourbon
¾ ounce honey
¾ ounce freshly squeezed lemon juice
2 blackberries plus 1 for garnish
2 fresh basil leaves 1 for garnish
Add all ingredients in a cocktail shaker and muddle the blackberries and basil leaves. Add ice and shake until well-chilled. Strain into an Old Fashioned glass filled with large ice cubes and garnish with a basil leaf wrapped blackberry.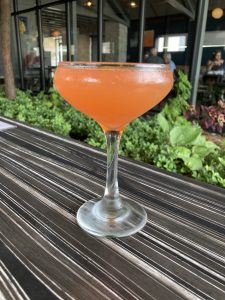 The Sarino
1 ½ ounces Old Forester bourbon
½ ounce Aperol
½ ounce honey
½ ounce lemon juice
Prosecco
Combine all ingredient except Prosecco over ice in a cocktail shaker and shake until well chilled. Strain into a coupe glass, top with Prosecco, and garnish with orange zest.
This week's photo credits: Jim Beam and S. Reigler.
******************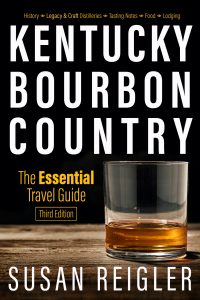 F&D Bourbon Columnist Susan Reigler is the author of several whiskey books, including Which Fork Do I Use with My Bourbon? –  Setting the Table for Tastings, Food Pairings, Dinners, and Cocktail Parties and Kentucky Bourbon Country: The Essential Travel Guide. Autographed copies are available from Carmichael's Bookstore. They can also be purchased on Amazon, or directly from the publisher: 
https://www.kentuckypress.com/9781949669091/which-fork-do-i-use-with-my-bourbon/
https://www.kentuckypress.com/9780813180311/kentucky-bourbon-country/