BOURBON NEWS & NOTES – for 15 January 2021, by Susan Reigler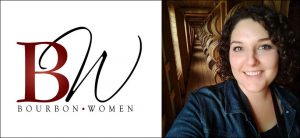 Bourbon Women – New Year, New Leadership
The Bourbon Women Association is celebrating its 10th anniversary this year and the organization for women who embrace the bourbon culture has just announced it has a new president.
Maggie Kimberl – bourbon authority, journalist, content editor of American Whiskey Magazine, and Kentucky native – assumed her new position with the organization based in Louisville this week. (For the record, it has 11 other branches – New York, Chicago, Cincinnati/Northern Kentucky, Indianapolis, Michigan, Atlanta, Tennessee, Texas, Missouri, North Carolina, and Washington, D.C.)
"We are so excited to have Maggie onboard to lead us in the next chapter [as we continue to grow]," said board chair Heather Wibbels in a prepared statement.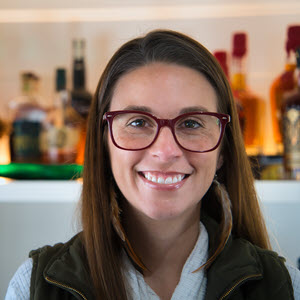 For her part, Kimberl says, "It is an absolute honor to take the helm at this organization which has helped so many women discover their love for Kentucky's native spirit and beyond. I can't wait to get to know more of our members and welcome new ones to celebrate our love of all things brown water. Especially during these difficult times, building a community of women supporting women for fun and fellowship has never been more important."
Kimberl takes on her expanded duties from former BW managing director Sara Barnes who was recruited from that job to become the Kentucky Distillers' Association's new director of industry responsibility and sustainability.
For more information about Bourbon Women's mission and activities across the country, https://bourbonwomen.org.

Buzzard's Roost is Flying with Some of the Big Whiskeys
Buzzard Roost Sippin' Whiskeys, which are available only in Kentucky, released its first rye in 2018, but has already garnered several accolades. The most recent came when Paste Magazine named Buzzard's Roost Rye Very Small Batch Whiskey as one of its "15 Best New Whiskeys of 2020."
That's quite an accomplishment for the small brand. Others on the list include such heavy hitters as King of Kentucky, Elijah Craig Barrel Proof, and Four Roses Small Batch Select. For the full list, https://www.pastemagazine.com/drink/whiskey/best-whiskeys-of-2020-value-bourbon-rye-scotch-gin-rum-tequila/.
Master Blender Jason Brauner of Louisville sources his whiskey from MGP in Lawrenceburg, Indiana and secondarily ages it in proprietary custom oak barrels until achieving the flavor profiles he wants. Other expressions in the brand's portfolio are a single barrel rye and toasted barrel rye.  The proof of choice for all is 105 and the retail price typically hovers around $50. To learn more, go to  https://www.buzzardsroostwhiskey.com.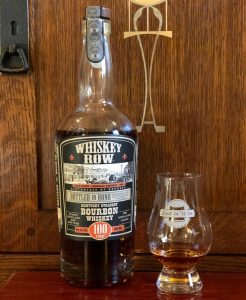 Kentucky Artisan Distillery Releases Its First Site-Made Bourbon
Kentucky Artisan Distillery was founded in Crestwood by Stephen Thompson, Chris Miller, and Mike Loring in 2012. (If you have every visited Yew Dell Gardens, you have driven past the distillery, which is right next door.) Since that time, KAD has contract distilled for several brands, but now has released its first on-site distilled bourbon under its own label.
Whiskey Row Bottled-in-Bond certainly fits the description of "small batch." Only 500 bottles comprise the first release. Thompson stated that it was aged for about five years and leans strongly toward the vanilla side of the characteristic caramel-vanilla bourbon flavor base. Of course, being bottled-in-bond, it is 100 proof.
If you can get your hands on it, Whiskey Row Bottled-in-Bond retails for $69.95. But this is not a one-off. KAD definitely plans to release more. Stay up to date at https://kentuckyartisandistillery.com.
This week's photo credits: Bourbon Women Association, Kentucky Distillers' Association, Buzzard's Roost, and Rosemary Miller (Whiskey Row BiB).
******************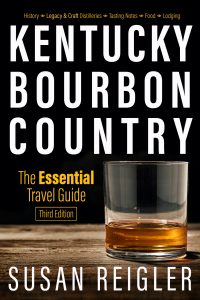 F&D Bourbon Columnist Susan Reigler is the author of several whiskey books, the most recent being Kentucky Bourbon Country: The Essential Travel Guide, 3rd edition.
Autographed copies are available from Carmichael's Bookstore. It can also be purchased on Amazon, or directly from the publisher at https://www.kentuckypress.com/9780813180311/kentucky-bourbon-country/