BOURBON NEWS & NOTES – 10 July, 2020, by Susan Reigler
Buffalo Trace's Six Millionth Barrel Raises More than $1 Million for Charities
Buffalo Trace Distillery in Frankfort is the site of the world's smallest whiskey warehouse. So small that it holds only a single 53-gallon barrel. The distillery saves tiny Warehouse V for each millionth barrel it produces and when master distiller Harlan Wheatley deems it has aged sufficiently, the bourbon is put in a special commemorative package and bottles are donated to charities around the country to help them raise money.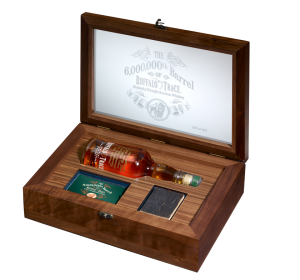 In 2019, 378 charities received the special edition, 375 ml bottles from the six millionth barrel to help their fund raising. To date, 332 off them have raised more than $1,145,000. (Not surprisingly, COVID-19 has delayed some fund raisers.) That more than doubles the goal of $500,000. One beneficiary was the Lovely Project of Orlando, Florida, which raised $24,000 to support its mission to provide girls with education and peer-mentorship. For a complete list of the organizations benefitting from the Buffalo Trace bourbon, go to www.6millionthbarrel.com/.
It will be several more years until the seven millionth barrel will be ready for bottling, but any non-profit that wishes to register its charity for future consideration, can do so by going to http://buffalotracedistillery.com/content/charity-sign.
Beam Brings Back Old Tub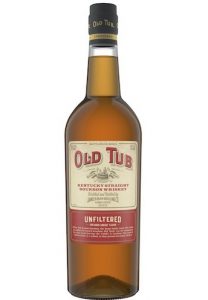 According to Jim Beam master distiller Fred Noe, the bourbon brand Old Tub "… [takes] bourbon lovers back in time … over 140 years ago when Old Tub was first crafted." Seventh generation distiller Noe is a descendant of the Beams who first made the brand. (Indeed, that was the pre-Prohibition name for the Beam family bourbon.)
For many years the bourbon was only available at the Jim Beam Distillery shop in Clarmont in 375 mL bottles. But this summer the bottled-in-bond (100 proof) non-chill filtered bourbon is being released nationwide in 750 ml bottles for a limited time. The suggested retail price is $23.
For information about all of Jim Beam's whiskeys, visit https://www.jimbeam.com/.
Celebrate Bastille Day with Brasserie Provence's French Whiskey Old Fashioned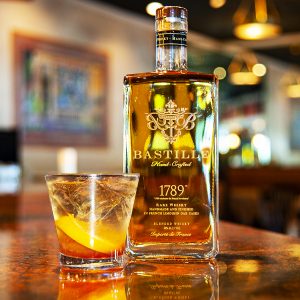 France's national holiday, Bastille Day on July 14th, celebrates the overthrow of the monarchy in the French Revolution. (Yes, Louisville is named after the deposed King Louis XVI, but don't take it personally.) Brasserie Provence, 150 N. Hurstbourne Parkway (502-883-3153) will be celebrating the holiday with some dinner specials on Tuesday. And you can get information about them here – https://www.brasserieprovence.com/bastille-day-in-provence.
Of course, France is famous for legendary wine and renowned distilled spirits Cognac, Armagnac, and Calvados. But how about whiskey? Well there is one, at least one that can be found here in the heart of bourbon county, and it's on Brasseries Provence's spirits list.
Bastille 1789 Hand Crafted Whisky is a malt whiskey made from French grown barley. So, it's more the style of Scotch than American whiskeys. (Also omits the "e" from "whiskey," as does Scotch.) And the restaurant uses it to make an otherwise very American cocktail, the Old Fashioned.
The Bastille 1789 Old-Fashioned
1 1/2 ounces Bastille Hand-Crafted 1789 Rare Whisky
1 Rainier Reserve Cherry
1/2 Naval Orange Slice
1 White Sugar Packet
3 Dashes Black Walnut Bitters
Muddle all ingredients except the whiskey in a rocks glass. Add ice. Pour in the whiskey.
Vive la France!
******************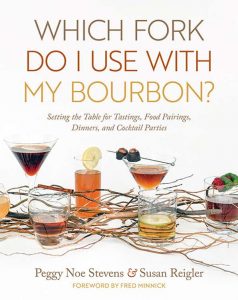 F&D Bourbon Columnist Susan Reigler is the author of several whiskey books, the most recent being Which Fork Do I Use with My Bourbon? Setting the Table for Tastings, Food Pairings, Dinner, and Cocktail Parties, co-written with Peggy Noe Stevens.
Autographed copies are available from Carmichael's Bookstore. It can also be purchased on Amazon, or directly from the publisher at https://www.kentuckypress.com/9781949669091/which-fork-do-i-use-with-my-bourbon/.
Photo credits: Pam Spaulding (Buffalo Trace Warehouse V; Buffalo Trace (commemorative bottle); Beam Suntory (Old Tub); and Stacy Duncan (The Bastille 1789 Old-Fashioned).