BOURBON NEWS & NOTES – 26 June, 2020, by Susan Reigler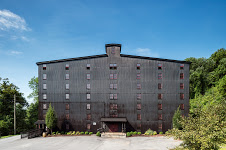 Buffalo Trace and Barton 1792 Distilleries are Reopening on July 1
Two Sazerac-owned Kentucky distilleries will be reopening for tours and tastings on Wednesday, July 1. Both Buffalo Trace Distillery in Frankfort and Barton 1792 in Bardstown will require all visitors to register in advance so they can maintain limited tour numbers and practice safe procedures including distancing. Guests will be asked to wear masks throughout the tours until the tastings. Temperature checks will be made upon arrival and contact information will be taken in the event that subsequent contact tracing is necessary.
The hours at Buffalo Trace will be Monday through Saturday from 10 a.m. to 4 p.m.  Reservations may be booked at http://tours.buffalotracedistillery.com. The gift shop is also offering curb side pickup. Orders can be placed at http://buffalotracegiftshop.com.
Hours for Barton 1792 will be 9 a.m. to 4:30 p.m. Book reservations at www.1792Distillery.com. The distillery shop is also offering curb side service, which can be requested at http://1792distillery.com/curbside.
Tours and tastings at both distilleries are complimentary.
Barrell Craft Spirits Limited New Releases – Joe's Playlist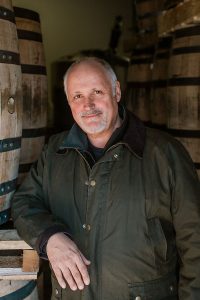 Joe Beatrice, proprietor and master blender of Louisville-based Barrell Craft Spirits has launched a new series of limited release he's calling  Joe's Playlist. Each selection is limited to 130-180 bottles and are designated by name and "track number." Track #1 "Hungarian Fair" was finished in a Tokaji wine barrel and bottled at 121.42 proof. Track # 2 "Genesis" is a 4-year-old single barrel Indiana rye that Beatrice states was the inspiration for the project. It's 119.56 proof. Track #3 "Spice Exotica," 113.62 proof, is a 13-year-old Tennessee bourbon.
Priced at about $110 per bottle, they can be ordered online at www.mashandgrape.com. For more information about Barrell Craft Spirits, go to https://www.barrellbourbon.com.
Dish on Market's Forester 75 is a Fine Summer Sparkler
President Harry Truman reportedly started his day with a breakfast of bacon, eggs, toast, coffee, a glass of milk, and a shot of Old Grand-Dad bourbon. He would then go for a walk, come back for a massage, and run the country. That President's Breakfast is recreated at Dish on Market, 434 West Market Street, though the restaurant is currently only open for carryout and delivery and it would be a simple enough meal to replicate at home. But if a shot of bourbon seems a little strong for starting your day, consider a sparkling alternative.
Dish on Market owner Anderson Grissom has put a Kentucky spin on the classic French 75 cocktail which is said to have been named for the heavy-duty French 75-millimeter howitzer cannon. It's traditionally made with cognac, lemon juice, and champagne. Grissom offers a Forester 75, using Old Forster bourbon and Korbel Brut Rosé. Whether you have it to start your day will be up to you.
Check out the current Dish on Market menu at www.dishonmarket.com. The phone number is 502-315-0669.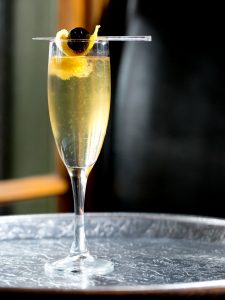 The Forester 75
1 ounce Old Forester (86 proof)
½ ounce simple syrup
Lemon wedge
Korbel Brut Rosé
Add the bourbon and syrup to the champagne glass and ream the lip of the glass with the lemon wedge. Fill with the sparkling wine, add a squeeze of lemon, and serve.
Photo credits: Sazerac Company, Barrell Craft Spirits, and Jessica Ebelhar (Forester 75).
******************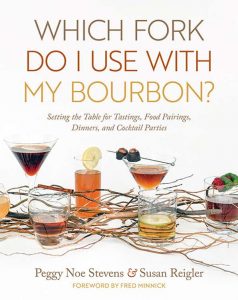 F&D Bourbon Columnist Susan Reigler is the author of several whiskey books, the most recent being Which Fork Do I Use with My Bourbon? Setting the Table for Tastings, Food Pairings, Dinner, and Cocktail Parties, co-written with Peggy Noe Stevens.
Autographed copies are available from Carmichael's Bookstore. It can also be purchased on Amazon, or directly from the publisher at https://www.kentuckypress.com/9781949669091/which-fork-do-i-use-with-my-bourbon/.