BOURBON NEWS & NOTES – 11 September, 2020, by Susan Reigler
A Bounty of Fall Limited Releases
While October may be peak season for fall color, it, along with September, also marks the peak season for releases of many coveted limited release bourbons from Kentucky's legacy producers.  Here's a rundown of what serious whiskey drinkers would love to find, but probably won't. This can be pretty frustrating until you snap back to reality and remember that you can buy half a case of your favorite everyday bourbon for the price of one of these "unicorns" and thanks to the overall high quality of bourbon on the market today, you'll still have an excellent sipping or cocktail mixing experience. (And who would use one of the following in a Manhattan or Old Fashioned anyway? Well, perhaps the person who lights cigars with $100 bills.)
Prices are all suggested to retailers by the distilleries. That doesn't mean that an unscrupulous merchant won't charge a laughable mark-up or that prices won't be sky high on the secondary market. Actually, if you have cultivated a good relationship and regularly shopped with your neighborhood whiskey store, you may have a chance to purchase one of these fall releases.
Buffalo Trace Antique Collection
Buffalo Trace seems to have a knack for making whiskeys that everyone wants. (Yes, that includes the Van Winkle expressions.) Running a close second is the annual release of the five whiskeys in the Antique Collection, which earns its name from a combination of age and historic names. Three of the five also weigh in at barrel proof.
This year's George T. Stagg, named in honor of a former owner of the distillery, is 15 years old. It is 130.4 proof. William Larue Weller is a wheated bourbon. It is twelve years old and bottled at 134.5 proof. The third barrel strength offering is Thomas H. Handy Sazarac Rye, practically a youngster as a 6-year-old, but still potent at 129 proof.
The lesser proof offerings have also been mellowed by age. Eagle Rare 17-Year-Old is 101 proof. Sazerac Rye 18-Year-Old is 90 proof.
All are scheduled to appear on store shelves starting later this month and into October. The suggested retail price for each is $99. More details, including tasting notes, are available at https://www.buffalotracedistillery.com/our-brands/antique-collection.html
Old Fitzgerald Bottled-in-Bond Decanter Series, Fall 2020

Old Fitzgerald is the storied brand created by Pappy Van Winkle at the Stitzel-Weller Distillery in the 1930s. Today it's owned and made by Heaven Hill, which honors this heritage with a semi-annual release of a 100-proof bottled-in-bond limited edition in a decanter-style bottle. The fall 2020 Old Fitz is 14 years old and, like the original, uses wheat in place of rye in its mash bill. The price tag is $140.
Information about Heaven Hill's multitude of brands can be found at https://heavenhilldistillery.com.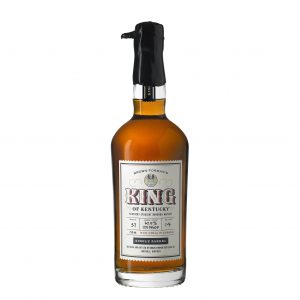 King of Kentucky
Speaking of historic brands, King of Kentucky was established in 1881. Brown-Forman acquired it in 1936 and discontinued it in 1968 during the bourbon downturn. But it was resurrected a couple of years ago and a third, very limited release of only 1,900 bottles from 37 barrels is coming to select stores in Kentucky, Ohio, and Illinois. The 14-year-old bourbon is 130.6 proof. If you happen to find one, it will set you back $249.99. For more about the distiller, http://www.brown-forman.com.
Happy hunting!
******************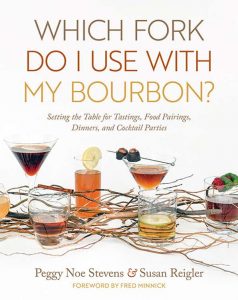 F&D Bourbon Columnist Susan Reigler is the author of several whiskey books, the most recent being Which Fork Do I Use with My Bourbon? Setting the Table for Tastings, Food Pairings, Dinner, and Cocktail Parties, co-written with Peggy Noe Stevens.
Autographed copies are available from Carmichael's Bookstore. It can also be purchased on Amazon, or directly from the publisher at https://www.kentuckypress.com/9781949669091/which-fork-do-i-use-with-my-bourbon/.
Photo credits: The distilleries.