Buffalo Trace Distillery's 19th Annual Great Buffalo Chase will Benefit the VFW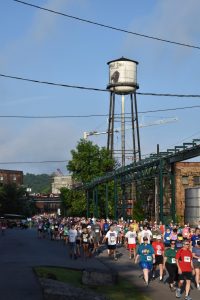 Every year for almost two decades on the Fourth of July, Buffalo Trace Distillery in Frankfort has hosted the Great Buffalo Chase 5K race to benefit that city's VFW Post 4075. This year, thanks to COVID-19, the race will be a little different. It will be virtual.
Participants will run or walk in their local neighborhoods or wherever they happen to be during the period of July 3-5 instead of running on the grounds of the distillery. Buffalo Trace will mail runners commemorative T-shirts and race bibs and each will have the option to record and submit their personal race times until 11:59 p.m. on July 5. Those will be posted to the Buffalo Trace Distillery website on July 6.
The $20 registration fee goes toward the donation to VFW.  Additionally, instead of prize money to runners, the distillery will make a donation to God's Pantry Food Bank to help Franklin Country residents in need of food. To sign up and to get more details, go to at www.BuffaloTraceDistillery.com/events.
New from Barrell Craft Spirits – Private Release Whiskey Series
Barrell Craft Spirits, based in Louisville, specializes in sourcing whiskeys from around the world and blending them to create unique flavor profiles, but the company's latest project uses juice from close to home. The Barrell Craft Spirits Private Release Whiskey series uses acquired stock of 18-year-old Kentucky bourbon which it has finished in two dozen different types of casks and barrels previously used for aging other spirits.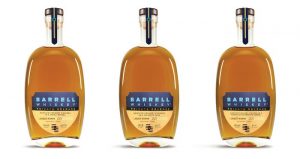 These include wood that has been mellowed by Calvados, ruby port, ice wine (from both New York and Germany), pear brandy, Jamaican rum, and Sicilian amaro. Only about 150 to 180 bottles exist for each and they retail for about $109. For a complete list of the expressions and for a guide to where to purchase, go to https://www.barrellbourbon.com.
Cocktail Corner – Bourbons Bistro's Maple Bacon Old Fashioned
Looking for breakfast in a glass? Look no further than to the Maple Bacon Old Fashioned served at Bourbons Bistro, 2255 Frankfort Avenue. While it doesn't contain any pancake batter, other important elements of said morning meal are involved. These include bacon simple syrup and a maple infused Knob Creek. (Which can't legally be called "bourbon" because of the addition of the flavoring.)
You'll need bacon simple syrup, which is made by adding a teaspoon of bacon fat and one ounce of sugar to an ounce of warm water. Let it steep for several minutes. Then strain though a coffee filter.
Now you are ready for the rest of the recipe, good any time of day.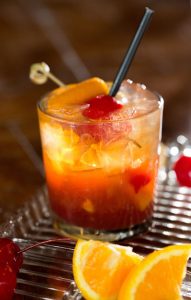 The Maple Bacon Old Fashioned
2- 3 ounces Knob Creek Maple
Slice orange
1 cherry
Dash maple bitters
½ ounce bacon simple syrup
In the bottom of a rocks glass, muddle the orange and cherry with the bacon syrup. Fill the glass with ice and top with the whiskey. Pancakes on the side are optional.
Clarification
Information about Wilderness Trail's limited release pre-sale of its new 6-year-old wheated  bourbon mentioned that 300 bottles will be available in the gift shop. However, a date for the gift shop release has not been determined. The only 6-year available for pick up on 8 June is the limited boxed edition. For complete information visit WildernessTrailKy.com or call 859-402-8707.
******************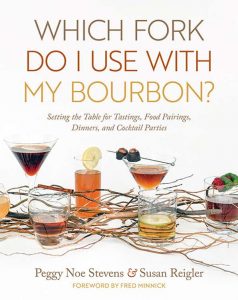 F&D Bourbon Columnist Susan Reigler is the author of several whiskey books, the most recent being Which Fork Do I Use with My Bourbon? Setting the Table for Tastings, Food Pairings, Dinner, and Cocktail Parties, co-written with Peggy Noe Stevens. Autographed copies are available from Carmichael's Bookstore. It can also be purchased on Amazon, or directly from the publisher at https://www.kentuckypress.com/9781949669091/which-fork-do-i-use-with-my-bourbon/.
advertising content
advertising content