Indulge Your Chocolate Craving with Art Eatables' Bourbon Truffles
Bourbon lovers know that one of the very best foods to enjoy with a sip of Kentucky's finest is chocolate. But they may not be as aware that different chocolates – milk, semi-sweet, dark, and more – can be better matches than others for specific bourbons.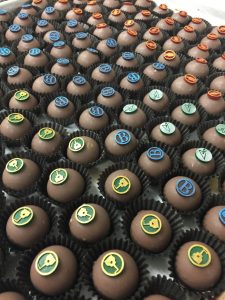 That's where chocolatier and executive bourbon steward Kelley Ramsey's expertise shines. She's the proprietor and candy maker at Art Eatables, the business she and her husband Forest founded in 2011 that specializes in making meltingly smooth and rich chocolate bourbon truffles.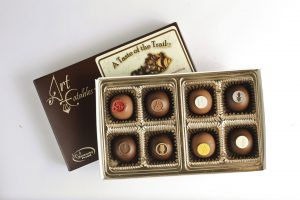 One of her best-selling collections is A Taste of the Trail featuring eight truffles, each made with a bourbon from one of the distilleries on the Kentucky Bourbon Trail.  So, during this time when you can't visit the sites, you can still take a "tour" by sipping.  For example have a finger of Woodford Reserve while nibbling on its truffle made with a custom blend of dark-on-dark Belgian chocolate (Ramsey says it has a distinct dark cherry flavor). Then continue the trip with Four Roses 80 proof and its milk-on-milk Belgian chocolate counterpart.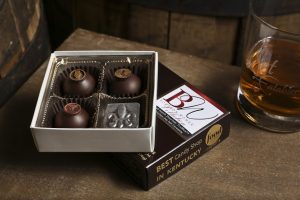 Art Eatables is also the official chocolatier for the Bourbon Women Association. The members of that organization did a tasting to choose the truffles in its custom collection. Other products include Old Forester Modjeskas and a line of alcohol-free candies under the Lollipoppery label.
All Art Eatables goodies can be ordered online for curbside pick-up at the shop, 819 West Main Street, which is appropriately located on Louisville's Whiskey Row.
Kentucky Master Distiller is a James Beard Award Finalist
Finalists for the 2020 James Beard Awards were announced this week. Alas, no Louisville or Kentucky chefs can be found on the list this year for one of the food and beverage industry's most prestigious awards. However, the Outstanding Wine, Beer, or Spirits Professional finalists include master distiller Drew Kulsveen of Willett Distillery in Bardstown. Among Willett's brands are Johnny Drum Private Stock, Kentucky Vintage, Noah's Mill, Old Bardstown, Rowan's Creek, and Willett Pot Still Reserve.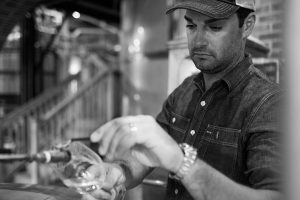 The four other finalists are Scott Blackwell and Ann Marshall (High Wire Distilling Co.,
Charleston, SC), Cathy Corison (Corison Winery, St. Helena, CA), Todd Leopold and Scott Leopold (Leopold Bros. Distillery, Denver CO), and Lance Winters (St. George Spirits, Alameda, CA).
The winner will be announced in September.
Safe-at-Home Idea: Become a Certified Bourbon Steward
If you are a bourbon lover with time on your hands these days and want to use that time to increase your bourbon savvy, you can take advantage of the Society of the Stave and Thief's online Certified Bourbon Steward course. Once you purchase the manual, you study as you wish and then take an online test for the certification. Among the topics covered are what makes  bourbon bourbon and how it differs from other whiskies, bourbon history, the meaning of different bourbon descriptors, and the science of distilling and aging.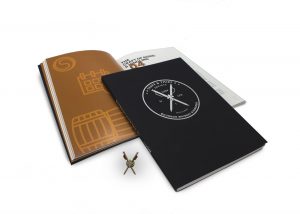 For all the details about the program, go to www.staveandthief.com/certification.
Correction
In the May 8 column about the Uptown Cafe's curb side Manhattan service, it was incorrectly stated that the cocktails were pre-mixed. They are actually made to order, just as if you were seated in the bar. By the way, Woodford Reserve bourbon is used.
******************
F&D Bourbon Columnist Susan Reigler is the author of several whiskey books, the most recent being Which Fork Do I Use with My Bourbon? Setting the Table for Tastings, Food Pairings, Dinner, and Cocktail Parties, co-written with Peggy Noe Stevens. Autographed copies are available from Carmichael's Bookstore. It can also be purchased on Amazon, or directly from the publisher at https://www.kentuckypress.com/9781949669091/which-fork-do-i-use-with-my-bourbon/.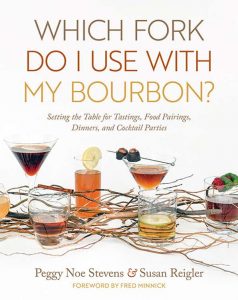 Photo credits: Art Eatables, Willett Distillery, and Moonshine University.