BOURBON NEWS & NOTES – for 30 April 2021, by Susan Reigler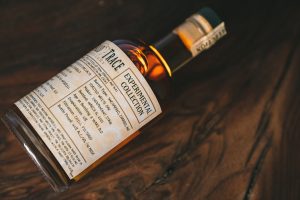 The Buffalo Trace Experimental Collection – A New Baijiu Style Spirit Release
Although you may not have heard of Baijiu, it happens to be the most widely consumed alcoholic beverage in the world, thanks to its practically being the national spirit of China. It's distilled principally from sorghum, a hardy crop that grows in a wide variety of climates, including Kentucky's.
Since 2006, Buffalo Trace's master distiller Harlen Wheatley has maintained a distiller's "lab" tinkering with barrel woods and sizes, as well as some non-traditional whiskey ingredients. (By his own admission, a bourbon containing rice in the mashbill was not a success.) Now he's created a Baijiu style spirit aged in the manner of bourbon.
He created a distillate of sorghum and peas (I am not making this up) and aged it for 11 years in three separate casks – uncharred white oak, charred white oak, and toasted white oak. The trio of spirits was then mingled and bottled at 90 proof.
According to Buffalo Trace, "The nose is rich and savory, with notes of chocolate, dark cherries, and stone fruit. The sorghum and peas provide a palate of confection sugar followed by a sweet toffee finish."
That's pretty different from the description of the Baijiu served at the dinner on 21 February, 1972 in Beijing that began Richard Nixon's historic trip to China. In her marvelous book, The Drunken Botanist: The Plants That Create the World's Greatest Drinks, (including beer), Amy Stewart recounted that after an advance visit, Alexander Haig warned, "Under no, repeat no circumstances should the President actually drink from his glass in response to banquet toasts." Nixon drank the Baijiu anyway and "…shuttered, but [said] nothing each time he took a sip." CBS correspondent Dan Rather said it tasted like "liquid razor blades."
Well, Buffalo Trace's Baijiu has to be better than that.
This Kentucky Baijiu has a very limited release. The 375 ml bottles retail for for $46.99.  For more about the Experimental Collection, https://www.buffalotracedistillery.com/our-brands/experimental-collection.html.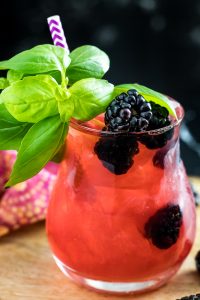 Mint Julep Month Recipe of the Week – The Bramble Basil Julep
One of Heather Wibbels', The Cocktail Contessa's, all-time favorite variations on the basic mint julep combines blackberry syrup, a touch of blackberry liqueur, bourbon, and a healthy sprig of basil for garnish. She says black walnut bitters are an excellent addition to this cocktail as well, even though bitters are not traditional in a mint julep.
1½ ounces bourbon
½ ounce blackberry simple syrup
½ ounce blackberry liqueur (I suggest Starlight's Blackberry Whiskey)
5 sweet basil leaves
Optional: 1 dash Fee Brothers black walnut bitters
Garnish: fresh or frozen blackberries and a sprig of fresh basil
Take one basil leaf and rub it along the inside of the julep cup. Add the blackberry simple, blackberry whiskey, bitters, and remaining basil leaves to the bottom of the julep cup. Muddle slightly. Add whiskey, stir once and fill with crushed ice. Add a generous sprig of spanked basil right next to the straw and garnish with fresh or frozen blackberries. Make sure to eat the blackberries last, after they've steeped in the julep while you watch the races. (Note: this recipe works amazingly well with mint, sage and lavender as well, if fresh sprigs are available.)
For advice on how to create more variations on the julep theme, go to https://www.cocktailcontessa.com/mint-julep-variations/
This week's photo credits: Buffalo Trace and Heather Wibbels.
******************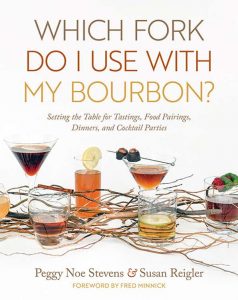 F&D Bourbon Columnist Susan Reigler is the author of several whiskey books, including Which Fork Do I Use with My Bourbon? – Setting the Table for Tastings, Food Pairings, Dinners, and Cocktail Parties.
Pick one up this Derby Season. Autographed copies are available from Carmichael's Bookstore.
It can also be purchased on Amazon, or directly from the publisher at https://www.kentuckypress.com/9780813180311/kentucky-bourbon-country/