BOURBON NEWS & NOTES – for 20 November 2020, by Susan Reigler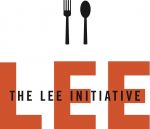 Maker's Mark and Lee Initiative Launch Bourbon for Restaurant Relief
The LEE Initiative (Let's Empower Employment) has joined Maker's Mark Bourbon to release a limited-edition "CommUNITY Batch," created to support restaurant and hospitality workers across the country. The unique bourbon expression was created by blending Maker's Mark Private Selection barrels from 37 distinguished restaurants, bars and retailers. Among those are five from Kentucky – Jeff Ruby's Steak House, Keeneland, The LEE Initiative, Silver Dollar, and 610 Magnolia.
On #GivingTuesday (Dec. 1, 2020), The LEE Initiative and Maker's Mark will host virtual events that extend philanthropic efforts even further. Individuals aged 21 years or older who make a suggested donation of $70 towards a CommUNITY Batch bottle will be invited to join a virtual tasting hosted by Chef Edward Lee (James Beard Award-winning chef, owner of 610 Magnolia, and LEE Initiative founder) and Maker's Mark Director of Innovation Jane Bowie. About 7,500 bottles are available for $70 each, so that $500,000 will be raised for restaurant relief. Additionally, for every attendee on December 1st, Maker's Mark will donate one meal for an American restaurant worker through LEE Initiative efforts. Details on specific events can be found at www.leeinitiative.org/makers.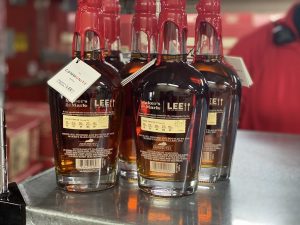 I was sent a sample of the CommUNITY Batch and can assure bourbon lovers that outside of continuing to order takeout and curbside meals and beverages from your favorite eateries, there are few more delicious ways to help support restaurant workers. The barrel strength bourbon (107.7 proof) has a velvety mouthfeel with layer upon layer of caramel, dark fruit, marzipan, new leather, and aromatic pipe tobacco, all infused with cinnamon and nutmeg.  Buy one for yourself and one for the bourbon drinker on your holiday gift list. It's that good.
Parker's Heritage Release Also Supports a Good Cause
Heaven Hill Distillery has released its 2020 edition of whiskey honoring its late master distiller Parker Beam, who succumbed to ALS. Proceeds from the sales go to support ALS research and patient care. This 14th edition is 10-Year-Old Heavy Char. It has been bottled at 120 proof, is non-chill filtered and is made with the standard Heaven Hill bourbon mashbill of 78% corn, 10% rye, and 12% malted barley. But instead of being aged in the distillery's usual Level 3 char barrels, this whiskey was aged in barrels having the heavy-duty Level 5 char resulting a beautifully dark-hued bourbon The limited release has a suggested retail price of $120.00 and has been distributed nationwide. More information can be found at www.heavenhilldistillery.com.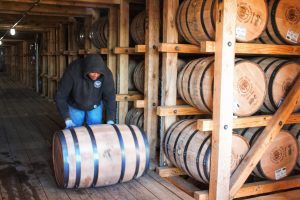 Wilderness Trail Given Heritage Designation by the KDA
The Kentucky Distillers' Association has given the rank of Heritage member to Danville's Wilderness Trail Distillery, in acknowledgement of the impressive growth of the distillery's production. A distillery must have at least 25,000 barrels of spiriting aging in Kentucky warehouse in order to achieve this status. Wilderness Trail has reached this rank with its production of 215 barrels a day. It currently has more than 100,000-barrel storage capacity and is still building warehouses.
Two other growing operations have achieved Heritage ranking – Willett in Bardstown and Rabbit Hole in Louisville. Now as Heritage members, these distilleries will have a greater leadership role in the management of the association and the future of Kentucky's bourbon industry.  Go to www.kybourbon.com and www.kybourbontrail.com  to find out more about these and all the members of the KDA.
This week's photo credits: Maker's Mark, Heaven Hill and Wilderness Trail.
******************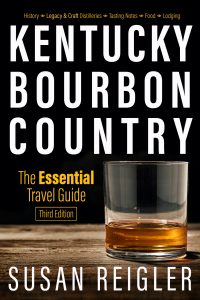 F&D Bourbon Columnist Susan Reigler is the author of several whiskey books, the most recent being Kentucky Bourbon Country: The Essential Travel Guide, 3rd edition.
Autographed copies are available from Carmichael's Bookstore. It can also be purchased on Amazon, or directly from the publisher at https://www.kentuckypress.com/9780813180311/kentucky-bourbon-country/