BOURBON NEWS & NOTES – 3 July, 2020, by Susan Reigler
Maker's Mark Special Bottle to Benefit Disabled Jockeys
Back in 1997, Maker's Mark and Keeneland partnered for the release of an annual commemorative bottle that would raise money for a designated charity, including arts programs throughout Kentucky, academic tutoring for athletes, and, of course, nonprofits within the Thoroughbred industry.
Proceeds from the sales of this year's bottle, designed by Louisville equine artist Jeaneen Barnhart (who, among other works, has created Kentucky Derby posters with her sister Doreen), will benefit the Permanently Disabled Jockeys Fund (PDJF). The fund provides financial assistance to jockeys who have sustained debilitating injuries on the track.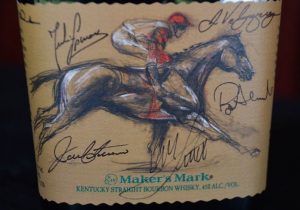 The special label has been signed by five of Keeneland's leading stakes-winning jockeys – Julie Leparoux, Robby Albarado, John Velazquez, Javier Castellano, and Mike Smith – plus Maker's Mark Managing Director Rob Samuels and Keeneland's President and CEO Bill Thomason.
Bottles went on sale today at selected retailers around Kentucky. For more information about the PDJF, visit www.pdjf.org.
New Woodford Reserve Release
The latest limited release bourbon from Woodford Reserve is Five Wood Whiskey. As the name suggests, it has been aged and finished in five different barrels. In addition to the regular aging in new charred white oak, some bourbon was then transferred to Oloroso Sherry, Amontillado Sherry, Ruby Port, or Tawny Port barrels.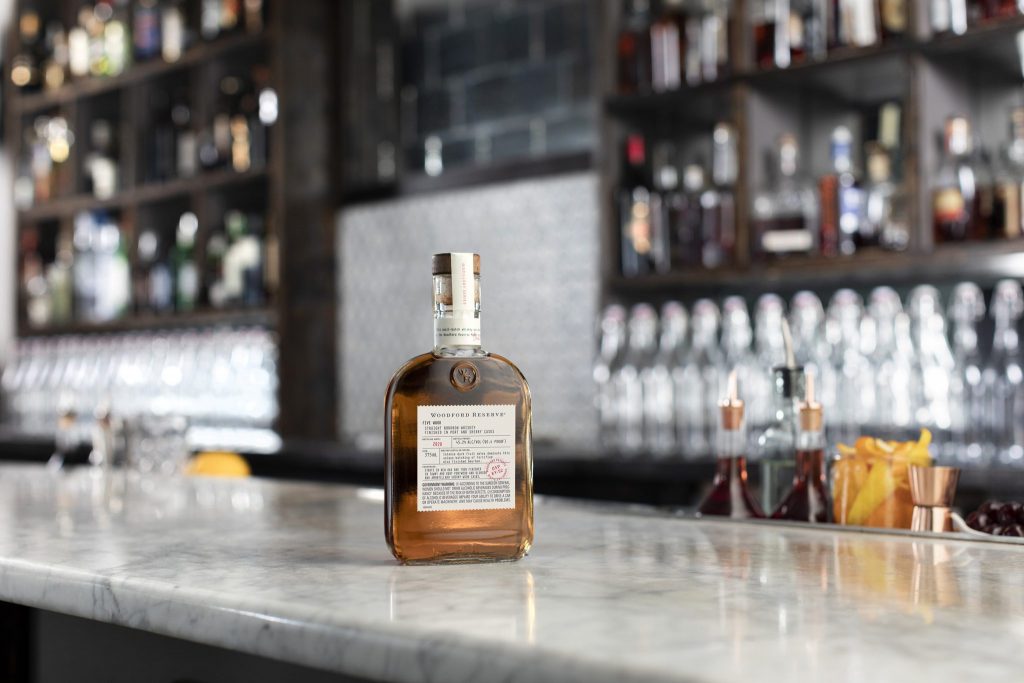 In a written statement, Master Distiller Chris Morris said, "This is the first time in Woodford Reserve's history that we've blended whiskeys we have finished in five different barrels. The result is a rich taste and a bright finish." Indeed, the complexity of fruit on the nose) dark cherry, blackberry, dark dried fruits) and chocolate, coffee, and caramel on the palate is notable.
The Woodford Distillery in Versailles is still closed due to the pandemic. But bottles may be ordered online at https://www.woodfordreserve.com/our-distillery/curbside-ordering/ and picked up each Friday afternoon from noon to 4 p.m.  The suggested retail price is $49.99 for a 375 mL bottle.
Get into Trouble with the Manhattan Lockdown
The striking mural on the side of the Shelby Park building that is home to Trouble Bar, 1149 S. Shelby St., says it all, "Whiskey Got Me into Trouble." Having reopened this week, proprietors Nicole Stipp and Kaitlyn Soligan are nonetheless dedicated to their patrons having a safe experience. Table service, with properly distanced furniture and other health department guidelines are being followed. Reservations are highly recommended to limit occupancy numbers and can be made by calling 502-384-2101 or visiting http://www.matsongilman.com/trouble-bar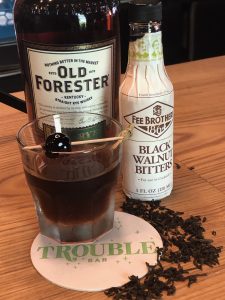 To celebrate the reopening, bar manager Felicia Corbett has created a new offering for Trouble's creative cocktail list. If you can't get in trouble with her in person (5:00 p.m. – midnight Tuesday, Thursday, Saturday, and Sunday or 6:30 p.m. to midnight Monday, Wednesday, Friday), try your hand at The Manhattan Lockdown at home.
The Manhattan Lockdown
1.5oz Old Forester Rye
.75oz Contratto Rosso infused with Sis Got Tea Chocolate Puerh tea (You can check out this Queer, Black owned tea company from Louisville here)
4 shakes Fee Brothers' Black Walnut Bitters
Stir all ingredients in a mixing glass with ice until very well chilled, 30 – 40 seconds. Strain into your glass (rocks or cocktail) and serve neat with a Luxardo Cherry skewer.
******************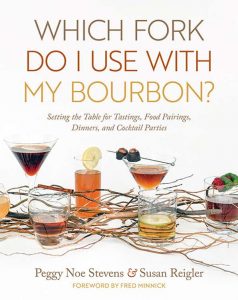 F&D Bourbon Columnist Susan Reigler is the author of several whiskey books, the most recent being Which Fork Do I Use with My Bourbon? Setting the Table for Tastings, Food Pairings, Dinner, and Cocktail Parties, co-written with Peggy Noe Stevens.
Autographed copies are available from Carmichael's Bookstore. It can also be purchased on Amazon, or directly from the publisher at https://www.kentuckypress.com/9781949669091/which-fork-do-i-use-with-my-bourbon/.