BOURBON NEWS & NOTES – 21 August, 2020, by Susan Reigler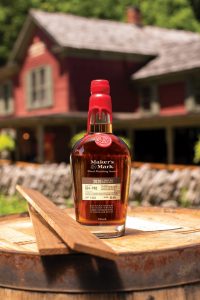 Maker's Mark Wood Finishing Series 2020 Limited Release
As anyone who has participated in it knows, the private barrel selection process at Maker's Mark is quite different from the process at other distilleries. It involves tasting Maker's that has been given a secondary aging with customized staves of different toasting levels (low and slow in a convection oven, infrared, and more) and different oak types (American or French).
For this year's Wood Finishing Series Limited Release, Maker's has built on the process by using customized staves not used in the private selection program. The resulting bourbon is a blend of whiskeys finished in barrels using three different staves. One stave was French oak cooked in a convection oven at medium heat with a short toast. A second used the same stave, but was aged a week longer. The third was finished with American oak staves cooked in a convection oven at low heat with a longer toast. The object was to make a more "Maker-ly Maker's." In short, to amplify the vanilla, caramel and fruit already present.
So that the stave flavors are not masked by the previous several years initial aging in the Maker's Mark warehouse where temperatures fluctuate with the seasons, the specially finished barrels, both for Private Selections and the Wood Finishing Series, are stored in the Maker's Mark Cellar, a specially constructed facility carved out of the living rock on the distillery's property. The Cellar maintains a year-round temperature of about 50 degrees F.
A sample tasting of the 2020 Limited Release revealed that the distillery succeeded in its goal. This is a rich, complex bourbon loaded with flavors of crème brulee, caramel apple, candied orange, and cinnamon. It will land on retail shelves at the beginning of September. While the distillery does not set retailer prices, it recommends $59.99.
Progress Continues in Buffalo Trace Expansion
For any bourbon lover who trawls store shelves, often in vain, for the highly desired and allocated whiskeys made at Buffalo Trace Distillery in Frankfort – Blanton's, Col. E.H. Taylor, Stagg, and Weller, (Don't even mention Pappy Van Winkle) – it is good news that the distillery is now entering the second phase of its $1.2 billion expansion designed to greatly increase production capacity. The not-so-good news is that most of these brands are aged for eight years and more. So, patience is going to be required in order to reap this particular bourbon reward. To see exactly what's happening with the expansion, watch this short video supplied by the distillery.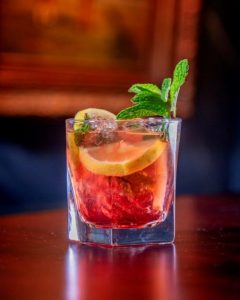 The Brown Hotel's Ali's Smash
Legendary boxer and Louisville native Muhammad Ali enjoyed a long association with the Brown Hotel. He even helped with the décor in the hotel's luxurious Ali Suite. While you may not have the opportunity to stay in the suite, you can certainly enjoy a signature cocktail, Ali's Smash, created for the Brown's Lobby Bar, a member of Louisville's Urban Bourbon Trail. It's perfect for warm weather enjoyment. Many thanks to Troy Ritchie, the manager of the hotel's English Grill and resident sommelier, for the recipe.
Ali's Smash
1 ½ ounces Rittenhouse Rye
1 ½ ounces PAMA pomegranate liqueur
½ ounce agave nectar
2 mint leaves
2 lemon wedges
Add ingredients to a mixing glass and muddle. Add ice and stir. Strain into a double Old Fashioned glass filled with ice. Garnish with a slice of lemon and sprig of fresh mint.
******************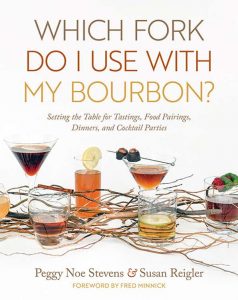 F&D Bourbon Columnist Susan Reigler is the author of several whiskey books, the most recent being Which Fork Do I Use with My Bourbon? Setting the Table for Tastings, Food Pairings, Dinner, and Cocktail Parties, co-written with Peggy Noe Stevens.
Autographed copies are available from Carmichael's Bookstore. It can also be purchased on Amazon, or directly from the publisher at https://www.kentuckypress.com/9781949669091/which-fork-do-i-use-with-my-bourbon/.
Photo credits: Maker's Mark and the Brown Hotel.