BOURBON NEWS & NOTES – for 6 August 2021, by Susan Reigler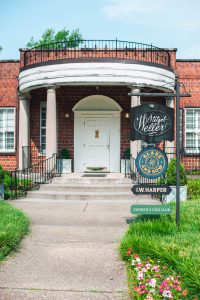 The Garden & Gun Club at Stitzel-Weller Distillery
A new cocktail bar has just opened at the historic Stitzel-Weller Distillery in Shively. The Garden & Gun Club is located on the second floor of the building in which founder Julian "Pappy" Van Winkle had his office and that was modeled on Jefferson's Monticello.
The bar is an extension of the Garden & Gun magazine brand licensed in partnership with Diageo, which now owns the distillery and its whiskeys – Blade and Bow, I.W. Harper, and the Orphan Barrel series as well as Bulleit bourbon and rye and other spirits.
In a prepared statement, Diageo president Steve Rust said, "There is no better place for this club – with its distinctively southern atmosphere that mixes old with new – than on the grounds of this historically significant distillery that also welcomes a new generation to the art of bourbon making."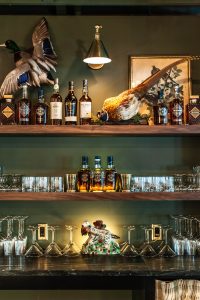 The club space has a custom-designed bar along its back wall and is furnished with bistro tables and banquette seating in a lounge area with a total capacity of 60 people.  The Stitzel-Weller Distillery shop will also feature Garden & Gun Club branded merchandise and a selection of vintage barware.
In addition to the bourbon cocktail menu ($16 each) there's a Blade and Bow 22-Year-Old tasting experience that includes a handcrafted glass made by North Carolina artisan Terrane Glass, as well as a signature wool tartan bag, a Blade and Bow enamel pin, and a tasting notes guide for $150.
The Garden & Gun Club's food menu was designed by executive chef Ann Kim whose goal was to reflect the identity of G&G's modern Southern brand in the food.  The cuisine at the Stitzel-Weller Distillery experience features an elevated bar menu including pimento cheese served with crudité and local potato chips, cheddar popcorn, a country ham, and a cheese board featuring artisan cheeses and Newsome's country ham.
The Garden & Gun Club is open to the public, no membership is required, and is independent of distillery tours.  Current limited hours are Thursday through Saturday, 12 p.m. to 5 p.m. and Sunday 1 p.m. to 5 p.m. It's closed on major holidays.  Additional hours and special events will be added over time. For more details, www.stitzelwellerdistillery.com/garden-and-gun-club.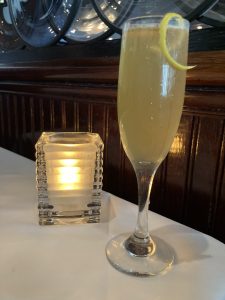 Volare's French 75's
The cocktail menu at Volare Italian Ristorante has an eye-catching listing: French 75's. Why plural? Because bar manager Emily Ryan has more than one version of the classic drink created in Paris during World War I. The traditional version has gin as its base spirit and the name is said to reflect the power of the French army's 75 millimeter howitzer cannon. (Yes, you have been cautioned.)
But since this is Louisville, Ryan's second iteration of the French 75 uses bourbon in place of gin. And its firepower is moderate since it contains only one ounce of whiskey making it a refreshing hot weather tipple.
Volare 75's
1 ounce Elijah Craig Small Batch
½ ounce Wildflower infused Honey Simple Syrup
¼ ounce Fresh Lemon Juice
Benvolio Prosecco
Combine wildflower honey syrup and lemon juice in a shaker, strain into a champagne flute. Add Elijah Craig Small Batch and top with Prosecco. Garnish with a lemon twist.
This week's photo credits: Stitzel-Weller Distillery and S. Reigler (French 75's).
******************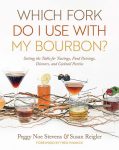 F&D Bourbon Columnist Susan Reigler is the author of several whiskey books, including Which Fork Do I Use with My Bourbon? –  Setting the Table for Tastings, Food Pairings, Dinners, and Cocktail Parties and Kentucky Bourbon Country: The Essential Travel Guide. Autographed copies are available from Carmichael's Bookstore. They can also be purchased on Amazon, or directly from the publisher: 
https://www.kentuckypress.com/9781949669091/which-fork-do-i-use-with-my-bourbon/
https://www.kentuckypress.com/9780813180311/kentucky-bourbon-country/