BOURBON NEWS & NOTES – for 12 February 2021, by Susan Reigler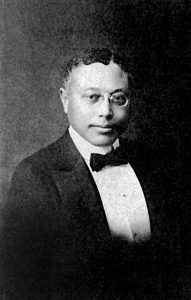 Toast Black History Month with Tom Bullock's Old Fashioned
Famed African-American bartender Tom Bullock was born in Louisville in 1872. He practiced his mixology at several august establishments, from Louisville's Pendennis Club, to the Kenton Club in Portland, Oregon, and most famously, at the St. Louis Country Club. It was there that one of his most devoted followers was George Herbert Walker, grandfather of president George W. Bush. Walker even wrote the introduction to Bullock's The Ideal Bartender, a collection of recipes published in 1917, just before Prohibition struck.
That introduction was short, but on point, reading in part "… I doubt that he has ever erred in even one of his concoctions." Interestingly, in 1913, Walker had been sued for alleged libel by ex-President Theodore Roosevelt regarding the latter's drinking habits. Roosevelt maintained he had had "only had a few sips" of a mint julep made by Bullock. The St. Louis Post-Dispatch, which must have had some editors and/or reporters familiar with Bullock's drinks, doubted Roosevelt's assertion, and wrote that no one could fail to finish one of Bullock's cocktails.
Bourbon cocktail lovers will know there is a bit of a kerfuffle surrounding the use of orange and cherry in the Old Fashioned. Muddle the fruit or not muddle the fruit? While some historians believe the introduction of muddled fruit to the cocktail occurred at the Pendennis Club, it's notable that Bullock's version published in The Ideal Bartender (which, by the way, is available in a facsimile edition) uses neither orange nor cherry and there is no muddling involved. Keep in mind, he worked at the Pendennis. Happily, whether muddled or not, the Old Fashioned is Louisville's Official Cocktail.
If you'd like to toast Black History Month with Tom Bullock's recipe, break out your Old Fashioned glasses and have a go:
1 lump of Ice
2 dashes of Angostura Bitters
1 lump of Sugar and dissolve in Water
1 ½ jiggers of Bourbon Whiskey
Twist a piece of Lemon Skin over the drink and drop it in.
Stir well and serve.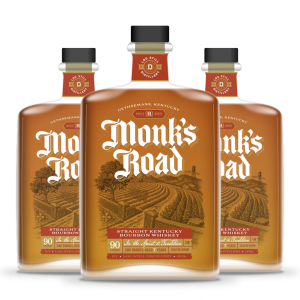 Log Still Distillery Coming to Nelson County
A new distillery scheduled to open this spring has an authentic history. Log Still Distillery is being built near Gethsemane by Wally, Lynne, and Charles Dant, fifth generation descendants of J.W. Dant, who started making whiskey in 1836 with a copper still contained in a hollowed-out poplar log. Hence, the new distillery's name.
Dants made bourbon in Nelson County until Prohibition. The family reopened the distillery after Repeal and ran it until the 1950s, when they sold the property. The current generation bought it back and has been restoring some of the original features, including a water tower.
Since J.W. Dant is a brand name now owned by Heaven Hill, Log Still's bourbon and rye will be named Monk's Road. While waiting for its whiskey to age the distillery will source bourbon and rye (though there has been no disclosure of from which distillery) and will be producing a dry gin and a barrel-aged gin.
In addition to the distillery, the 300-acre site, dubbed Dant's Crossing, will have a bed and breakfast, walking trails, a fishing lake, an amphitheater, a train depot, and a restaurant and bar. For more details, https://www.logstilldistillery.com/.
This week's photo credits: Tom Bullock photos are Public Domain. Other images from Log Still Distillery.
******************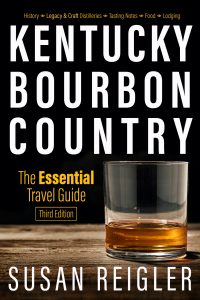 F&D Bourbon Columnist Susan Reigler is the author of several whiskey books, the most recent being Kentucky Bourbon Country: The Essential Travel Guide, 3rd edition.
Autographed copies are available from Carmichael's Bookstore. It can also be purchased on Amazon, or directly from the publisher at https://www.kentuckypress.com/9780813180311/kentucky-bourbon-country/