BOURBON NEWS & NOTES – 23 October, 2020, by Susan Reigler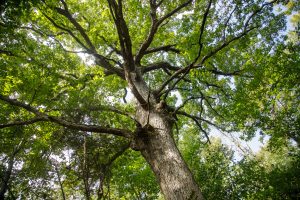 No Oak Trees, No Bourbon
As every bourbon aficionado knows, in order to become bourbon, new-make whiskey must be aged in new, charred white oak barrels. (The law actually stipulates "oak containers," but 53-gallon barrels are the industry standard.) Without this aging, bourbon would be a clear, colorless liquid and would be missing all the familiar caramel, vanilla, and nutty flavor notes. So, the bourbon industry is very conscious that the population of white oak trees (Quercus alba), the species used, must be sustainable. Two spirits companies and a cooperage are at the forefront of helping insure the future of America's oaks.
Last year Maker's Mark Distillery and Independent Stave Company partnered with the University of Kentucky to map the white oak genome. The aim would be to have the ability to counter any diseases or pests that might threaten the trees. (Object lesson: Ash trees, used for making Louisville Slugger baseball bats, are being decimated by the infestation of the emerald ash borer.)
A white oak growing on the Maker's Mark property that is hundreds of years old is providing baseline data. Samples of wood grafts and acorns have been taken from the "46 Tree" in order to sequence its DNA. Researchers from the University of Tennessee, Pennsylvania State University, and the U.S. Forest Service are also involved in the project.
And this month Diageo, the parent company of Bulleit Frontier Whiskey, announced a partnership with conservation organization American Forests to plant 1 million white oak trees in forests from Missouri to Virginia by 2025. In addition to supplying the wood for bourbon barrels, the environmental impact will be to feed wildlife (7,000 acorns per year per tree) and to help capture carbon. This number of tress can remove the emissions from 140,000 cars per year.
Upcoming Virtual and Live Events with Bourbon Women
Missing bourbon tastings? Of course, you are. The Bourbon Women Association can help. While it has 10 branches across the U.S., the organization is headquartered in Louisville and has two events coming up in November open to both members and non-members. (Though you would be welcome to join. Guys, too.)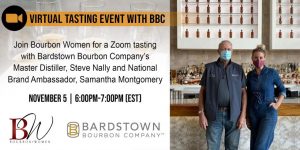 The first is a remote bourbon tasting of whiskeys from the Bardstown Bourbon Company. It will be led over Zoom by master distiller Steve Nally and brand ambassador Samantha Montgomery on Thursday, November 5th from 6:00 to 7:00 p.m. Whiskey samples will be shipped to Louisville at a designated pick-up site. The cost is $50 for members and $65 for non-members.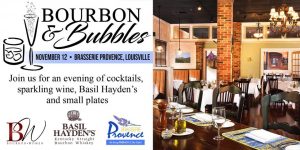 The live event will take place at Brasserie Provence, 150 N. Hurstbourne Pkwy., the following week on Thursday, November 12th from 6:00 to 7:30 p.m. "Bourbon & Bubbles" will feature Beth Burrows from Beam Suntory to talk about cocktails made with Basil Hayden bourbon. One will feature champagne. The evening will include an array of small plates and seating is limited in order to maintain proper physical distancing. (I can testify from personal experience that the staff of the restaurant is very conscientious about following proper protocols.) The cost of this event is $75 for members and $85 for non-members.
For information about the Bourbon Women Association and to purchase event tickets, go to https://bourbonwomen.org.
******************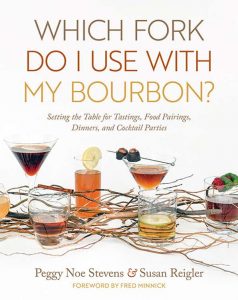 F&D Bourbon Columnist Susan Reigler is the author of several whiskey books, the most recent being Which Fork Do I Use with My Bourbon? Setting the Table for Tastings, Food Pairings, Dinner, and Cocktail Parties, co-written with Peggy Noe Stevens.
Autographed copies are available from Carmichael's Bookstore. It can also be purchased on Amazon, or directly from the publisher at https://www.kentuckypress.com/9781949669091/which-fork-do-i-use-with-my-bourbon/.
Photo credits: Maker's Mark and Bourbon Women.