BOURBON NEWS & NOTES – for 26 March 2021, by Susan Reigler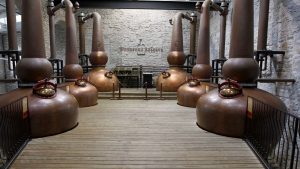 Woodford Reserve's Distillery Expansion
As demand for its premium bourbon brand has continued to grow, Brown-Forman Corporation has announced an expansion of its Woodford Reserve Distillery that will double production capacity. The expansion includes the installation of three more copper pot stills, bringing the total number of stills to six. There will also be a new building to house the boiler plant, additional fermentation tanks, a new a grain unloading area, a barrel unloading/storage area, and a new conference and training center for employees.
In a prepared statement, Brown-Forman President and CEO Lawson Whiting said, "Woodford Reserve is a key driver of growth for the company — and the investment ensures the brand continues to expand around the world. Woodford Reserve has enjoyed exceptional growth over the last decade, maintaining a double-digit net sales growth rate year-to-date with more than one million case sales."
Construction at the National Historic Landmark distillery will begin this spring and is expected to be completed in summer 2022. The distillery near Versailles will continue production during the expansion. To learn more, www.woodfordreserve.com.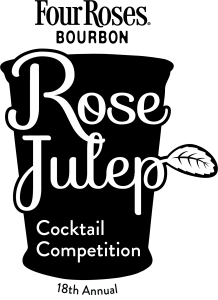 Four Roses' Annual Rose Julep Contest is Off and Running
The 18th Annual Four Roses and Kentucky Derby Festival Rose Julep contest has begun with six Kentucky bartenders putting their spins on the classic drink. They have created recipes using Four Roses Small Batch and several unusual julep ingredients, including bananas, black tea syrup, lingonberry shrub, roasted pineapple-chipotle syrup, among others. Until 5 April, Louisville's Colleen McCarthy (Martini Italian Bistro) and Isaac Fox (La Chasse), Lexington's Mike Abbott (Goodfella's Wise Guy Lounge) and Shay Bustle (Thirsty Fox) and Northern Kentucky's Bill Whitlow (Rich's Proper Food & Drink) and Lauren Pellecchia (O'Neal's Tavern) will be mixing and serving their entries.
You can either visit one of their establishments (though note that O'Neal's is currently closed) or get their recipes online (including Pellecchia's) at  julep.fourrosesbourbon.com and mix at home. After sampling you can visit the same website to vote for your choice.
April is Mint Julep Month
Speaking of Juleps, since 2013, Louisville has designated April as "Mint Julep Month®" and it's just around the corner. With that in mind, each of my columns published in April will feature a different julep recipe.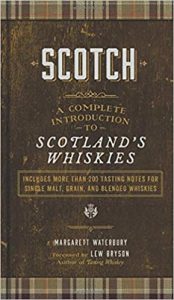 For the Scotch Curious
For those of us in Kentucky, our whiskey world naturally revolves around bourbon. But the largest whiskey producing country is Scotland and the array and styles of Scotch whisky (spelled without the "e") can be dauntingly complex. In an area roughly the size of South Carolina there are 130 distilleries, and they are located across six distinctive whiskey-producing regions.
Bourbon drinkers may find themselves interested in Scotch for the simple reason they enjoy whiskey. And no, not all Scotches are peat-infused smoke bombs. Only about 25% of Scotches are peated. But if you are interested in a change of pace from corn-based bourbon to whiskey made with malted barley, there's an invaluable guide in the recently published Scotch: A Complete Introduction to Scotland's Whiskies (Sterling Epicure).
Author Margarett Waterbury happens to be an American, so she is especially good at sorting out the ins and outs of Scotch for non-Scottish beginners, as well as established enthusiasts. She covers the various distilling and barreling techniques, the fine points of peat, and gives tasting notes for more than 200 whiskies. You can visit her website at www.margarettwaterbury.com.
This week's photo credits: Woodford Reserve, Four Roses, Sterling Epicure.
******************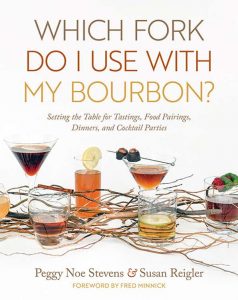 F&D Bourbon Columnist Susan Reigler is the author of several whiskey books, including Which Fork Do I Use with My Bourbon? – Setting the Table for Tastings, Food Pairings, Dinners, and Cocktail Parties.
Pick one up this Derby Season. Autographed copies are available from Carmichael's Bookstore.
It can also be purchased on Amazon, or directly from the publisher at https://www.kentuckypress.com/9780813180311/kentucky-bourbon-country/