BOURBON NEWS & NOTES – for 11 December 2020, by Susan Reigler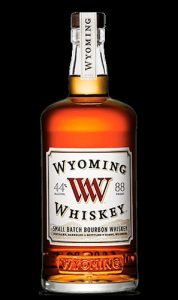 Take a Bourbon Trip Out West with Wyoming Whiskey
One of the most often repeated misconceptions about bourbon is that it must be made in Kentucky. Not so. While most of the world's bourbon – more than 90% – comes from the Bluegrass State, the corn-based whiskey can be made anywhere in the United States and, with at least one bourbon distillery in every state, it is.
Of course, we here are awash in first rate Kentucky juice. But if you are curious about bourbons from other places, I can recommend starting with Wyoming Whiskey, which can be found at many area liquor retailers for about $45.
I had the pleasure of visiting the distillery a couple of years ago in Kirby, Wyoming, population 92. (No zeros are missing from that figure.) Surrounded by arid mountains and grazed by antelope that often bound through the grounds, it's about as different from a Kentucky distillery as you can imagine. But the bourbon will taste not unfamiliar.
Part of the reason for that is the Mead family, who built the distillery on land that they had used for cattle pasture, brought in Kentucky Bourbon Hall of Fame distiller Steve Nally (late of Maker's Mark and now of Bardstown Bourbon Company) to consult on the formulation of their product. It will not be surprising, given Nally's time at Maker's, that Wyoming Whiskey is a wheated bourbon with a mashbill of 68% corn, 20% wheat, and 12% malted barley. All the grains are harvested from farms in the nearby Big Horn Basin.
The Wyoming Whiskey Small Batch (about 40 barrels to the batch), has a lovely nose of vanilla frosting and milk chocolate. Caramel and vanilla on the palate are joined by cherries and a sprinkling of baking spice dominated by cinnamon. The milk chocolate has the last word on the finish. And at 88 proof, it has plenty of character and lends itself both to being sipped neat or employed in a cocktail.
To find out more about Wyoming Whiskey, https://wyomingwhiskey.com.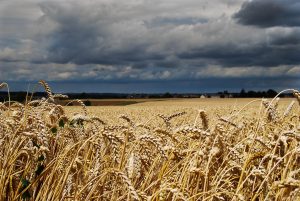 Brown-Forman asks, "Rye Not?"
Just as Wyoming Whiskey sources all its grains from its native state, Kentucky distilleries have long used Kentucky-grown corn. For example, all of the corn used at Brown-Forman's Woodford Reserve Distillery in Versailles is sourced from a single farm in Shelby County. But, to date, the vast majority of rye used in Kentucky bourbons have come from the upper Midwest, Canada, and Germany. (Woodford Reserve is 72% corn, 18% rye, 10% malted barley.) The Brown-Forman Corp. would like that to change.
The Louisville-based distilling giant has formed a partnership with American Farmland Trust, headquartered in Washington, D.C. Since its founding four decades ago, the Trust has been instrumental in the protection of almost seven million acres of farmland and has helped more than 600,000 farmers with land conservation.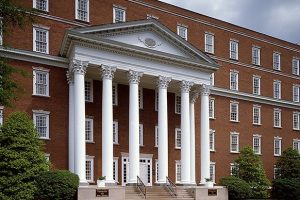 In Kentucky, the American Farmland Trust and Brown-Forman are working with the Kentucky Commercial Rye Cover Crop Initiative which has involved 26 farmers from 21 Kentucky counties to plant almost 1,450 acres of rye. By 2023 that number is expected to be 3,000 acres.
Besides contributing some funding, Brown-Forman is conducting test distillations on the different rye varietals being grown to find out which work best in their whiskeys.  In addition to Woodford Reserve, those include Old Forester, Cooper's Craft, and Jack Daniel's Tennessee Whiskey.
Other distilleries, large and small, interested in becoming involved with the rye initiative, should contact American Farmland Trust's Billy Van Pelt at bvanpelt@farmland.org.
******************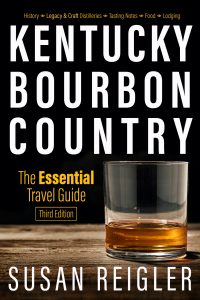 F&D Bourbon Columnist Susan Reigler is the author of several whiskey books, the most recent being Kentucky Bourbon Country: The Essential Travel Guide, 3rd edition.
Autographed copies are available from Carmichael's Bookstore. It can also be purchased on Amazon, or directly from the publisher at https://www.kentuckypress.com/9780813180311/kentucky-bourbon-country/