[adrotate group="3"]
BOURBON NEWS & NOTES – 17 July, 2020, by Susan Reigler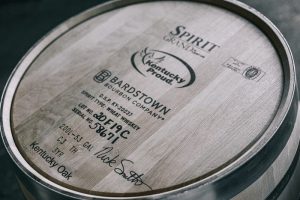 Bardstown Bourbon Company is Aging a 100% Kentucky Whiskey
While most Kentucky distilleries source the majority, if not all, of their corn for making bourbon and other whiskeys, they usually source additional grains from other regions. That includes rye, which does not grow particularly well here. So, the announcement from Bardstown Bourbon Company that it has just distilled and barreled a whiskey made entirely of Kentucky grown grains and even barreled in Kentucky made cooperage, is worth noting.
By definition, it is a wheat whiskey, since the mashbill was 52% wheat (from Washington County), 39% corn (Marion County) and 9% barley, which was grown in Logan County and malted at Southfork Malthouse in Cynthiana. After distillation, the 112-proof spirit was transferred to 22 Kentucky white oak barrels that had been made by Cantor Cooperage in Lebanon.
If you are looking forward to tasting this certified Kentucky Proud whiskey, you'll have to be patient. It will be aged for eight years with a scheduled release in 2028. For details about all the happenings at Bardstown Bourbon Company, including the modified tour and recently re-opened restaurant and bar, go to https://www.bardstownbourbon.com.
Second Oxmoor Virtual Bourbon Hour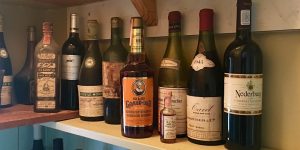 Bourbon historian Michael Veach and I are the bourbon authorities for Oxmoor Farm. We'll be hosting the second in the historic site's Virtual Bourbon Hour series on Thursday, 23 July from 8:00 to 9:00 p.m. via Zoom. The centerpiece of "Mellow 86," comprised of a tasting of three 86 proof bourbons, will be a 1960s bottling of Old Grand-Dad. The brand is now owned by Beam-Suntory and made at the Jim Beam Distillery in Clermont. But 70 years ago it was produced in Frankfort by now-defunct National Distillers. Tickets are limited with only 20 available at $50 each. To purchase tickets and get details about how to get the samples for the tasting, go to
https://www.eventbrite.com/e/oxmoor-farms-virtual-bourbon-hour-a-new-series-of-tastings-tickets-112367885370
Willett's Harvest Sour is an Orchard in a Glass
Like most other distilleries in Kentucky, Willett Distillery on Bardstown has reopened with a modified schedule, as has its excellent restaurant The Bar at Willett, creators of elegant cocktails. (There's even an on-site custom ice program.) A cocktail not to be missed is the Harvest Sour. The Bar's Andy Pope explains that "'Harvest' cocktails are generally defined by having both apple brandy as well rye in the recipe. This cocktail is a traditional sour (egg white) with apple brandy, rye, lemon, and sugar with aromatic bitters on top. For the garnish we put our aromatic bitters in an atomizer and use a stencil to 'brand' the cocktail with a Willett W".
What follows is a recipe in which you can use either a Willett rye OR a bourbon. For more details about opening times and reservations, go to https://www.kentuckybourbonwhiskey.com.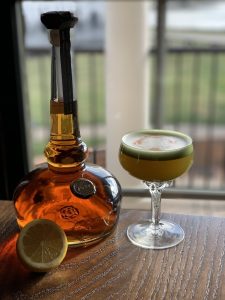 The Harvest Sour
1 ounce Four Year Willett Rye or Willett Pot Still Bourbon
1 ounce Laird's Apple Brandy
¾ ounce lemon juice
¾ simple syrup
Egg white
Dash of Angostura bitters for garnish
Add all cocktail ingredients to a shaker and shake without ice (to emulsify the egg white); then add ice and shake vigorously. Strain into a coupe glass and garnish with a dash of Angostura bitters.
******************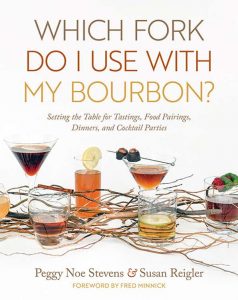 F&D Bourbon Columnist Susan Reigler is the author of several whiskey books, the most recent being Which Fork Do I Use with My Bourbon? Setting the Table for Tastings, Food Pairings, Dinner, and Cocktail Parties, co-written with Peggy Noe Stevens.
Autographed copies are available from Carmichael's Bookstore. It can also be purchased on Amazon, or directly from the publisher at https://www.kentuckypress.com/9781949669091/which-fork-do-i-use-with-my-bourbon/.
Photo credits:  Bardstown Bourbon Company, Oxmoor Farm and Willett Distillery.