BOURBON NEWS & NOTES – 4 September, 2020, by Susan Reigler
Blanton's Straight from the Barrel Limited Release
As if regular Blanton's Single Barrel wasn't hard enough to find, an even more select bottling has just been released. Almost since the late Buffalo Trace master distiller Elmer T. Lee introduced Blanton's, the first regularly available single barrel bourbon, the distillery also produced a barrel proof expression. But it was for export only. (If you found yourself in the Tokyo airport, you might have been able to pick up a bottle at the duty-free shop.)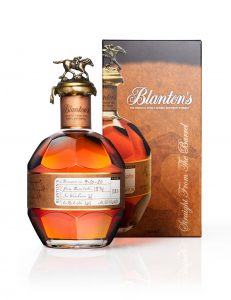 This was the coveted Blanton's Gold Edition, in which the trademark racehorses on the stoppers, as well as the wax sealing the bottle, are gold-colored. Since it is a single barrel, the proof will vary, anywhere from 103 upwards.
Buffalo Trace has now announced that an annual limited release of Blanton's Gold will be available in the U.S. this fall. The tasting notes from the distillery describe it as having "notes of dark chocolate, caramel, and butter with earthy undertones of walnut and hazelnut on the nose. The palate delivers intrepid notes of warm vanilla, oak, toasted nuts, and a rich spiciness with hints of butterscotch or honey, with a deep resonate finish."
Sounds like it might even be worth the $150 per bottle price tag. If you can find it. For more information about the release, go to www.blantonsbourbon.com.
Another Honor for Wilderness Trail Distillery
Wilderness Trail Distillery in Danville "traded up" this year when it moved from the Kentucky Bourbon Trail Craft Tour of smaller distilleries to the Kentucky Bourbon Trail occupied by the large, legacy distilleries.  Credit for the growth of Wilderness Trail can be attributed to the foresight and hard work of its founders, Shane Baker and Patrick Heist.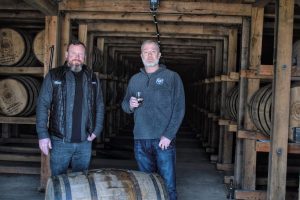 Their efforts have just been recognized by Ernst & Young who recently announced that the distillery's co-owners have been named finalists for this year's  Entrepreneurs Of The Year® 2020 East Central Award, which honors entrepreneurial business leaders whose ambitions "deliver innovation, growth and prosperity as they build and sustain successful businesses that transform our world." Award winners will be announced through a special virtual event on October 7th.
For more about the distillery, https://wildernesstraildistillery.com.
Bourbon Slush from Farm to Fork Café
Even though it's September, the weather is going to stay warm/hot for the next several weeks. So, it's great to have a cooling drink for our on-the-porch-or-patio cocktail hours. Farm to Fork Café's Beverage Director Evi Fenton, has created the perfect Kentucky cooler in the Bourbon Slush. It takes a bit of time, since it needs to spend some hours in the freezer, but it is well worth the wait. If you need a non-alcoholic refresher, there's a bonus in her recipe for a key ingredient, fresh lemonade. For more about Farm to Fork, go to https://www.farmtoforkfood.com.
Bourbon Slush
3 cups fresh squeezed lemonade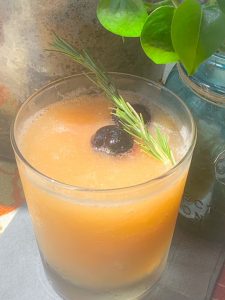 1 ½ cups fresh squeezed orange juice
2 cups Black Tea (or your favorite)
1 cup Old Forester bourbon, 86 proof
8 dashes Woodford Reserve Cherry Bitters
Divide into quart Ziploc freezer bags and leave in freezer 3-4 hours. Serve by scraping with a fork, putting whole frozen chunk in blender, or adding soda or sparkling water and stirring.
Lemonade (or use a fresh squeezed version such as Natalie's or Simply Lemonade)
1 ½ cups fresh squeezed lemon juice
2 cups simple syrup (equal parts sugar and water)
4 ½ cups water
Yields ½ gallon.
******************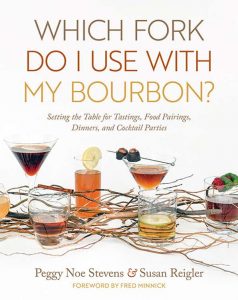 F&D Bourbon Columnist Susan Reigler is the author of several whiskey books, the most recent being Which Fork Do I Use with My Bourbon? Setting the Table for Tastings, Food Pairings, Dinner, and Cocktail Parties, co-written with Peggy Noe Stevens.
Autographed copies are available from Carmichael's Bookstore. It can also be purchased on Amazon, or directly from the publisher at https://www.kentuckypress.com/9781949669091/which-fork-do-i-use-with-my-bourbon/.
Photo credits: The respective distilleries and Evi Fenton.